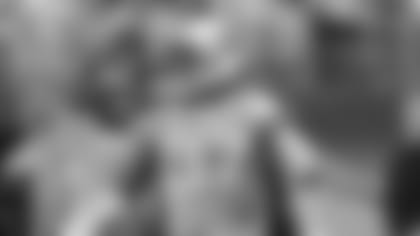 Rookie CB Tommie Campbell returns an interception 90 yards for a touchdown Saturday night vs. Chicago.
NASHVILLE, Tenn. - Tommie Campbell refuses to waste the chance of playing in the NFL he never thought he'd get while cleaning toilets and picking up trash at the Pittsburgh International Airport.
The Titans drafted Campbell in the seventh round in April, taking a gamble on a cornerback with size at 6-foot-3 and 205 pounds, and speed (4.31 seconds in the 40).
Campbell had every reason to dream of an NFL career after winning a state title in high school with teammate Darrelle Revis. But grades bounced him out after two seasons at Pittsburgh to a Division II school and then out of football for two years before a last chance in 2010 at Division II California (Pa.).
"I knew if I ever got the opportunity, I would give it all I can so I would never have to say would've again,'' Campbell said Monday. "I'm here. I'm glad to be here, and I'm happy about it.''
The Titans liked Campbell before deciding to use the 251st pick overall on him, and nothing changed once the NFL lockout ended and they saw him in person. He's so big one receiver lining up across from Campbell called him a giraffe, and Campbell showed off his speed Saturday night returning an interception 90 yards for a touchdown in a 14-13 win over Chicago.
Coach Mike Munchak said Campbell's speed is similar to running back Chris Johnson, who was timed at 4.24 seconds in the 40-yard dash at the 2008 NFL combine. Munchak said he thinks things will work out well with Campbell making a case for himself both on special teams and defense.
"Here is a guy who a week ago gave up a touchdown playing corner, and this week he gets one back for us,'' Munchak said. "That's what you have to be able to do at that position at corner, have a short memory and come back and play well the next week if you struggle the week before, so I'm excited for him.''
Forgetting a bad play is nothing compared to what Campbell already has been through.
Campbell was the starting safety for Aliquippa High - the same school that produced Ty Law and Mike Ditka - with Revis the starting cornerback when they won the state title in 2004. He also played basketball and was state track champ in the 100 meters with a time of 10.65 seconds. He played in every game as a freshman at Pittsburgh before being moved to linebacker.
But grades led to Campbell playing at Division II Edinboro (Pa.) in 2007, and he was out of school until his ex-girlfriend's uncle connected him with California (Pa.) for one last try. In between, Campbell spent six months working as a full-time janitor at the Pittsburgh airport cleaning at the US Airways hangar and in the terminal.
"I have respect for anybody who does that type of job,'' Campbell said.
At California, a hamstring injury limited Campbell to four starts, though he played in all 12 games. He earned an invitation to the Cactus Bowl All-Star game for Division II players where he was clocked at 4.31 and 4.33 in the 40. Campbell figured that would at least get him into an NFL camp, but new coordinator Jerry Gray wanted him to bulk up the Titans' defense.
The Titans have Cortland Finnegan, another seventh-round draft pick out of Samford, starting at cornerback opposite either Jason McCourty or Alterraun Verner.
Receiver Nate Washington said he thinks Campbell will have a chance to make an impact with his size and speed.
"He definitely doesn't move like he's a 6-3 guy. He moves like he's a shorter, shiftier guy, so that's definitely a good thing,'' Washington said.
Campbell has been busy studying his teammates and also 6-2 Nnamdi Asomugha of the Eagles for tips on how to play press and man-to-man coverage because they're similar in size. He's also determined to contribute on special teams, but he won't be comfortable until the final cuts are made.
"I'm a seventh-round draft pick at the end of the day,'' Campbell said.
Defensive tackle Shaun Smith, who listened as Campbell talked to reporters, broke in with his own suggestion to the rookie.
"Tell the truth. Quit lying,'' Smith said.
Campbell refuses to be overconfident, not after what he's been through to get to the NFL.
"I have to make sure I bring my `A' game,'' Campbell said.