**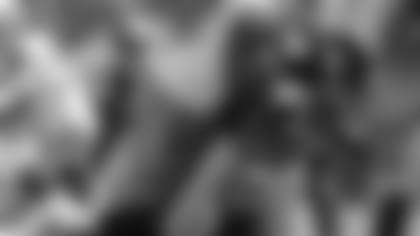 Linebacker Will Witherspoon has proven to be a solid acquisition for the Titans. He registered a sack in each of Tennessee's first three games, including this shot on Steelers QB Dennis Dixon at LP Field.
NASHVILLE, Tenn. --** Will Witherspoon's belief that input affects output is a personal axiom that has transcended his career on the field, his relationship with teammates in the locker room and the livestock that he is raising on his farm in Missouri.
Witherspoon signed with the Titans in March and quickly produced from the linebacker position. Witherspoon recorded a sack in each of his first three games, has deflected passes that resulted in interceptions and broke up consecutive passing plays to finish off Dallas in Week 5.
"I think it's been an easy transition for me," Witherspoon said. "When I had a question, I always had an answer from (linebackers coach Dave McGinnis, defensive coordinator Chuck Cecil or coach Jeff Fisher). They worked to get an answer to me and get it to me quickly."
Fisher likes what he has seen out of the nine-year NFL veteran.
"Will is a really smart football player. He's instinctive, he prepares and he's got tremendous ability. It's a great fit for us," Fisher said. "Really from day one, he walked in here and learned a new system and has been very productive for us. The three of them (Witherspoon, Stephen Tulloch and Gerald McRath) are playing very well together. It's fun to watch three linebackers play with such enthusiasm, emotion and passion for the game and how they respond to one another when one of them makes a play."
Witherspoon had been a durable standout at Carolina from 2002-2005, St. Louis from 2006 to October 2009 and Philadelphia the remainder of last season. He missed just two games out of a possible 37 and became one of five players since 1990 to play 17 regular season games in 2009 because St. Louis traded him to Philadelphia after the Eagles' bye week last season.
Fisher said learning new systems in St. Louis and Philadelphia would be difficult for anyone, noting Witherspoon has benefited from having a full offseason and training camp here with the Titans.
"Their (Philly's) defensive system is a little bit different than ours," Fisher sad. "Certainly he has proven that he has a unique sense and a knack for timing up pressure, blitzing, making tackles for losses, dropping into coverage and filling in the run."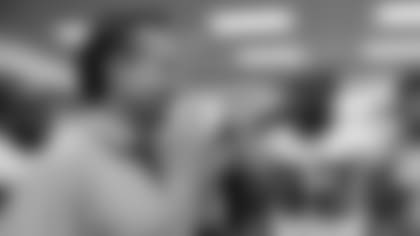 Head coach Jeff Fisher presents the game ball to Witherspoon following Tennessee's season-opening win vs. Oakland. Witherspoon's mother unexpectedly passed away earlier in the week, but the veteran linebacker returned to help his teammates register a 38-13 victory at LP Field.
The opening week of this season had a tragic start for Witherspoon. His mother, Nora Lee Cooper Witherspoon, 56, unexpectedly passed away. Fisher told Witherspoon to put family first, and the linebacker said he appreciated calls from teammates who provided words of comfort and support.
Tulloch said it was part of a family-like bond that quickly developed between Witherspoon and the team.
"When you see a guy every day and you sweat with him and get bruised up with him, everything you do is as a family," Tulloch said. "When that happened to Will, it was a real shock for him. I was in disbelief, and he handled it like he handles stuff on the field, a true pro. Everybody called up to check on him and make sure he was OK. When you lose somebody like that, someone so close to you, there's not much you can say. Will was strong for him and his family."
Witherspoon rejoined the Titans before Tennessee's season-opening win over Oakland because he wanted to be with the team and said it is what his mother would have wanted.
"I want them to know that I'm always going to be there," Witherspoon said. "I'm on call right then and there. I wasn't concerned if I was going to start or not, I just wanted to be there. … She always supported me, so I couldn't see turning down that opportunity to play."
Witherspoon said the loss of his mother is still difficult, but he tries to remain positive.
"You still think about things," he said. "It's still hard. You think, 'Did I have that one last conversation?' but she's in a better place, she didn't have to suffer. You have to think about the positive aspects because if you don't, you'll focus on the negatives and put yourself in a hole."
Tulloch said Witherspoon has been a good addition on the field and in the locker room.
"He's somebody you can definitely count on," Tulloch said. "He knows where to be at. We definitely appreciate what he's done so far for this defense and what he'll continue to do."
Witherspoon delivered one of the most memorable hits at LP Field this season during a blitz on Pittsburgh Steelers quarterback Dennis Dixon. Witherspoon ran through Dixon, forcing a fumble and eliciting a booming reaction from the crowd.
"I thought I had given (the blitz) away because he called me out and pointed me out," Witherspoon recalled. "So what I did was turned my back to him a little bit and squared up more on the receiver. When (Dixon) started taking off, I just went. The best part of it was I think the (offensive) lineman saw me turn my back."
Witherspoon is now offering another "blitz" package through his company, Shire Gate Farm (www.shiregatefarm.com). The package includes various cuts of beef from livestock that are fed a well-monitored and planned diet of grass on Witherspoon's acreage in Missouri.
Witherspoon's farm started with his desire for a better and more economical way to board two recreational horses.
"I started getting into grass-fed beef and turning it into something I love," I've learned so much in the past couple of years. I changed my eating habits."
Witherspoon said he works with American Grassfed Association and Animal Welfare Approved to ensure that the care of the animals is "taken to the full degree." The orders are customized, and every order is hand butchered by Witherspoon's employees.
"It takes me almost twice as long to grow a cow to the same size for slaughter as someone that uses hormones," Witherspoon said.
In addition to cattle, the farm also has sheep that Witherspoon's daughters enjoy playing with and chickens, horses and a mule. The farm has become a passion and a refuge from the outside world, and he's on his way to having more than 800 acres. Witherspoon said it's another example of how he approaches things in life.
"I don't like doing things that I don't believe in," Witherspoon said. "If it's something that I believe in, I'm really going to keep with it, understand it and go forward."