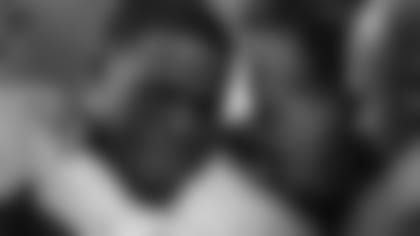 Titans head coach Jeff Fisher consoles rookie running back Stafon Johnson following his injury during Tennessee's preseason opener Saturday night in Seattle.
NASHVILLE, Tenn. -** Rookie Stafon Johnson has a game ball from his NFL debut. He also has had his dislocated right ankle repaired, and Tennessee coach Jeff Fisher isn't ready to call the running back's season over just yet.

Johnson tweeted Sunday he was fresh out of surgery. This is the running back whose senior season at Southern California was ended in September when a barbell crushed his neck and larynx, leaving him to learn how to talk again and trying to play his way into the NFL as an undrafted free agent. He promised before surgery he'll be back better than before.

Fisher said a couple hours later that the doctors "got it all put back together.''

The coach was hesitant to share the extent of Johnson's injury but said the rookie also broke his fibula. Asked if the injury means Johnson's season will be ended by the Titans placing him on injured reserve, Fisher said that was hard to say.

"This could be eight to 12 weeks. We just don't know,'' Fisher said.

Johnson's injury in Saturday night's 20-18 loss at Seattle was so gruesome Fisher said he just thought the rookie's shoe had come off and was being held on by some loose tape. Johnson had just made a catch on the final play of the third quarter when Kam Chancellor hit him high and spun him around, landing on his right leg.

Johnson stood up, then started pointing down at his foot before being surrounded by trainers and doctors.

"That kind of gives you a sense of how intense the game is and how the emotions are going and the contact you get caught up, and you don't know,'' Fisher said.

Johnson was carted off the field while his teammates knelt and prayed for him. He returned with the Titans who arrived back in Nashville around 6:30 a.m. CDT and tweeted Sunday afternoon that he was out of surgery. Johnson called it a "bump in the round.''

Fisher said the rookie showed with three carries for 23 yards and two catches for 12 yards that he can play in the NFL.

"(He) has an amazing pain tolerance and wants to get back on the field as fast as he can,'' Fisher said.

That was the lone injury for a team trying to keep the same good spirits after having to fly to Seattle and back for a preseason game. Vince Young was sharp in completing his first five passes for 78 yards before being intercepted on a ball he admitted later he should have run for a first down.

The first-team offense with Young and All-Pro Chris Johnson moved right down the field, going 79 yards in 10 plays before Johnson scored and went to the bench with a 7-0 lead. Young followed a series later still leading 7-0.

The defense looked too much like last season's unit that ranked next to last in the NFL in yards passing allowed, giving up 233 yards with cornerback Cortland Finnegan, safety Vincent Fuller, defensive tackle Tony Brown and rookie end Derrick Morgan all still recovering from injuries.

New addition Jason Babin did have one of Tennessee's two sacks, and Ryan Mouton and Alterraun Verner - competing with Jason McCourty to start opposite Finnegan - did intercept a pass each. But Mouton also missed the tackle on former Titans receiver Mike Williams, who went 51 yards for a touchdown catch.

Fisher was happy that Mouton bounced back from that play with the interception on the next series.

"It's good to see him respond like that,'' Fisher said.

Backup quarterback Kerry Collins didn't play, letting the Titans look at Chris Simms and rookie Rusty Smith. Simms was sacked twice and lost a bobbled snap out of the shotgun. Smith was intercepted with 25 seconds left. Fisher didn't sound worried, saying they didn't game-plan for Seattle's defense that put some unique pressure on the quarterback.

And about that long trip just for a preseason game? Fisher said they tried to approach the trip as preparation for the regular season when the Titans visit San Diego on Oct. 31. He did note that kicking off at 10 p.m. EDT creates problems for teams coming from the east.

Fisher said he would like to think there's a better way to schedule preseason games.

"I know Miami's having a rough go because they play Tampa and Jacksonville back to back,'' Fisher said.

NOTES: Fisher said rookie RB LeGarrette Blount has been excused for personal reasons. Blount left the team Sunday, and Fisher said he will return Wednesday.