**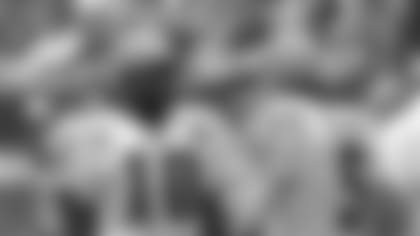 Head coach Jeff Fisher isn't saying whether Vince Young or Kerry Collins will start at quarterback Sunday vs. Jacksonville.
NASHVILLE, Tenn. --** Jeff Fisher has stayed away from a quarterback controversy all through the Tennessee Titans' 0-6 start.
Now, team owner Bud Adams reportedly wants a change.
Adams informed Fisher he wants Vince Young to start over Kerry Collins this weekend against Jacksonville, according to the Tennessean. The Nashville newspaper cited sources Tuesday that Adams apparently told Fisher his preference after the Titans lost to New England 59-0 on Oct. 18 and became more insistent during the bye week.
Fisher declined Monday to say who his starter will be Sunday for "competitive reasons." He had stuck with Collins throughout the 0-6 start as the best chance to win.
In an interview on WKRN-TV Tuesday night, Fisher said that the quarterback decision would "be revealed over the next couple of days."
He denied any tension with Adams.
"We talk. We've been communicating through the whole process, and we don't have any issues," he said. "Despite what you hear, despite what you read, the decisions we make are collective decisions."
The Titans practiced Tuesday and had their first team meetings since returning from their bye.
Collins had not been told of any change when the Titans last spoke with reporters nearly a week ago.
But the Titans are one of three remaining winless teams in the league -- St. Louis and Tampa Bay are both 0-7. Fisher wants to shake up things for a team that has lost eight straight games since last season, when Tennessee sprinted out to a 10-0 start en route to the NFL's best mark at 13-3.
The Titans are last in the NFL in time of possession and haven't scored a touchdown in eight quarters.
"We've had a week to do some different things. And especially considering the circumstances we're in right now with the record, there's things that you need to do differently," Fisher said Monday. "Let's just say I'm not going to be as specific and (will be) open-ended from a competitive standpoint."
Collins has completed 108 of 197 passes with five touchdowns and eight interceptions this season. His receivers also have dropped a number of passes, stalling drives and contributing mightily to all the losses.
Young is 0 of 5 with one interception in mop-up duty only in each of the past two losses. His last start other than the 2008 regular season finale that was meaningless was the 2008 season opener in Nashville against the Jaguars. That was the game in which he was intercepted twice and had to be told by Fisher to go back into the game. He hurt his knee a few plays later.
The Titans have been down this path before, as Young replaced Collins during a winless start in 2006. Young went on to win Offensive Rookie of the Year, helping Tennessee finish 8-8 after an 0-5 start. Collins was signed just before the '06 season. He went 12-3 as the starter in 2008 and signing a two-year deal this offseason to return.
When asked about Young's readiness to take over if called upon, Fisher said, "I think he, along with a lot of the players that are in backup roles, took advantage of their opportunities last week."