NASHVILLE, Tenn. — Hundreds of Titans fans and running enthusiasts celebrated the return of football season Saturday morning with the first Titans Back to Football 5K.
The course started outside LP Field, took participants on a loop through downtown Nashville, then through the tunnel from which the Titans take the field and concluded with a lap around the playing surface.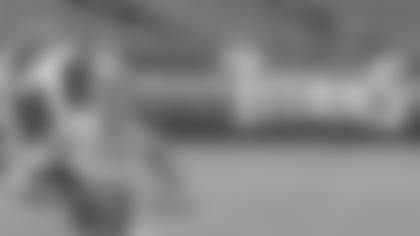 Runners, walkers and athletes in wheelchairs appeared on the new Titantron HD video boards and had their names announced on the new 800-speaker sound system as they finished at the 50-yard-line. Tennessee Titans Cheerleaders encouraged participants at the start and congratulated them at the finish line.
Sonja Friend-Uhl, 41, crossed the finish line first in 17 minutes, 24 seconds. Friend-Uhl and other top finishers were handed game balls as they took the field, and all runners were timed in a 40-yard dash on the race's final straightaway.
"I just kept thinking, you better look professional when you do this, so I tried to do the arm tuck," Friend-Uhl said. "It was a little bit harder to sprint, so I have a better appreciation for the running backs now, but it was fun, really cool."
Friend-Uhl, who moved to the area from south Florida about two years ago, is a competitive mile runner who won a race last week as well. She said the game ball was a neat substitution for a medal and planned to share it with her two young daughters.
Gus Romero was the first male to finish the course, doing so in 18:43. View race results.
Nashville Mayor Karl Dean welcomed and encouraged all participants at the starting line and said the event was a great partnership between the Titans, Competitor Group and the city of Nashville. A portion of the proceeds will benefit the Nashville council of Girls on the Run, a nonprofit that inspires girls ages 8 to 13 to be "joyful, healthy and confident" with a multi-faceted curriculum.
"I think there are two big things to celebrate today," Mayor Dean told Titans Online. "Number one is football season's back and the Titans look good, and I think the city of Nashville and the state of Tennessee are thrilled by that. Then also, this is part of promoting healthy living. … Then, some of the proceeds are going to a great organization: Girls on the Run, which promotes running activities and healthy activities for young girls, which I think is a wonderful thing."
Dean, who has run in other races and has led walks to encourage Nashville residents to participate in healthful activities, applauded all participants.
"One of the things I want to stress is people shouldn't look at everything as a competition," Mayor Dean said. "It's really about having fun, and whether you come out to an event like today or other events, you don't need to run if you're not ready. (You can) walk. If you want to run, just steadily build up your strength and training to get that done, that's a good thing to do, but the pressure is not on you. This should be fun. It should be good habits that develop, and it's particularly important to get kids involved but look at it as having fun, no pressure involved whatsoever."
Competitor Group Senior Vice President Tracy Sundlun said the Titans Back to Football 5K is a continuation of an already great partnership that has made the Country Music Marathon and Half-Marathon such a successful event. The Titans 5K is part of an NFL-wide initiative that had three other test markets: San Diego (where Competitor Group is headquartered), New Orleans and Saint Louis.
"We've now been finishing and or starting our Country Music Marathon and Half-Marathon here since 2000," Sundlun said, adding there's "no better partner" than the Titans.
Participants received a ticket to a Titans home game of their choice against Indianapolis, Houston or Jacksonville, a Nike technical running shirt and a Titans headband.
Titans Executive Vice President of Administration and Facilities Don MacLachlan said the Competitor Group and city of Nashville "have been great to work with on this."
"It's a fantastic event tied in with (NFL) Play 60 and the staying active initiative in terms of keeping everybody healthy," MacLachlan said. "It's a fantastic event that we're hoping will be an annual event. For a first time, to get 1,500 runners out here on a beautiful Saturday morning is fantastic."