**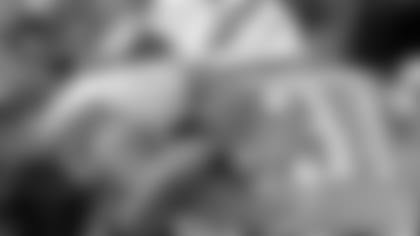 Titans cornerback Cortland Finnegan lays a hit on Steelers wide receiver Hines Ward during their 2008 meeting at LP Field.
NASHVILLE, Tenn. --** Cortland Finnegan said "the fireworks are going to start early" Sunday when the Titans host the Steelers.
Finnegan wasn't talking about the pyrotechnics going off at LP Field. Tennessee's fifth-year cornerback was talking about his matchup with Pittsburgh receiver Hines Ward, a collision between two of the more physical players at their respective positions.
"That's two pit bulls going against each other," Finnegan said.
There's a mutual respect that the 5-foot-10, 188-pound Finnegan and the 6-foot, 205-pound Ward have earned from one another. They've played hard, but clean in two meetings and are looking forward to the rematch.
Tennessee (1-0) hosts Pittsburgh (1-0) at noon Sunday.
"The fireworks are going to start early," Finnegan said. "There's a lot of respect there, too. He's been doing it for so long so well. I have a great admiration and respect for the guy, but at the same time, when you put on that helmet of the Tennessee Titans, you're just rolling. If he's in my way, we'll tangle up a little bit."
Ward, who last week surpassed 900 career receptions and 11,000 receiving yards, said he sees similarities between his game and Finnegan, despite them being on opposite sides of the football.
"He has a little nastiness, a little dog in him," Ward said. "I like that. Every time I watch him, I kind of smile. We are still competitors. We are going to go out there and compete, and at the end of the game, shake hands and wish each other good luck and go on about our business."
Ward has played the Titans 14 times throughout his 13-year career. He has 69 catches for 857 yards and six touchdowns against Tennessee, which is 10-4 against Pittsburgh over that span. Ward has registered 15 catches for 212 yards and one touchdown in the past two games against the Titans.
He remembers the hit from Finnegan during his touchdown in 2008 at LP Field.
"I love everything about Cortland, his little tenacious defense," Ward said. "He is always going after guys in run block or passing and whatever. I remember the one game we played down there, I scored a touchdown and he laid a pretty good hit on me. He is a little feisty guy.  I like him because he plays with a chip on his shoulder, a young guy with great talent, coming out of a small school trying to prove himself. You can see that each and every week he gets out on the field.  It is always a tough challenge going against Cortland."
Finnegan, whom the Titans drafted out of Samford University, recorded six tackles (five solo) and one pass deflection in Tennessee's 31-14 defeat victory in 2008. Last season Finnegan had 10 tackles (seven solo), one pass deflection and one interception that he returned 80 yards before halftime to keep the score at 7-7. Pittsburgh eventually won 13-10 in overtime.
The Titans began 2010 by defeating Oakland 38-13 last Sunday. Finnegan recorded five tackles (three solo) in the win.
"We could get better," Finnegan said of the defense. "We're facing a really good football team. We've got our hands full, stopping the run and the pass, so I look forward to it being a physical game against a really good football team."