**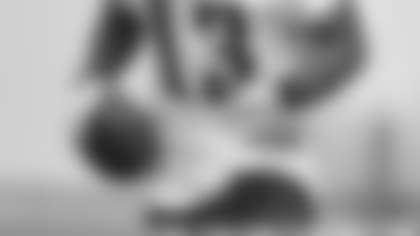 Rookie running back Stafon Johnson has a new perspective on life after suffering a near-fatal injury his senior season at USC.
NASHVILLE, Tenn. --** Titans' rookie running back Stafon Johnson has had a successful start to training camp.  The rookie free agent acquisition out of the University of Southern California has looked quick with his cuts and appears to be picking up on his passing routes.  He has some promise as a kick returner as well.
If you happened to be watching him during his career at USC, Johnson's success with the Titans during camp would not come as much of a surprise.  He emerged as the Trojans primary goal line threat while compiling over 1,500 rushing yards and 19 touchdowns in his career despite being a part of a crowded backfield.  During the first five games of his senior season, he averaged five yards per carry and ran for five touchdowns.  Those preliminary statistics would be all he was able to compile in that season, however.
On Sept. 29, 2009, five days before fifth-ranked USC was set to take on rival Cal, Johnson was going through his usual bench press repetitions in the program's weight room when his right hand slipped off the bar and he dropped a 275-pound bar directly on his throat.  Fortunately, a spotter watching his workout removed the weight as quickly as possible.  The force of the weight still completely crushed his larynx and significantly damaged his neck muscles.  He immediately began to cough up blood and he was rushed straight to the hospital to undergo an emergency tracheotomy.  During his hospital recuperation, which lasted several weeks, he was unsure of his prognosis and whether he would be able to play football again.
"When I woke up in the hospital, I didn't know what to expect.  Actually I didn't even know the extent of my injury.  I basically thought I would be out for a couple of weeks and then I'd be able to come back to the team.  Once I found out more information, I realized the extent.  My doctors gave me an option.  If I did everything that they advised, I may be able to play football again," Johnson said.
After surgery, doctors told Johnson that he was lucky to be alive.  If the accident had happened to someone other than a highly conditioned athlete, they would not have survived.  It was only because of his fitness that he was still alive, doctors said. 
"I'm grateful.  I'm thankful to God for sparing my life and for giving me another chance.  Now I try to focus on the future instead of the past, even though I will always remember where I came from, including my injury," Johnson said.
Johnson was forced to sit out the rest of his senior season and saw the Trojans finish a disappointing 9-4.  For the first time in his career he had to watch his teammates from the sideline while dealing with a serious injury.
"I come from a background where I haven't missed too many games in my life and so of course missing the season hurt, especially coming off a pretty good season in 2008.  It is not usual for me to miss time on the field.  It felt as if I let down the team," Johnson said.
Though he may not have been noticed on the field that season, he certainly drew attention from teammates and fans for his courage and work ethic.  He knew from day one that he wanted to be able to return to the football field.  Titans' rookie WR Damian Williams, a teammate of Johnson's at USC, was in the weight room when the accident happened and has watched his friend battle back to playing shape.
"I think his work ethic speaks for itself.  Many times when you get in a situation like that you start feeling sorry for yourself, and rightfully so.  He was in a situation where the average person dies and he was able to not only physically battle back, but mentally as well.  He was against all the odds and he overcame adversity.  The way he's battled back to play football again, I think it is incredible," Williams said.
Although Johnson was not drafted, the Titans signed him on April 30 as a rookie free agent.  The speed of his recovery was far quicker than many doctors expected.  Johnson was able to return to the game he loved a mere four months after the harrowing injury.  He saw the field in the Senior Bowl in January, rushing the ball four times for nine yards. Johnson claims that three things allowed him to make the recovery so quickly.
"I listened to my doctors.  Other than that, it was my faith in God and my faith in myself.  I just believed in myself.  I can do all things with God on my side," Johnson said.
Johnson entered camp amidst a backfield strewn with talent.  Starter Chris Johnson rushed for the first 2,000-yard season in franchise history and reigned in the 2009 Offensive Player of the Year award.  Backup Javon Ringer is expected to see a large increase in workload this season.  Veteran Alvin Pearman looks to improve on last year, a season in which he saw the field in five games.  Fellow rookie free agent LeGarrette Blount is quickly becoming a fan favorite for his bruising frame and downhill running style and has the potential to become a goal-line style back in the NFL.  Stafon Johnson, a Bellflower, Calif. native, loves the talent he sees around him.
"I am just honored to be in the category of the running backs we have right now.  Everybody in their respective past has been one of the best at what they do.  Everybody is working.  It's a beautiful thing when you have that good of a backfield to compete with.  You know that you're practicing and competing with the best," Johnson stated.
It is amazing that Johnson was able to bounce back from such a severe injury and arrive at where he is now.  He knows better than anyone that the road to becoming an NFL running back is a long one, and there will be plenty of bumps along the way.