**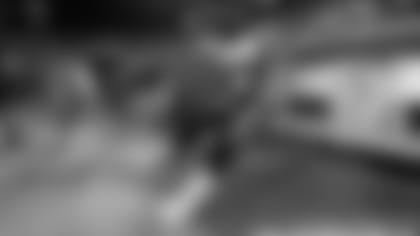 Running back Chris Johnson will be the focus of Philadelphia's defense when the Titans and Eagles square off Sunday at LP Field.
PHILADELPHIA -** Two weeks ago, the
Philadelphia Eagles
had the NFL's No. 27 run defense and faced a stretch of games against three Pro Bowl running backs - San Francisco's Frank Gore, Atlanta's Michael Turner and Tennessee's Chris Johnson.
Two-thirds of the way through that potential minefield, the Eagles have moved up five slots to No. 22, as they prepare to face perhaps the most difficult phase of that trifecta: Johnson and the Tennessee Titans (4-2) Sunday in Nashville.
"It's a credit to the coaches and the players and what they have done with the backs that we've faced,'' defensive coordinator Sean McDermott said Thursday before practice. "There's been some quality backs, but we've done a good job.''
The Eagles (4-2) held Gore to 52 yards on 18 carries in a 27-24 win over San Francisco. And they bottled up Turner to the tune of 45 yards on 15 carries in a 31-17 win over Atlanta.
If Gore and Turner were tests, though, Johnson, who is second in the league with 596 yards rushing and first in scoring with seven rushing touchdowns, is the major exam.
"He's the best back in the league in my opinion,'' safety Quintin Mikell said. "We did a good job the past two weeks, but we can't rest on that. Those two guys were kind of the same. This guy is different. He's fast as lightning. And he can just take over a game if you let him.''
It's the Eagles' job to not let him. That starts with McDermott, who must come up with a scheme and gameplan in a hurry.
"This guy is special,'' McDermott said. "As soon as you think you have him stopped, he cuts it back and he hits a seam and he's off to the races. He's done that against good defenses in the past and we just need to make sure that we're gap sound and that our cutbacks are playing the way we need to play the cutbacks.''
Stopping the run starts up front and the Eagles have received good play from their defensive line. With Brodrick Bunkley still out with an elbow injury, the rotation of tackles Antonio Dixon and Trevor Laws alongside Mike Patterson has been stout inside. And ends Trent Cole, Juqua Parker and Darryl Tapp have also contributed.
"Stopping the run is about pride,'' Laws said. "Nobody wants to get run on in this league. A team runs on you, they control the clock, they control the game. You can't let that happen.''
The Eagles' worst effort, against the run, came in a 17-12 loss to Donovan McNabb and the Washington Redskins, when they allowed 169 yards. That was the low point.
But now, with the tables turned, is the high point on deck against this feared Tennessee attack?
"They're a good running team,'' Mikell said. "But it doesn't matter. Even if you were playing a passing offense, like us, you want to stop the run first. That changes the whole course of the game and what they want to do. You would like to get them in second- and third-and-long situations.''
Even that might not matter with Johnson in the backfield.
"He's a legitimate home-run threat,'' middle linebacker Stewart Bradley said. "You have to be on edge all the time with him back there. They're the kind of team, with him, they'll run the ball on third and long. You always have to be aware of him.''