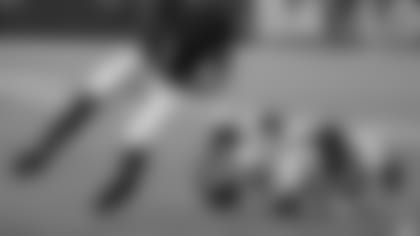 The Titans are excited about adding another playmaker to their offense in Kendall Wright.
NASHVILLE, Tenn. — Kendall Wright loved basketball first.
Although he can dunk with ease, Wright realized he couldn't lengthen his 5-foot-10 frame.
He did discover, however, he can turn short passes into long gains on a football field.
"I've been playing basketball forever," Wright said. "I played my freshman year of college and that was it. That was my first love, but it's not too many basketball players in the league that are 5-10, 5-11 anymore, so I (chose) football." 
It turned out to be a good decision for Wright, who started 42 of 50 football games and finished his collegiate career with 302 catches for 4,004 yards and 30 touchdowns.
Others, including Titans executives and scouts, took notice as the former Baylor wide receiver increased his production each year with the Bears. Wright caught 108 passes for 1,663 yards (averaging 128 yards per game) and 14 touchdowns in his senior season in bringing Baylor to the national limelight.
Tennessee drafted Wright Thursday night in the first round of the 2012 NFL Draft with the 20th overall pick.
"We spent a lot of time watching Kendall, brought him in here for a visit, sent our coaches to work him out," Titans general manager Ruston Webster said. "He is an exciting playmaker that can help us in a lot of ways and will be fun to watch. He'll make our offense even better than it is. We're very excited about that." 
Wright set school records in catches, yards and touchdowns and also boasts a school-record 4,479 career all-purpose yards. He said he is thankful for the opportunity to join the Titans, who expect him to contribute this season, and was amazed by the atmosphere of spending Thursday night in Radio City Music Hall in New York. Wright is expected to visit Baptist Sports Park Friday to speak with reporters.
"It's been incredible. It's been very exciting. I'm so blessed to be a Tennessee Titan right now. I can't wait to see what I can help bring to the table," Wright said. "I feel like coming into this thing, if I was drafted in the first round or second round or third round, or whenever I was drafted, I felt like with my work ethic and my ability, I felt like I could make any team. I'm definitely ready to help make plays as a rookie as a receiver, or kick returner or punt returner, wherever they need me at."
Offensive coordinator Chris Palmer said Wright is "electric" and will have opportunities to impact games by lining up on the outside or inside (slot) positions.
"I think he is a guy who will allow us to move him around and complement our other receivers and give us a chance to be more explosive offensively," Palmer said.
Wright's selection follows a season in which Titans receivers Nate Washington, Damian Williams and Lavelle Hawkins and tight end Jared Cook all set career highs in multiple categories after Tennessee lost top receiver Kenny Britt to an ACL and MCL injury in Week 3. Britt, who was chosen in the first round in 2009, has been rehabbing after his surgery.
Although many analysts predicted  the Titans would use their only first-round selection to bolster their defense, Webster said Wright was the highest graded player at the 20th spot.
"We were considering a lot of different positions, so it wasn't something we were focusing on in terms of, 'Ok, we just have to take a receiver because of Kenny's health,' " Webster said. "It was more about the fact that we really like Kendall Wright. It was an easy decision."
Titans coach Mike Munchak, who will be entering his second season as head coach, said Wright's addition on offense will help Tennessee's defense as well.
"Anytime you add a great player on offense, it gives you a chance, maybe, to stay on the field, make plays, score points," Munchak said. "It helps both sides of the ball. When you're looking for guys that can help you win, this is the type of guy that jumps to the top of the list. That's what's exciting. This is a guy that's going to help this team win football games."
Titans scout Jon Salge, whose territory includes Texas and other states in the central U.S., said Wright's drive and attributes make a great combination.
"The first thing you notice about Kendall is on the field, this is one of the most competitive football players that I watched this year and really in the last couple of years altogether," Salge said. "He's a very competitive football player. He really, really wants to be good. That's his makeup. In terms of actual ability, the explosiveness — I think that term was used — you see that. You can't help but see it. Speed, quickness, hands, run after catch, all of these were qualities that you can't help but be impressed by. You turn the film on Kendall Wright, you see a very explosive player, both vertically and laterally, so it's going to be a lot of fun."
Wright said he thought that he made a good impression with Titans executives, scouts and coaches during his visit to Tennessee and the workout he did for coaches, but he "had no clue" when he would be drafted.
"I knew they liked me a lot but I had no clue they were going to draft me because this draft thing is crazy, but I'm excited to be a Tennessee Titan," Wright said. "I watched film while I was there. I know they have an explosive receiver, Kenny Britt, that I can learn from and they have a great running back, Chris Johnson, and they have two quarterbacks in Matt Hasselbeck and Jake Locker that are really good and can sling it."
ELSEWHERE IN THE DIVISION: Indianapolis and Jacksonville also went for offense, but Houston opted for defensive help.
The Colts upheld what had been predicted when the 2011 season ended and drafted Stanford quarterback Andrew Luck with the No. 1 pick of the night. Luck (6-4, 234) became the first overall pick for Indianapolis since Peyton Manning in 1998. Luck, who declared for the draft after his junior season, completed 713 of 1,064 passes (67 percent) for 9,430 yards and 82 touchdowns against 22 interceptions in his collegiate career. Luck is expected to start immediately and replace Manning, who left the Colts in free agency and signed with Denver.
Jacksonville, which began the night with the seventh overall pick, traded up to the fifth spot that was held by Tampa Bay. The Jaguars drafted Oklahoma State receiver Justin Blackmon (6-1, 207). Blackmon also declared for the draft after his junior season. He finished his college career with 253 catches for 3,564 yards and 40 touchdowns.
The Texans, coming of their first AFC South title in franchise history, picked Illinois defensive end Whitney Mercilus (6-3, 261) with the 26th pick.
DRAFT DAY DEALING: It started with one slot. Cleveland, which started the night with the fourth pick traded up to Minnesota's third overall spot. The Browns drafted Alabama running back Trent Richardson, and the Vikings drafted tackle Matt Kalil.
The change in order was slight, but it appeared to kindle a flame of activity. Jacksonville traded from seventh to fifth with Tampa Bay. The Buccaneers drafted Alabama safety Mark Barron.
Dallas vaulted from 14th to sixth and tabbed LSU cornerback Morris Claiborne when it swapped with St. Louis. The Rams selected LSU defensive tackle Michael Brockers.
Philadelphia leapt from 15th to 12th to take Mississippi State defensive tackle Fletcher Cox by switching with Seattle. The Seahawks opted for West Virginia defensive end Bruce Irvin.
New England began the day with the 27th and 31st picks, but moved up to 21st and 25th, respectively, by trading for spots held by Cincinnati and Denver. The Patriots, who will open 2012 against the Titans at LP Field, selected Syracuse defensive end Chandler Jones and Alabama linebacker Dont'a Hightower.
Cincinnati then took the 27th pick from New Orleans through New England, Minnesota took the 29th from Baltimore, and Tampa Bay took the 31st spot from New England through Denver.