NASHVILLE, Tenn. – Bridgestone Arena was hopping on Monday night, and many of the Titans were right in the middle of it, supporting the Predators.
The Predators play Game 7 of their Western Conference semifinal series against San Jose on Thursday night.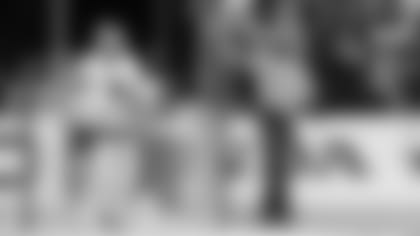 "They're doing well and we're excited that they're doing well. We're having a great time going to their games," Walker said. "It kind of helps out the city and we're having a great time going to the games, so I think everyone is going to be a Preds fan."
Walker has been a regular at home hockey playoff games for the Predators, but he hasn't been the lone ranger. Titans linebacker Avery Williamson has become a celebrity of sorts on the big screen at Predators home games, and on Monday night members of the team's offensive line were at Bridgestone Arena for Game 6. They also got plenty of face time on the Jumbotron that night.
Walker, decked out in a Predators jersey with his name on the back, was in charge of getting the crowd riled up before Game 6 of the team's opening series against Anaheim. He waved a gold towel after stepping on the ice, and the Preds beat the Ducks.
Titans quarterback Marcus Mariota made a similar appearance before a game earlier this series. Titans general manager Jon Robinson and coach Mike Mularkey have also been spotted at hockey games decked out in blue and gold. Cornerback Blidi Wreh-Wilson and safety Da'Norris Searcy were also among those in attendance on Monday night.
"I think coming into Nashville, you have to be a Predators fan,'' Mariota said last week. "I was excited to see the first game live, and I am blessed it was the Predators."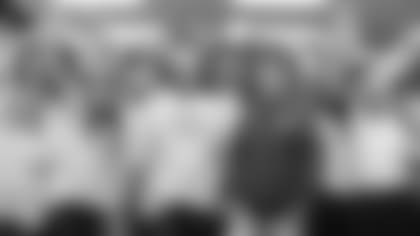 Walker and his teammates have had a big time at the games.
"You see how the atmosphere is at their games and we all want that," Walker said. "I even mentioned that whoever their announcer (Paul McCann) is and whoever does the music (Brian Campbell), he's good, real good."
"… I think they're going to get new people every time (to rev up the fans). And I think that's the excitement the fans want. But I'm always there. They don't need to have me come and pump the crowd. I'm in the crowd, pumped."
Walker said the Titans plan to continue to cheering on the Predators.
On Thursday, many inside the building at Saint Thomas Sports Park were decked out on Predators shirts. Last week, the Titans sent out a video via social media in support of the Preds.
Walker smiled when asked about Williamson, who has cranked up the Preds' airhorn before overtime games, and has been showed plenty on the Jumbotron.
"Avery was a little too excited," Walker said. "It was great to see him out there, but I had to give him a hard time. He wouldn't stop smiling. He spit on the camera."