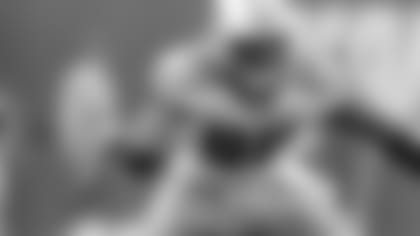 Derrick Morgan, the team's top draft pick in 2010, returned to practice Wednesday and is hoping to play Sunday vs. Baltimore.
NASHVILLE, Tenn. -- The competitive spirit in Jason Jones and Derrick Morgan wanted to be on the field instead of the sidelines during last Sunday's loss at Jacksonville. Sometimes, however, the head must overcome the heart.
The duo, which spent much of training camp atop the Titans' depth chart at defensive end, missed the opener as they were recovering from knee injuries. Both practiced full speed Wednesday and are expected to play when the Titans (0-1) host the Baltimore Ravens (1-0) at noon Sunday at LP Field.
"It felt good to get back out there," Jones said. "I'll be practicing all week, getting ready for the game on Sunday. I wanted to be out there to help my teammates help make plays (against Jacksonville). I'm a competitor so it was hard watching it on the sideline, but I'm back and ready to help my team out."
Jones recorded 12.5 sacks over his first three seasons and led the Titans in 2010 with 12 tackles for loss. Tennessee wanted to shift the 276-pound Jones from defensive tackle to defensive end this season and fill the interior positions with heavier players to help his health and utilize his pass rush abilities. Jones, however, suffered a knee sprain against St. Louis in the second preseason game.
Morgan, Tennessee's first-round pick a year ago, suffered an ACL injury in his fourth game last season. He experienced some pain in his knee during this year's training camp and opted to undergo another procedure to get things right.
"I felt great," Morgan said of Wednesday's practice. "I felt really blessed to just be comfortable and not have a lot of pain."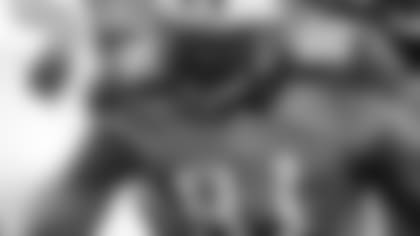 Jason Jones is one of the team's top playmakers up front. He returned to practice Wednesday and is expected to play Sunday.
The Titans shuffled multiple players on the defensive line against the Jaguars, who kept pounding the ball for gains on first and second down to set up easier third downs. Jacksonville rushed 47 times for 163 yards and possessed the ball for nearly 40 of the game's 60 minutes but managed one touchdown on its opening drive and three field goals.
"I think everybody got settled down," safety Michael Griffin said. "Jacksonville, they run four run plays that they like and they're going to stick to them. You watch some of those series, they were running the same plays. After halftime, we were able to play football. We had a lot of guys not starting. I think it was a lot going on in a short amount of time."
Morgan said his teammates did a good job adjusting to being asked to play different positions, but he's ready to let them concentrate on what they do best against Baltimore.
"They got thrown into the fire, so they're kind of getting back at their own positions," Morgan said. "I think it's going to help a great deal."
Baltimore defeated Pittsburgh 35-7 Sunday with the help of seven Steelers turnovers. Ravens running back Ray Rice rushed 19 times for 107 yards and Joe Flacco completed 17 of 29 passes for 224 yards and three touchdowns.
Jones said the Titans' offense and defense will have a good challenge Sunday.
"Flacco is a good, strong quarterback, but he does give us opportunities to get to him because he does hold the ball," Jones said.
Both Jones and Morgan said their confidence grew with every repetition Wednesday.
"Anybody who has an injury, the first couple of times you go out there full-speed, you're going to be a little apprehensive," Jones said. "I got confident as (practice) went on. I probably won't feel (any pain) on game day."