**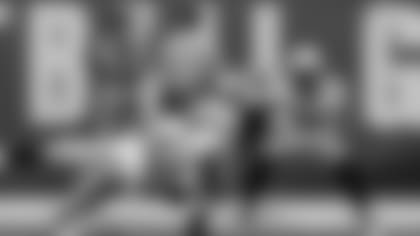 Opponents have scored only 32 points on 12 trips inside the Titans red zone this season.
NASHVILLE, Tenn. --** The RedZone Channel is dedicated to showing every touchdown from every game each week. The Titans defense is committed to keeping opponents off the channel devoted to football enthusiasts.
Tennessee is leading the league in percentage of touchdowns allowed to opponents who move the ball inside the Titans' 20, commonly called the red zone. In three games, opponents have reached the red zone against the Titans 12 times, scoring a total of 32 points on two touchdowns (16.7 touchdown percentage) and six field goals.
The Titans (2-1) host the Denver Broncos (1-2) at noon Sunday at LP Field.
Denver has had success getting the ball into the red zone but hasn't been as efficient at capitalizing. The Broncos are tied for first in the league with 4.3 trips to the red zone per game but score only 1.7 times per game (tied for ninth). Denver made it to the red zone five times Sunday against the Indianapolis Colts but lost 27-13.
Denver netted a total of 519 yards against Indianapolis, with Broncos quarterback Kyle Orton completing 37 of 57 passes for 476 yards. He threw a 48-yard touchdown to Brandon Lloyd and had one interception.
"I'm not going to overreact too much," Orton said when asked about the team's struggles in the red zone. "We played Seattle in the second week and did a pretty good job in the red zone and on third down. We struggled a little bit last week to score points down there, but I think throughout the preseason and a few games early on we've done a halfway decent job down there."
Playing without leading rusher Knowshon Moreno, the Broncos rushed 18 times for 47 yards. Orton said the Broncos missed the balance that Moreno provides. Moreno (hamstring) did not practice Wednesday.
"We like to say that the key to this offense is to be able to stay balanced," Orton said. "If we can get that going, I think it will help us out in the red zone as well."
The Titans rank fifth in the league in points allowed (14 per game), despite disadvantages in field position during the Pittsburgh game and allowing 471 net yards to the New York Giants Sunday. New York's Eli Manning completed 34 of 48 passes for 386 yards, but the Titans intercepted Manning twice (once in the red zone) and forced and recovered a Giants fumble at the Tennessee five-yard line. The Titans beat the Giants 29-10, seizing control of the game in the third quarter.
When asked what the yardage-to-points ratio in Sunday's win said about the Titans' ability to bend but not break, Titans coach Jeff Fisher said "We have a lot of things to fix in the bending area."
Titans safety Michael Griffin said Monday that the Giants were "stat grabbing" in the fourth quarter even though the outcome of the game had been determined. Griffin said it placed Giants offensive starters at risk of potential injuries.
"Toward the end of the game, they were stat grabbing," Griffin said. "I don't know how to take that with less than two minutes left and it's pretty much impossible to win the ballgame. You're not going to win, but you're still grabbing stats."
Tennessee cornerback Cortland Finnegan said "Yards really don't matter. It's about points," when asked this week about last Sunday's game, and safety Chris Hope said the yards allowed to the Giants were a product of an accurate quarterback and a talented corps of receivers.
"You're not going to be able to stop every pass," Hope said. "You're not going to be able to shut down every receiver, but it's us focusing on not letting them score touchdowns and not giving up the big plays. When you look at this offense, they have a lot of explosive playmakers. This week is by far our biggest challenge. We have to focus on reading our keys because play-action pass and the deep shots they take are all because (defenders) are playing bad technique or not reading their keys."
In contrast to as pass happy as the Broncos have been through three games, the Titans have been determined to run the ball. Tennessee has rushed 102 times, with Chris Johnson carrying the ball 75 times for 301 yards and four touchdowns. The Titans have passed the ball a total of 68 times this season.
Tennessee's offense is tied for fourth in points per game (26) and is tied for first in red zone scores per game (2.3). The Titans are tied for eighth in red zone scoring opportunities (3.3 per game).
The Oilers/Titans franchise and the Broncos were charter members of the American Football League in 1960 and played each other 19 times until the AFL-NFL merger in 1970, but have only played 11 times since 1980.
Fisher, in his 16th full season as head coach of the Oilers/Titans franchise has coached against Denver just three times (1995, 2004, 2007). Fisher said the Titans' familiarity with the Colts helped coaches break down film from last week.
"They're defense did, I think, as good a job with the Colts, considering they're not familiar them, as anybody I've seen in years, maybe excluding the Super Bowl," Fisher said. "I thought they played very, very well."
Second-year Denver coach Josh McDaniels said his prior coaching experience at New England gives him more familiarity with the Titans than most of his players.
"I think we're on a crash course to try and make sure we understand the personnel; we understand the philosophy that they use, how they try to win games and the people that we have to stop or the things that we have to stop in the game to try and make ourselves successful," McDaniels said. "I have a great deal of respect for Coach Fisher. He's done a great job for a long time. He's got a specific philosophy that I know works, and we're going to try and get our players ready as quickly as we can to go down there and play the best we can."