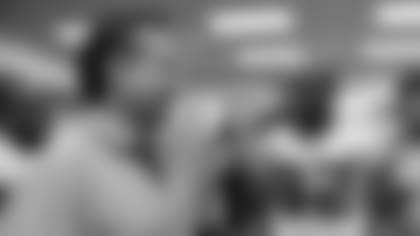 Titans linebacker Will Witherspoon is presented the game ball following his inspirational performance Sunday vs. Oakland.
NASHVILLE, Tenn. --** Will Witherspoon blew past the offensive lineman, wrapped up Raiders quarterback Jason Campbell in a hug and took him down for a sack. It looked simple, and it was, compared to the adversity the Titans' linebacker tackled this week.

Witherspoon, who signed with Tennessee in the offseason, left the Titans Tuesday to be with his family after learning that his mother had unexpectedly died. He returned to the team Saturday night, recorded Tennessee's first sack of the season and received the game ball from his teammates.

Witherspoon's sack occurred one play after a Titans fumble placed the Raiders in good field position. It set the tone in the Titans' 38-13 season-opening defeat of Oakland Sunday at LP Field and provided a cathartic moment for Witherspoon.

He said his mother Nora Lee Cooper Witherspoon, 56, would not have wanted it any other way.

"I'm honoring what my mother would have wanted me to do," the nine-year NFL veteran said. "That's what my mother would have wanted. She's never held me back from anything. It's one of those things where it's better to get it done. This is another part of my family. These guys know it."

Titans coach Jeff Fisher said last week that the team had told Witherspoon to concentrate on his family and that football would take care of itself.

It did. Witherspoon recorded six tackles and a quarterback hurry. The Titans sacked Campbell four times, hurried him four times, deflected seven passes and generally disrupted Oakland's offense in building a 38-6 lead early in the fourth quarter.

Fisher said he had "no concerns whatsoever" about Witherspoon missing time with the team this week.

"You go through a lot of things over your career, but this was one of the most courageous days I've ever seen out of a player," Fisher said. "To not have practiced all week and to have buried his mom with his family late yesterday and come in last night and play the way he did, my hat is off to Will Witherspoon."

Witherspoon remembered his mother as someone who was "hard on me, tough on me, made sure that I was doing what I needed to do. At the same time, she made sure I had a great life. She made sure that I enjoyed it."

Titans quarterback Vince Young said Witherspoon's demeanor during a difficult time won't be forgotten in the Tennessee locker room.

"We will always remember that," Young said. "That'll be a memory for us to cherish the rest of our life, how much heart he showed and the leadership role that he did to come back and play with us today."

Johnson continues streak, becomes 'deke'

Titans running back Chris Johnson tied former Raider Marcus Allen with 12 consecutive games of more than 100 yards rushing. That's second best all time, behind a streak of 14 set by former Detroit Lion Barry Sanders.

Johnson's streak includes the final 11 games of the Titans' 2009 campaign. Tennessee is 9-3 during that stretch. He said the number of wins is his main concern.

"I'm really not going into any game right now thinking about any records, making sure I get over 100 and this and that. My main focus is winning."

About half of Johnson's 142 yards came on a 76-yard touchdown scamper that gave the Titans a 24-3 lead with 1:43 left in the first half. He ran the ball 27 times, averaging 5.3 yards per carry and added another four-yard touchdown run in the third quarter.

Johnson, who rushed for 2,006 yards on his way to earning 2009 Offensive Player of the Year honors, said in the offseason that he wanted to gain 2,500 rushing yards. He needs to average more than 157 yards the rest of the season. As for becoming the first running back to gain more than 2,000 rushing yards in back-to-back seasons, Johnson needs to average nearly 124 yards per game the rest of the season.

Johnson garnered much attention from the Raiders' defense, making him a great decoy to set up Tennessee's two passing touchdowns. The Titans faked a run to the left side, Young rolled out on the right and fired to an open Nate Washington for a 56-yard score that gave the Titans a 7-3 lead.

"Yeah they bit down pretty hard on it, great fake by me and CJ in the backfield," Young said. "Ahmard (Hall) did a great job of coming out in the flat and drawing their attention and leaving Nate wide open. So that was a great run by Nate, great read by myself, and that's one of those plays that Coach (Mike) Heimerdinger is smiling at right now. We want to keep that smile on his face."

Said Washington: "A lot of teams in this league are going to be fearful of what (Johnson) can do. I guess when (Young) faked it to Chris, I saw the safety and the corner bite down. I just made the move right by them. I don't know who you contribute it to: Chris, me or (Young).

"We just have to be prepared to play off (Johnson)," Washington added. "A lot of these teams are going to come in here prepared to stop Chris Johnson and not the Tennessee Titans. So we just have to be prepared for that and ready to answer the call."

Johnson was used again in the fourth quarter as a decoy when Young faked a handoff up the middle and lofted a well-thrown pass to tight end Bo Scaife for the Titans' final score.

Backup running back Javon Ringer scored the Titans' first rushing touchdown of the season and first of his career Sunday. Ringer scored from 15 yards, giving Tennessee a 17-3 lead with 3:45 left in the first half.

"It felt wonderful," Ringer said. "I thank God for it. It was definitely a blessing, but a lot of the credit goes to the offensive line. They were able to open up a gigantic whole for me, and then Ahmard Hall threw the key block for me to be able to get into the end zone. It feels good. I'm definitely excited that I was able to get it, and in the first game of the year."

As a rookie in 2009, Ringer played in six games, rushing eight times for 48 yards. He ran five times for 33 yards Sunday and said the win will give the team momentum for the rest of the season.

"We definitely wanted to start off fast unlike last year," Ringer said. "It's just another stepping stone for us, in hoping to make it to that big pay day. Now we have to make sure to get our minds right to play a tough team (Pittsburgh)."

Titans defensive lineman Derrick Morgan, the team's first-round selection in 2009, made his NFL debut and recorded one sack of Campbell on Oakland's second possession, but he was flagged for a personal foul penalty on the play.

"I was just kind of going with the flow and got pushed in to his legs," Morgan said. "That's how it works sometimes. … "I did alright, could have made a couple more plays. It's Steeler week now, and onto the next one."

Fisher said officials ruled that Morgan had gone low in hitting Campbell, but the Titans coach thought Morgan had been blocked into Campbell.

Seventh-round selection Marc Mariani returned three kickoffs for 70 yards, averaging 23.3 per attempt, and returned three punts 21 yards in his Titans debut.

"To be out there today and to help this team win is an unbelievable experience for me," Mariani said. "The hype, the excitement, it's hard to describe. This is what you dream of doing."

Griffin, Hope close safety valves

Free safety Michael Griffin led the Titans with 12 tackles Sunday, including 10 solo takedowns. The fourth-year pro deflected a pass in the end zone and also recovered a fumble caused by defensive lineman Jacob Ford. Griffin rolled on the ball and stood up, returning it to the end zone for what appeared to be a score. Officials, however, reviewed the play and ruled that Griffin was down by contact. The fumble recovery set up a field goal by Rob Bironas.

"I'm just doing my job," Griffin said. "It's a team sport, and we've got to stick together. The d-line put a lot of pressure on the quarterback, the linebackers made plays. Everybody out there was making some great plays."

Strong safety Chris Hope intercepted Campbell and returned the ball 32 yards before his left foot hit the out-of-bounds line at the Oakland 3. Hope dove into the end zone, but he was correctly marked out of bounds at the 3.

"Our fans did a great job of creating a hostile environment," Hope said. "The first game is always a little shaky. We came out fast, came out aggressive and we made plays. Any time you get a chance to open up the season with a home game, especially playing in our stadium with our loud crowd, it's a big positive."

Young completed 13 of 17 passes (76 percent), including the two touchdowns. He threw for 154 yards, rushed seven times for 30 yards and finished with a passer rating of 142.8. Tennessee is 9-2 in Young's last 11 starts and 27-13 in games that Young has started in his five-year career.