**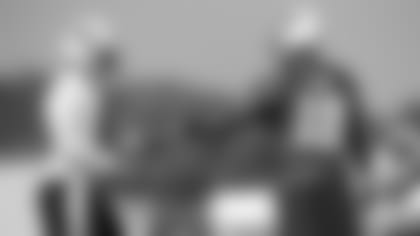 Young has looked more comfortable running and executing the offense during training camp.
NASHVILLE, Tenn. --** With tailback Chris Johnson and quarterback Vince Young comprising a dynamic rushing tandem, Tennessee's passing game is oftentimes an afterthought. The Titans only passed when they needed to last season, as Young's 21.6 attempts per game last season showed; only JaMarcus Russell had fewer attempts per game (20.5) among starters.
Philosophically, things won't change significantly this season. They will change some, however, because Young has gotten better as a passer and because they have too many playmaking options at wide receiver and tight end not to incorporate them in the game plan.
"I'm sure we've got a lot of people sleeping on our receivers," Young said.
The Titans passing game, which ranked 23rd in the NFL last season (189.4 yards per game), begins with Young. He is never going to be Drew Brees in terms of accuracy, but with the variety of receiving talents he has, Young needs to get the ball to them on time and get it to where they can make plays.
I've watched Young a few times this offseason and once now at training camp, and he clearly feels more comfortable in the passing game and his execution appears better than adequate.
"He's rolling right along and you can see that because he's had another year with 'Dinger (offensive coordinator Mike Heimerdinger)," Coach Jeff Fisher said. "He's not going to be a 75 percent completion guy but don't forget about his legs. He's done some things and he will continue to do so. We can use his legs in the run game with (Johnson) in our option package, things like that. We're trying to get C.J. on the edge in space, one-on-one after taking the ball down the line of scrimmage. Vince has had a solid offseason, no distractions during training camp. He's been there day in and day out."
As for Young's targets, second-year wideout Kenny Britt is a game-changer, who at 6-foot-3 and 215 pounds, stretches the field and is tough to stick with should Young break free from the pocket. His maturity has come into question off the field -- he reported well out of shape to OTAs and he missed training camp curfew after a traffic stop delayed him -- but his potential production helps balance out those concerns (for now).
Wide receivers Nate Washington, Lavelle Hawkins, Justin Gage and rookie Damian Williams and tight ends Bo Scaife and Jared Cook form "the best group we've put around Vince since we've had him and the best group we've had in a long time," Fisher said.
"The way they run routes and make plays ... Kenny's had a great last few days. He's really taken that step."
Young might have explained their roles best: "The biggest thing they're doing is making the key blocks downfield that we need for C.J. to spring and make those big runs."
» The absence of veteran center Kevin Mawae might be felt in the locker room, but Young said the transition to new starting center Eugene Amato has gone smoothly. "I've been working with Eugene for a long time, on scout team and different things like that," Young said. "He's doing a great job."
» Johnson's speed is still mind-boggling. I've seen him live. I've seen highlights. He is blistering fast. Even at a recent practice, there were no angles defenders could take to compensate for his speed. When he hits a corner, no matter where he is on the field, and cranks it up, he's gone. With his giddy-up, I don't see any reason why he can't come close to 2,000 rushing yards again.
» It's still a ways away but Tennessee has to be a little weary of its defensive end situation, even after signing veteran Raheem Brock on Thursday. First-round draft pick Derrick Morgan has done very little in training camp after sustaining a calf injury that's more than a week from being healed. This comes after he missed much of the offseason with a hamstring injury. Projected starter William Hayes sprained a knee ligament this week and Jacob Ford also has been nicked. Jason Babin, Dave Ball and Eric Bakhtiari are what the Titans have left for the preseason opener on Saturday vs. Seattle. DT Jason Jones has been taking some reps at end just in case.
» The battle for the cornerback spot opposite Cortland Finnegan is heated. Jason McCourty is the early leader but rookie Alterraun Verner is creating buzz in camp. Coaches love his playmaking ability and several players say he has really jumped out from the group. Ryan Mouton and Tye Hill (slowed by leg injuries) are in the mix, too. If Verner doesn't open the season as the starter, it will only be a matter of time before he takes over the role.
» The Titans haven't been able to see much of Morgan in camp because of the leg injuries, and they're not too thrilled about it. Fisher said the goal is to get Morgan back for the final two preseason games. Since Morgan was a nearly finished product coming out of Georgia Tech, Fisher said he's not worried about a huge learning curve and figures Morgan will be able to play immediately (he'll likely open behind Ford) when the season opens against Oakland on Sept. 12.
» Damian Williams, the team's third-round pick, will compete for the starting PR/KR spots. An injured hamstring has kept him out most of training camp, so the the Titans don't know what he can do at receiver yet. He should be ready for the second preseason game vs. Arizona.
» OLB Rennie Curran, a third-round pick out of Georgia, will make the roster as a special teams player, but it wouldn't shock anyone if he breaks into the starting lineup at some point. Curran has played at a starter's level against the run in team and individual drills, Fisher said, but remains hesitant in pass defense.
» Safety Myron Rolle, a sixth-round pick, is going to have to make it on special teams because Tennessee is fairly stocked at safety. The Rhodes Scholar is on the fence and needs to show well in preseason, otherwise, he'll likely end up on the practice squad.
» Undrafted RB LeGarrette Blount is being counted on to be the short-yardage back. He's been impressive on and off the field, and unless he blows it during the preseason, he'll likely be in the top-three rotation on game days.
» Undrafted RB Stafon Johnson is going to have to show well on special teams in camp and the preseason, and he's going to be given opportunities on return teams. He's done fine at running back, just not as good as Johnson, Javon Ringer and Blount. He could be bound for the practice squad.
"The thing about special teams is most of these (rookies) haven't done a lot of it in college. It's rare that you find a guy in college that comes in Day 1 as a real talented special teams player. They have to learn it."