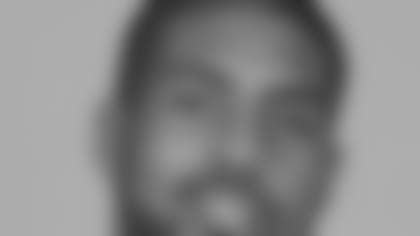 RUNNING BACK ARIAN FOSTER
(on what allowed the Texans' offense to be so effective in the first matchup)
I think we just have a lot of talented players.  Every now and then when you get a lot of talented players on the same page and clicking at the same time then you have one of those games.  There are not a lot of games where you can hang 35 plus points on a team, especially a defense of that caliber.  I still think the Titans have a very good defense.  Sometimes things just go right for you, so we are not looking at this game that we dominated the line of scrimmage the last game so that is how it is going to be this game.  In this league it is hard to beat a team twice, especially when they know us so well.  It is going to be a brand new game.
(on if he feels more pressure to be a leader and put up bigger numbers now that the team is playing the third quarterback)
No, I don't feel any more additional pressure.  Just playing in this league period is pressure.  Somebody is always behind you for your job; nobody's job is ever safe.  On top of that, you have to win for your coaches and there is just pressure from all angles.
(on the team's mindset knowing this game doesn't have any seeding implication for the Texans)
It does have implications.  We are trying to get a win in the National Football League.  Any time that you try to do that, it is important and it is important for our organization to end the season 11-5 and to get some momentum heading into the playoffs.
(on the recent increase on penalties and turnovers for the Texans)
It is just a lack of focus.  It happens sometimes, but it can't.  We are working to fix those things.
(on the play of rookie quarterback T.J. Yates)
It is still early in his career and I think he has done a great job thus far.  It is hard for me to make an assessment because it is still early.  I'm just going to wait until the season plays out, but I think he has a bright future in this league though.
(on sharing the workload with Ben Tate and Derrick Ward and if he feels fresher)
It is hard to tell because at the end of this year my mindset is different than last year because we had no shot of going to the playoffs going into the last game last year, and this year we do.  I think my mindset was different.  I always take pretty good care of my body, so it is hard to tell, but it is always good to have people that can spare you when you are tired that are productive.
(on the potential of the Titans returning for a Wild Card game next week and if that affects the game plan)
No, we are trying to get wins and if they do end up in the playoffs then we will see them in Houston.  We are going to take that game just like we are going to take this game, you are trying to win.
(on the play of Johnathan Joseph and his leadership)
I think he brought a whole different attitude to our secondary and you can see it, just how they perform, how they practice, and how they prepare.  It is fun watching them.  I tell them all the time that I think he is the best in the league and I mean that.  I don't mean that because he is on my team.  I see how he works; I see what he did to this defense.  I have the upmost respect for him.
(on if he is disappointed none of his offensive linemen are going to the Pro Bowl)
Yes, absolutely.  I think this is the second year in a row this has happened, but that is just part of the league.  Sometimes prestige is a little more important than film when it comes to things like this, but that is just part of the business.  I think eventually they will get theirs because they have been putting up and doing impressive things since I have been here.  I think it is only a matter of time.  Obviously, you want to get congratulated for your good work and you want to get rewarded for it and they deserve it.  It is just part of the business.  Sometimes it happens like that, but if I get the opportunity to stay in Houston for my career, then my goal is to get one of them or two of them and maybe three of them in there or help them as much because they get themselves in.  I'm going to help them as much as I can.
(on T.J. Yates' development with the play action game and compared to Matt Schaub)
They are two different players and I don't like comparing players.  I think that is more for the media.  I will let you guys do that.  I just think that each player is his own and T.J. Yates is doing a good job for us.
(on the offensive line's zone blocking scheme)
I think we run a lot more zone then a lot of other teams, but every team has zone plays and every team has down-and-around plays which are like power plays and we run power plays also.  I think people kind of get lost in that prestige of the zone blocking scheme; everybody has zone blocking schemes.  What our offensive line is good at is the cohesiveness that they have and they are really good at what they do whether it be zone blocking or power blocking.
(on potentially getting less of a workload in the second half)
I have said before that I'm just a chess piece.  If Bobby Fischer wants me to go, then I'm going to go and when he tells me to stop, I'm going to stop.  Kube (Gary Kubiak) has been doing this a long time and he has been on Super Bowl teams, so he knows how to manage his players.  I'm not worried about that.