**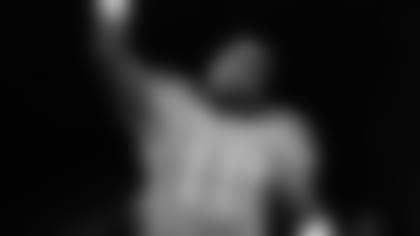 Vince Young proved his doubters wrong, going 8-2 as the Titans' starting QB in 2009.
NASHVILLE, Tenn. --** Vince Young relished the opportunity to become the Titans' starting quarterback again this past season. The team started the 2009 campaign with an unlikely 0-6 record, leading to some roster changes that ultimately put the fourth-year signal-caller back in charge of running Tennessee's offense.
All of the hard work Young had put in during the offseason and the year of watching and learning behind veteran Kerry Collins was about to translate into positive steps for him on the field.
"It really did help my development out just paying attention to how he did things," Young said of serving as Collins' backup during the 2008 campaign. "It has made me stronger and more confident. I had an opportunity to watch Kerry play the game with the type of talent he has and how he managed the game. It definitely helped me out a whole lot."
Head coach Jeff Fisher saw first-hand the improvement Young made.
"I think it was a tremendous experience for him last year watching Kerry and preparing as the backup for Kerry week after week after week," said Fisher. "I think that was a very positive experience for him."
After starting 0-6, the Titans found a renewed spirit behind Young, who won Offensive Rookie of the Year honors in 2006 and carried an 18-11 record as an NFL starter to that point. Having Pro Bowl running back Chris Johnson, the sixth 2,000-yard rusher in NFL history in the backfield, only helped Young. Titans coaches took advantage of the dual threat each player presented, always adding new wrinkles to the weekly game plan.
Young's scrambling ability opened things up for Johnson, who took advantage of the quarterback's athleticism. Offensive coordinator Mike Heimerdinger often positioned Young and Johnson in open space, allowing either player to make plays with their legs. The plan left defenses with a choice to make – either commit to Johnson or go after Young, who often flipped the ball to Johnson at the last second for a large gain – or ran it himself.
"It has definitely helped having Vince in the lineup because defenders have to pick their poison," Johnson said. "They have to worry about two guys who can run the ball. They can't just focus or spy on one person."
Young's accuracy drastically improved since his return. During the final 10 games of the 2009 season, Young completed 59.8 percent of his passes and improved his quarterback rating to 86.1, more than 15 points greater than any previous season career-high he had posted.
Young's maturity greatly evolved throughout the season as he continued to earn back the trust and respect of his teammates, coaches and fans. Never was this more evident than when Young led a 99-yard game-winning drive against Arizona in November. With all odds stacked against him, Young remained poised, starting at his own 1-yard line and converting three fourth downs along the way. He capped off the drive by buying time in the pocket, then firing a perfectly-thrown pass to Kenny Britt in the back of the end zone as time expired for the game-winning score.
That drive not only brought back confidence in Young's game, but the respect from everyone in attendance that night at LP Field.
"Vince Young is a spectacular athlete, a God-given talent, and he is using it to his ability," Britt said afterwards. "I take my hat off to him."
Added teammate and good friend Bo Scaife: "I can't say enough about Vince Young. Over the past year and these several weeks, he's shown us a lot and I think there's a lot more to come."
Young threw for a career-high 387 yards en route to the Titans' fifth consecutive win as they became the first team in NFL history to win five straight games after starting 0-6. Following his performance against Arizona, Young was named the AFC Offensive Player of the Week. Young completed a career-high 27 passes on 43 attempts, including three passes over 25 yards and a long of 51 yards. It was the second career AFC Offensive Player of the Week award for Young and his first since Week 16 of the 2006 season for his performance against the Buffalo Bills.
The Titans have compiled a 26-13 record under Young, who finished third in AP voting for Comeback Player of the Year behind Patriots QB Tom Brady and Buccaneers RB Cadillac Williams. In the second half of the 2009 campaign, Young set or tied many career-bests, including a career-high quarterback rating of 82.8. Over the final 10 games of the season, Young directed the Titans to an 8-2 finish as Tennessee became the first team in NFL history to finish .500 after starting 0-6.
His outstanding comeback led head coach Jeff Fisher to confirm that Young will be the team's starting quarterback next season.
"I think the 8-2 speaks for itself, he's 26-13 as a starter now. He came back this year after the bye and got under center as a different quarterback, a different person," Fisher said. "For the most part, his play was consistent, his preparation was excellent and it carried over. The fact that he will have another offseason with (offensive coordinator) Mike Heimerdinger, those things are only going to help him improve."
Young's improvement is evident, and it's easy to tell he is having fun again leading the Titans. It's a feeling Young wants to hold onto. And by all indications, he will.