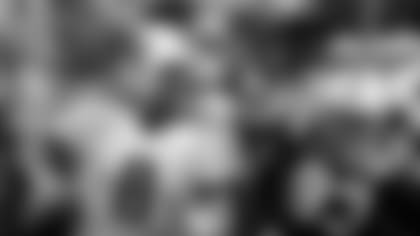 The Titans turned the ball over three times in Sunday's 27-13 loss to the Colts in Indianapolis.
INDIANAPOLIS --The Colts avoided their first 0-16 season thanks to a quarterback who was trying to prevent his second.
Dan Orlovsky, who closed out the NFL's only 0-16 season with Detroit in 2008, threw one touchdown pass and the key block to spring an 80-yard touchdown run Sunday and lead the previously winless Colts to a 27-13 win over playoff hopeful Tennessee.
It was the franchise's first win in 14 years without Peyton Manning, and all it took was 14 tries and three quarterbacks.
Players and coaches celebrated by throwing their arms in the air, and Orlovsky got to close it out by taking the traditional kneel downs for the first time in his NFL career.
"I'm happy for a lot of people on this team, for a lot of people in this organization," Orlovsky said. "It's a lot better than the feeling we've had lately."
Indianapolis (1-13) had been waiting for what seemed like an eternity, 50 weeks, since their previous win, also at home against the Titans.
For Orlovsky, the drought was even longer. The seven-year veteran was 0-9 in his previous NFL starts. He didn't have to do too much Sunday, going 11 of 17 for 82 yards with one touchdown, but he didn't turn the ball over.
And though the numbers looked nothing like Manning's, they were good enough to get a win.
"I think in my career, I've learned not to take them (wins) for granted," Orlovsky said, drawing polite laughter.
Donald Brown added a career-high 161 yards rushing, including a late 80-yard TD run for Indy.
The Colts will need their offense to keep playing like this in the final two games, too, after team vice chairman Bill Polian announced Manning would not be back this season, though he has started throwing to his teammates.
For Tennessee, the loss is a devastating blow.
Had Tennessee (7-7) closed out the season with three wins, it might have been able to reach the postseason without any help. Now the Titans will probably need to win their last two games and get help from some others to make it.
But Tennessee had only itself to blame for this one.
Matt Hasselbeck was 27 of 40 for 223 yards with no TDs and two interceptions before being lifted in favor of rookie Jake Locker. Chris Johnson ran 15 times for 55 yards. The Titans lost a fumble and muffed a kickoff out of bounds at their own 1-yard line.
"I never would have expected us to come out, and they're playing like the team going to the playoffs and we're the team that's 0-13," coach Mike Munchak said. "We just weren't playing well at all. The intensity wasn't there at the start."
Nor was it there at the end.
Locker's 7-yard TD pass to Nate Washington with 3:43 to go, got Tennessee within one score as tense Colts fans began to wonder if this one would slip away, too.
On the Colts' next play, the Titans appeared to have Brown corralled in the backfield. But when Brown reversed field and got away from the defenders. Orlovsky jumped in front of the man closest to him, providing enough of an obstacle to give Brown a wide-open lane on the edge. All Brown had to do was outrun the defense 80 yards to the end zone.
The play tied Tom Matte's record for the franchise's longest run, set Oct. 12, 1964, against St. Louis.
Brown then enjoyed an overdue celebration with Orlovsky in the end zone.
"The O-line did a great job, somebody came free, the running back's job is to make him miss, Dan threw a great block, Reggie threw a great block and I think (Jacob) Tamme was running down there, too," Brown said. "It was just an all-out great effort by the guys on offense."
Sunday's game had a totally different complexion from the first 13.
Indy spent the past nine weeks fighting for a lead, any lead. After playing more than 500 minutes from behind or tied, the Colts finally took the lead on Adam Vinatieri's 47-yard field goal.
The Colts gave it right back just before halftime when Rob Bironas made his second field goal to give the Titans a 6-3 lead. It didn't last long.
Orlovsky hooked up with Reggie Wayne for an 18-yard TD that made it 10-6 early in the third quarter. The Colts never trailed again.
Jacob Lacey, the oft-criticized cornerback, returned an interception 32 yards for a touchdown to give the Colts a 17-6 lead.
On the ensuing kickoff, Marc Mariani tried to field the bouncing ball in the end zone, but kicked it out of bounds inside the Titans 1. That mistake and Brown's 39-yard run, set up Vinatieri for a 40-yard field goal to make it 20-6 with 12:53 to play.
Locker gave the Titans a chance with his TD pass, but Orlovsky and Brown took it away with run that ended Indy's chase of 0-16 and the first 0-14 mark in franchise history.
"It means a lot, but we're a proud ballclub so one game out of 13 or 14, we still have a ways to go," defensive end Robert Mathis said. "Everybody held the fort today. We just kept chopping wood and the tree fell today."
NOTES: Colts running back Delone Carter left in the first half with an undisclosed forearm injury. Carter did not return. ... The Titans failed to sweep Indy for the first time since 2002 and are 0-4 all time at Lucas Oil Stadium. ... Locker was 11 of 16 for 108 yards with one TD after relieving Hasselbeck and Johnson had eight catches for 54 yards. ... Lacey has two career TDs in three NFL seasons.