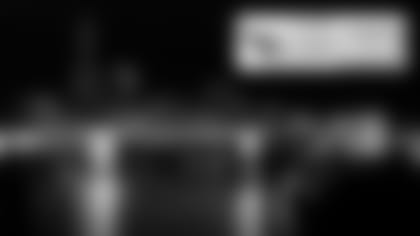 *Fans Encouraged Show Their Support for the Tennessee Titans
VIDEO: T-Rac Ignites CODE BLUE at LP Field
*NASHVILLE, Tenn. – The Tennessee Titans are announcing their fourth annual CODE BLUE for the week of Sept. 19 and asking fans to join in for a full week of fun. In the run up to the Titans game against the Denver Broncos on Sept. 25, fans are encouraged to show their Titans' spirit by wearing Titans Light Blue to work, school and the big game.
To kick off CODE BLUE week, fans can join T-Rac and the Titans Cheerleaders at LP Field this evening, Sept. 19 at 8 p.m., for a lighting ceremony and Vegas-style light show featuring cascading blue lights. LP Field and the pedestrian bridge will be illuminated Titans Blue each night leading up to Sunday's game.
Fans can also get in on all the CODE BLUE action by visiting www.facebook.com/titans to register for more than $2,000 worth of daily prizes, including a year of free shoes from Shoe Carnival®, a $250 gift card from titanslockerroom.com, free pizza for a year from Papa Johns®, an autographed Chris Johnson football and jersey, and a 42-inch TV from hhgregg.
The week of activity will wrap up at a special CODE BLUE Gameday tailgate at 9 a.m. on Sunday, Sept. 25 in Lot R, along with a special Tweetup for followers of the @TenneseeTitans Twitter handle at 10.am. Twitter followers who attend the tweetup will receive a CODE BLUE tshirt and other great prizes.