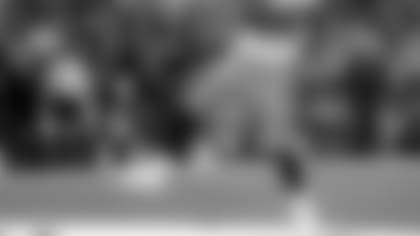 Chris Johnson is producing down the stretch as the Titans remain a contender in the AFC playoff hunt.
ORCHARD PARK, N.Y. - Quarterback Matt Hasselbeck did his part in getting the Tennessee Titans this far into the playoff hunt. Chris Johnson's happy to take over from here.
The Titans ground game is sprouting legs now that Johnson has shown more signs that he's re-emerged from what had been a two-month slumber.
CJ rushed for 153 yards and scored twice in securing a 23-17 win over the slumping Buffalo Bills on Sunday. It's the third time in four games Johnson's had at least 100 yards, and it's no coincidence that the Titans have won all three times to climb into a logjam of five teams with 7-5 records.
"At the beginning of the season, the passing game carried us, and now it's time for the running game to step it up,'' said Johnson, who has 486 of his 852 yards rushing in his past four games. "The offensive line and everything is hitting on all cylinders right now, and hopefully we can continue to keep this momentum going.''
Johnson doubled his season touchdown total by scoring from 48 and 4 yards on consecutive possessions in getting the Titans out to a 17-7 lead.
Rob Bironas hit three field goals, including a 44-yarder to make it 23-10 with nine minutes left. Hasselbeck was efficient, going 16 of 25 for 140 yards passing. And the Titans defense generated two turnovers, and forced Ryan Fitzpatrick to throw three straight incompletions to end the Bills last drive in the final minute.
The praise was left to Johnson, who's electric running style is sparking the Titans' confidence.
"That's the CJ that I know,'' cornerback Alterraun Verner said. "If there is a time you want someone to peak, it's now. ... It's going to be scary when he starts having some 250-yard games. I can't wait for that.''
The Bills (5-7) have very little left to look forward to but playing games for pride, in the midst of a five-game skid that has all but mathematically knocked them out of the hunt. A month after Buffalo was battling New England and the Jets for top spot in the AFC East, the team's now in attempting to hold off Miami (4-8) for last place in the division.
"It's disappointing. I've never lost five in a row,'' linebacker Nick Barnett said. "This is new territory for me and I'm sure for a lot of guys. It doesn't feel good. They don't like it and I don't like it.''
C.J. Spiller rushed for a career-best 83 yards and scored on a 35-yard scamper in which he recovered his own fumble just before sliding out of the end zone. Stevie Johnson made the game close, scoring on a 2-yard touchdown catch with 2:58 remaining.
At least Johnson, this time, kept his TD celebration in check, a week after being criticized, flagged 15 yards and fined by the NFL $10,000 for a questionable display in a 28-24 loss to the New York Jets.
"Last week was last week,'' said Johnson, who had five catches for 52 yards. "We moved on to the Titans and we tried to get this W and we came up short.''
Two turnovers - fumbles by Fitzpatrick and tight end Scott Chandlers - led directly to the Titans scoring 10 points.
Though the Bills' defense limited Tennessee to converting two of 11 third-down chances, Buffalo couldn't contain the Titans' running attack in allowing a season-worst 187 yards.
The Titans prepare for their next big test in hosting Drew Brees and the NFC South-leading New Orleans Saints next week.
"We've got some extra studying to do,'' cornerback Cortland Finnegan said. "I might not do another interview this week, because I'll be watching film.''
They'll at least have some confidence and momentum going into that game in having strung together two straight wins for the first time since a 3-1 start.
"A lot of these guys are growing confidence that wasn't there from the beginning,'' receiver Nate Washington said. "We are starting to realize we have a good chance at being a great football team here - not just good, but great.''
NOTES: Johnson's 48-yard TD run was his longest since scoring a 76-yard touchdown in the 2010 season opener. ... Fitzpatrick's TD pass gave him 20 this season, becoming the first Bills player to throw that many in consecutive years since Jim Kelly did it in 1994-95. ... Washington did not finish the game to rest a sore left ankle. Starting CB Jason McCourty's status is uncertain after he sustained a concussion in the first quarter. ... The Bills honored Allen Wilson, longtime beat writer for The Buffalo News, who died Saturday of leukemia. Flowers and a framed picture of "Big Al'' were placed at his seat in the press box. Bills safety and captain George Wilson spoke for the players in issuing his condolences, calling the writer a "good man'' and "genuine guy.''