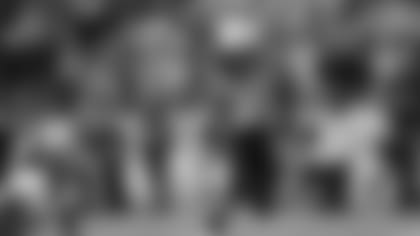 Chris Johnson will look to get on track when the Titans host the Ravens Sunday at LP Field.
NASHVILLE, Tenn. - Tennessee running back Chris Johnson has the big money contract extension. Now he says he's got to get into his groove.
The three-time Pro Bowl running back had only nine carries for 24 yards in the season opener as he works his way back into shape from his holdout that ended Sept. 2. Titans coach Mike Munchak is ready to give the ball to Johnson, saying he thinks the running back could have as many as 25 touches against Baltimore on Sunday.
Johnson said Wednesday he needs more carries than he got in the 16-14 loss to Jacksonville.
"You could blame it on the whole offense,'' Johnson said. "We didn't stay out there on the field and do what we were supposed to do and keep the drive going. I'm sure if we had kept the drive going and stayed out there longer I would've had more carries and things like that.''
Johnson had 16 touches against Jacksonville along with six catches for 25 yards.
"I wasn't as tired as I thought I'd be,'' Johnson said. "I can do more carries and things like that. I actually felt good out there.''
The Titans (0-1) certainly need Johnson up to speed immediately, and not just because they gave him a four-year contract extension worth $53 million with $30 million guaranteed. They are 17-7 when he runs for 100 yards or more and 18-5 when he runs for a touchdown.
Not that Tennessee had many chances against Jacksonville, running a total of 13 times for 43 yards. Only Denver had fewer yards in the opening week, but it was Johnson who had all eyes on him with his big contract. Johnson said he feels he really got four to six true carries in what now ranks as the third-worst performance of his career.
Now Johnson faces a team in which he has yet to run for 100 yards in two games against the Ravens (1-0). He was well on his way with 72 yards rushing and 28 yards receiving before an ankle injury knocked him out of the game midway through the second quarter of a 13-10 divisional playoff loss to Baltimore on Jan. 10, 2009.
Munchak said the Titans know they have to be committed to running against Baltimore after missing opportunities to make plays against Jacksonville.
"We'll have to be patient with that, but it's not something we can come out and hand it off 10 times in a row just to give him 10 carries,'' Munchak said. "We have to be smart in how we do things. Those runs will come in this kind of game.''
Baltimore coach John Harbaugh said in a conference call with Tennessee reporters he thinks Johnson will round into form very quickly. Ravens safety Ed Reed said he expects Johnson to improve with another week of work following the holdout.
"Definitely,'' Reed said. "It's hard to get in football shape when you are not carrying around your pads running and everything. I know Chris is a professional though, and he is definitely a hard worker so I know that what happened on this past Sunday with nine carries, that's probably not going to happen again.''
Getting going won't be easy against Baltimore.
The Ravens rank second only to Pittsburgh in fewest 100-yard rushers since 1999 with only 24, and they have allowed only six such performances in their last 68 games. The last was Arian Foster of Houston with 100 on Dec. 13, and Reed said their goal is shutting down the run.
"We talk about it constantly, we have a great D-line and a great linebacking corps with Ray (Lewis) still leading the group. Those guys pride themselves on making sure that guys don't run the ball on us but of course it happens sometimes,'' Reed said.
Johnson had 44 yards rushing in the last regular season game between these teams in his rookie season in 2008. In the playoff game, Johnson was knocked out with an ankle so injured he didn't play in the Pro Bowl.
Reed only remembers some big guy, possibly Brandon McKinney, falling on Johnson's ankle. Tennessee fans remember well Reed bending Johnson backward. Reed said that wasn't the play that knocked Johnson out and denied Wednesday that the injury was intentional.
"I talked to Chris after that, and everything was in-between the whistle. It's never intentional to take any guy out. My game has never been like that I know these guys don't play like that either,'' Reed said.
Johnson isn't pointing any fingers himself. He did say the Ravens were trying to hurt him a little bit, though he believes they didn't hurt him on that play.
"It actually happened on a very fair play. ... It was a playoff game, and when playoffs get here, teams do whatever it takes to win,'' Johnson said.
NOTES: DE Jason Jones (left knee) and Derrick Morgan (left knee) practiced Wednesday after missing the opener. Munchak said both should be available Sunday. ... Chris Hope (shoulder) and WR Damian Williams (hamstring) did not practice. DE William Hayes (shoulder) was limited.