**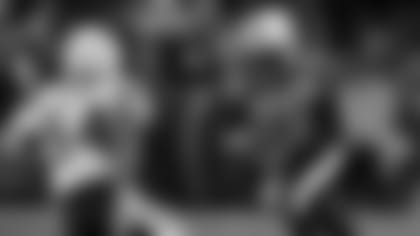 Chris Johnson rushed for 142 yards and a touchdown in Tennessee's 42-17 loss to San Diego that ended its playoff run.
NASHVILLE, Tenn. --** The
San Diego Chargers
have their first-round bye, and Philip Rivers is still perfect in December.
Tennessee's bid for NFL history? The Titans lost that right along with their postseason dream, looking like a throwback to the team that started the season 0-6.
Rivers threw two touchdowns passes, LaDainian Tomlinson ran for two scores and the Chargers beat the Titans 42-17 on Friday night to grab the AFC's No. 2 seed and that first-round bye in the playoffs.
"It was nice to get the two seed and keep the streak going in December and positioning ourselves going into the postseason," Rivers said. "It says a lot about our guys and (coach) Norv (Turner)."
The AFC West champs streaked to their 10th straight win and tied the 1970-74 Miami Dolphins for most consecutive wins in a month with their 18th in December dating to 2006. The Dolphins won 18 in a row in November.
Darren Sproles caught a TD pass and ran for two more scores to help San Diego (12-3) squash the Titans' dreams of becoming the NFL's first team to start 0-6 and rebound to make the playoffs. Tennessee (7-8) had hoped to top what the 1994 Chargers did in reaching the postseason after an 0-4 start.
San Diego rolled, outgaining Tennessee 425-270 in total offense while holding the ball for 39 minutes. Turner credited his offensive line, which featured Nick Hardwick back at center after being out since the opener, with letting Rivers play.
"And he does it well," Turner said. "Obviously, our guys are playing with great confidence right now. The run of 10, I don't think our guys have felt we're on a run of 10. I think it's been winning 10 games, one at a time. I know that's a cliche, but that is what they've done. That's probably the thing I'm proudest of."
Chris Johnson's quest to become only the sixth NFL player to run for 2,000 yards in a season remains alive as the only goal left for Tennessee. He ran for a TD and 142 yards to put him at 1,872 with the season finale at Seattle left. He also notched his 10th straight 100-yard rushing game, putting him behind only Barry Sanders (14) and Marcus Allen (11).
He is 234 yards shy of Eric Dickerson's single-season record of 2,105 yards.
"Anything's doable," Johnson said. "I feel like I can do it."
Titans coach Jeff Fisher has yet to beat San Diego, losing his sixth of seven straight losses to the Chargers in the series.
"This team had, it had life. It had a lot of life, and then we just kind of lost it," Fisher said.
The Titans, who had two starters in linebackers Keith Bulluck and David Thornton watching from the sideline due to injuries, simply disintegrated. Vince Young ran for a TD, but San Diego turned his three turnovers into 21 points. Tennessee also matched a season high with nine penalties.
"Too many turnovers on my behalf, definitely that was pretty much it," Young said. "Every time we did get in a rhythm, I turned the ball over. That's something I can't do."
Rivers, an Alabama native, had his own cheering section with approximately 70 tickets for family and friends. He gave them plenty to celebrate.
"It did have a little bit of, `You're in your own backyard' feel to it," Rivers said of playing two hours' away from his boyhood home.
He threw for 264 yards and topped 4,000 yards passing for a second straight season. He directed the Chargers to TDs on six out of seven drives before leaving seconds into the fourth quarter. The exception? His kneel-down to end the first half as the NFL's third-rated passer picked apart a Tennessee defense ranked next to last in the NFL in yards allowed.
"It's as good a rhythm as we've been in all year," Rivers said. "It felt like a guy that's hit a couple of 3-point shots in a row."
Tomlinson scored on a pair of 1-yard runs, the first giving San Diego a 7-3 lead it never lost. That also was his 137th rushing TD of the decade, topping the 136 TDs Emmitt Smith had in the 1990s for most in a decade in the NFL. Tomlinson's second put him at 138.
Three Titans were flagged for neutral-zone infractions on San Diego's first TD drive of the game, and Tennessee drew two 15-yarders at the end of the same play for another Chargers' TD drive. Defensive end William Hayes pushed Rivers too late, then officials flagged Titans defensive coordinator Chuck Cecil for unsportsmanlike conduct.
"Philip does a nice job on the line of scrimmage with the snap count, but there's no need for that," Fisher said. "That's borderline selfish. We just need to play football and move when the brown thing moves and not guess."
Young had been nearly perfect at home since coming off the bench with only four turnovers in going 7-1 as a starter. Then he turned it over on successive drives in the second quarter, first as Brandon Siler picked off a pass at the Tennessee 19. On the next, he fumbled as he scrambled at midfield.
Rivers made the Titans pay for each of Young's mistakes. He scrambled and found Antonio Gates wide open for a 36-yard TD upheld by review after Fisher challenged whether the quarterback was over the line of scrimmage when he let loose with the throw. After Young's fumble, Rivers tossed a 3-yarder to Sproles.
NOTES: The Chargers lead the series 24-16-1 between the two original AFL franchises. ... San Diego went 7-1 on the road this season. ... San Diego has outscored opponents 74-16 in the first quarter during its 10-game winning streak. ... Rivers has thrown a TD pass in 12 straight games, extending his career-best streak. ... Young had fumbled only once and had four interceptions in his previous eight starts this season. ... The Titans had won five straight home games.