**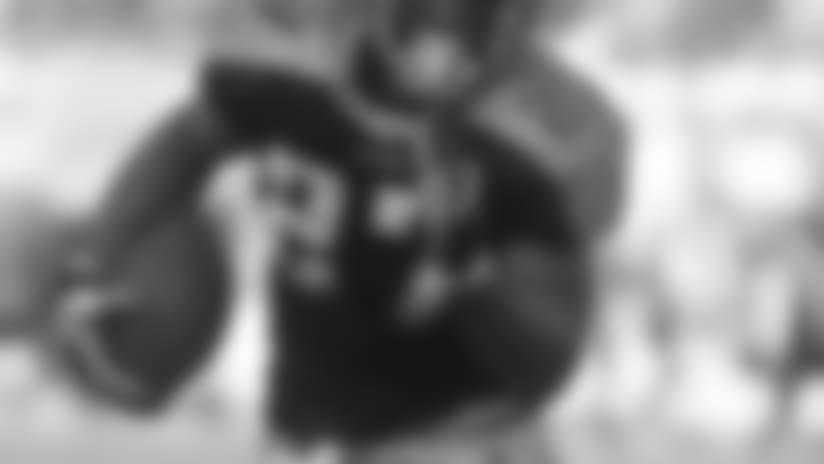 Eddie George rushed for 10,441 yards in his nine-year NFL career (1996-2004), which ranked 16th in NFL history at the time of his retirement.
NASHVILLE, Tenn. --** In conjunction with the announcement that Eddie George will be inducted into the College Football Hall of Fame, Titans Online takes a look back at the career of one of the greatest players in franchise history.
In a career that was synonymous with consistency, durability and toughness, George rushed for 10,441 yards in his nine-year NFL career (1996-2004), which ranked 16th in NFL history at the time of his retirement. His first eight seasons were with the Oilers/Titans franchise, where he would eclipse Hall of Famer Earl Campbell's franchise record (8,574) for rushing yards with 10,009. Again, at the time of his retirement, he ranked eighth in NFL history for yards per season, averaging 1,160 yards in each of his nine seasons. During his career, he earned four Pro Bowl spots (1997-2000), AP All-Pro honors in 2000 and Rookie of the Year in 1996.
Beyond his rushing totals, George's legacy will be written by his durability and toughness. George started every game he was with the franchise (128) and holds the NFL mark for consecutive starts by a running back to begin a career with 130 - a total which ranks second in NFL history for consecutive starts by a running back at any point in a career, behind Walter Payton (170).  Additionally, he is the only running back in NFL history to record 300 or more carries for eight consecutive seasons, and his 403 carries in 2000 were the fourth most in NFL history for a season.
For his eight years with the Titans (1996-03), he ranked second in the NFL for rushing yards during that time period with 10,009 yards, behind only Curtis Martin (10,182). He also ranked third in the NFL in yards from scrimmage with 12,153 yards, behind Marshall Faulk (14,130) and Martin (12,887). George, Eric Dickerson and LaDainian Tomlinson are the only three NFL running backs to rush for 1,200 or more yards in each of their first five NFL seasons. His many franchise achievements include most rushing yards in career (10,009), career attempts (2,733), career touchdowns (74), 1,000-yard rushing seasons (7), seasons as the team's leading rusher (8), attempts in a season (403, 2000), rushin, playoff rushing yards (776), playoff attempts (206), playoff rushing yards in a game (162; 1/16/00 at Indianapolis) and playoff longest run (68t; 1/16/00 at Indianapolis).
In his eight years with Houston and then Tennessee, the franchise saw unprecedented success. The team won 80 games (80-48), reached the playoffs four times (1999, 2000, 2002, 2003), including Super Bowl XXXIV following the 1999 season and the AFC Championship Game in 2002. George and QB Steve McNair proved a winning combination, starting 107 regular season games together and posting an impressive 67-40 mark. During his time with the Titans he amassed 36 100-yard rushing performances and a 30-6 record in those games. Amazingly, 15 of his 36 100-yard performances came after losses with the Titans winning 12 of those 15 games.
George's finest season came in 2000, when he rushed for 1,509 yards, scored 16 total touchdowns (14 rushing, 2 receiving), totaled six 100-yard performances and 50 receptions for the 13-3 Titans. He had a number of memorable performances in his Titans career, including: a career-long 76-yard run in his second NFL game at Jacksonville in 1996; a 216-yard performance in the season opener in Memphis against the Raiders, which ranked as the second-best rushing performance in NFL history on opening day; a 153-yard (on 34 carries) day at Pittsburgh in 1998 to end a string of  Pittsburgh dominance over the Oilers and included George carrying the ball 10 times for 70 yards on the first drive; a 199-yard game against the Raiders on a Thursday ESPN nationally televised game in 1999, which rallied the team after a crushing defeat at Baltimore the week prior; his 77-second half yards and two determined touchdowns in Super Bowl XXXIV; 214 total yards (181 rushing and 33 receiving) at Cincinnati in 2000; a remarkable recovery from an MCL sprain during the 2000 season to return to action for a  Monday Night win and 71-yard performance against the Redskins; 176 yards and three touchdowns in a snow-covered field at Cleveland in 2000; passing Earl Campbell for the franchise rushing mark at the Giants in 2002; surpassing 10,000 career yards at home versus Tampa Bay in 2003; putting aside a separated shoulder in a duel with Ray Lewis in a 2003 playoff win at Baltimore, gaining 88 hard-earned yards.
George was originally selected by the then-Houston Oilers with the 14th pick in the first round of the 1996 NFL Draft. He was the 1995 recipient of the Heisman Trophy, given annually to the top player in college football, becoming the fourth Heisman winner to join the franchise (Campbell, Rozier and Cannon). Among Heisman winners in the NFL, George ranks fifth all-time in NFL career rushing yards, behind Barry Sanders, Tony Dorsett, Marcus Allen and O.J. Simpson.