NASHVILLE – The Titans took the field for practice No.9 of training camp on Sunday at Saint Thomas Sports Park.
Here's a look at what stood out:
-Things were competitive right out of the gate in a 2-on-2 red zone period. I jotted down some of the highlights in that period, and I'll drop them in here. Receiver Nick Westbrook-Ikhine made a great catch on a ball thrown by quarterback Ryan Tannehill, as he secured the ball despite dealing with a lot of contact. Later, receiver Mason Kinsey hauled in a pass in the corner of the end zone on another Tannehill ball. Quarterback Malik Willis threw nice touchdown completions to Dez Fitzpatrick and tight end Chig Okonkwo in the period. DB Roger McCreary had a nice break-up on a pass intended for Kinsey, and safety Kevin Byard broke up a pass intended for tight end Austin Hooper.
-Tannehill connected on 9-of-14 passes on Sunday, and he's now 93-of-128 in the 7-on-7 and team periods combined in camp. Tannehill was intercepted for the second time in camp on Sunday on a day when the defense rose to the occasion in several periods.
-McCreary, who was solid once again on Sunday, intercepted Tannehill in the middle of the field in a team period. After the early 2-on-2 period, McCreary made a nice play breaking up a pass to receiver Robert Woods.
-Defensive back Joshua Kalu intercepted Willis in the same period a few plays later. Willis has been intercepted twice in camp.
-Tannehill connected with wide open tight end Austin Hooper for a touchdown during a team period, and he later connected with Hooper for a sliding catch later in the session.
-One of the most beautiful plays of the day was a Tannehill touchdown toss to Woods, who got open in the back of the end zone.
-Defensive back A.J. Moore Jr. hasn't been afraid to stick his shoulder pads into the fray, and he proved it again on a goal line hit on running back Hassan Haskins.
-Haskins later bowled his way into the end zone in a goal line period.
-Cornerback Kristian Fulton has been really scrappy in recent practices, and he made a nice break-up on a ball intended for tight end Geoff Swaim in a 7-on-7 period.
-Defensive back Chris Jackson got the ball out on a good play while defending Josh Malone.
-I keep noticing defensive back Shakur Brown, who joined the team early in camp. Brown had a nice break-up on a ball intended for receiver Racey McMath.
-Tannehill connected with Philips for a score in a 7-on-7 period, and the two connected again during the final period of the day. The second Tannehill-to-Philips big play probably would've been a score in a game, but Titans head coach Mike Vrabel ruled Philips down at the 2 since he was touched. The spot allowed running back Jordan Wilkins a chance to punch it in for a score.
-Willis completed passes on three straight plays, including TD strikes to Reggie Roberson and Malone, in a 7-on-7 period. In a team period near the end zone, Willis faked a handoff and then sprinted into the corner of the end zone.
-Kicker Randy Bullock was 9-of-10 on his field goal tries on Sunday, making kicks of 26, 33, 33, 34, 36, 42, 42, 45, and 52, his miss coming from 56 yards. Bullock also made an extra point after a touchdown. So far in camp, Bullock has made 49 of his 52 attempts.
-Vrabel is a big fan of undrafted LB Jack Gibbens from Minnesota. In fact, he's already given him a nickname: "Dr Gibby." Vrabel said Gibbens is smart, and he answers a lot of questions in meetings. Vrabel said Gibbens once told him: Coach, I wasn't in pre-med. Vrabel said: I know, it's a joke. Gibbens made a nice break-up on a Willis pass intended for fullback Tory Carter on Sunday.
-I chatted with rookie linebacker Chance Campbell after today's session. Campbell made a nice break-up on a Logan Woodside pass intended for tight end Chig Okonkwo in a team period.
-Receiver Cody Hollister and cornerback Elijah Molden, who've missed recent practices with injuries, remain out. Joining them on the 'Did Not Practice' list on Sunday: safety Amani Hooker, linebacker Dylan Cole, tight end Tommy Hudson and defensive lineman Denico Autry.
-Long-time Titans trainer Don Moseley, who retired after last season, was back at practice on Sunday.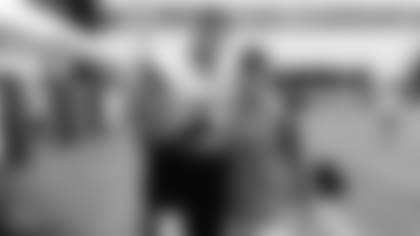 -Kicker Caleb Shudak and linebacker Monty Rice did not practice, as they're on the team's Physically Unable to Perform list at the start of camp. On Friday, Rice did some work on a side field with trainers.
-Dan Graziano from ESPN attended Sunday's session.
-Roughly 300 season ticket members and friends and family members attended Sunday's session.
-A massive thunderstorm blew through Ascension Saint Thomas Sports Park an hour after practice and leveled one of the tents for fans.
Next practice: Monday, 9:30 a.m.