**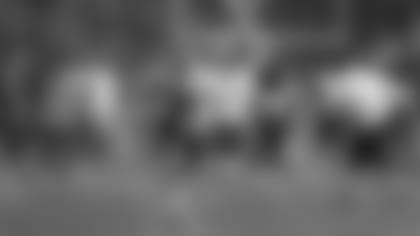 Titans rookies were subject to the annual dizzy bat race on the final day of training camp.
*Click here for video*
NASHVILLE, Tenn. --** Tennessee rookie Kenny Britt helped the Titans wrap up training camp Wednesday in style. He ran his leg of the team's traditional dizzy bat race, then celebrated with a cartwheel and a flip.
The flip by the No. 1 pick overall provided the biggest buzz in a business-like, low-key training camp held at home by the team coming off a 13-3 season that was the NFL's best in 2008. The team came to camp focused after last season's disappointing ending in a playoff loss, but the Titans don't have a lot of time before their season opener Sept. 10 at Pittsburgh.
"We have a unique situation this year in that we're Saturday, Thursday, Thursday (Sept. 3)," coach Jeff Fisher said of the team's final two exhibitions followed by the game in Pittsburgh. "It's unique in that ... every year you get 30 teams that basically have 10 days to prepare for their opener."
The Titans play at Cleveland on Saturday night, then wrap up the preseason Sept. 3 here against Green Bay. That leaves just seven days to find answers to a few questions before their opener against the Super Bowl champions.
Receiver Nate Washington has shown he can be a starter with Justin Gage, but the free agent signee hurt his right hamstring Monday. Whether he heals up in time to play his old team Pittsburgh in the opener or be ready for the home opener Sept. 20 against Houston remains to be seen.
The defensive line also has been hit by injuries. Tackle Jason Jones (foot) hasn't played or practiced since the Hall of Fame game on Aug. 9 and won't Saturday night against Cleveland. End Jevon Kearse (left hamstring) has missed two practices, though William Hayes and tackle Sen'Derrick Marks should return and play in that game.
Rookie cornerback Ryan Mouton (left foot) remains in a walking boot.
Not that Fisher is worried.
"We're resting. We're being smart about it. We'll practice them when they're ready to practice and play them when they're ready to play," he said.
The Titans did get back All Pro center Kevin Mawae off the physically unable to perform list Tuesday. He practiced again Wednesday, and Fisher said Mawae will have a chance to play against Cleveland.
Even without having to pack up cars or dorm rooms, the Titans were tired and ready for the end of camp. The only real difference is no meetings into the night or two-a-day sessions for players. Veteran linebacker Keith Bulluck said all camps are long no matter how easy or how tough.
"It's all long. We're already at the end of August, and we started at the end of July," Bulluck said.
Defensive end Dave Ball said it felt like camp had lasted forever since the Titans played in the first exhibition of the NFL preseason.
"It kind of feels like there's a change coming," he said.
To punctuate training camp, Fisher has put the rookies through a dizzy bat race. It's grown since his first in 1995 while still in Houston, and now veterans add their own touches by dousing them with Gatorade, coolers filled with ice water and baby powder and flour.
Running back Javon Ringer said he kept going though Gatorade was going into his mouth and the powder stung his eyes. He worried that the losers might face something worse. He leaves camp likely slotted as the team's No. 3 running back behind Chris Johnson and LenDale White.
"I'm just glad I wasn't the only rookie and we kind of did this together," Ringer said.
Fisher said he may have to institute some rules to simplify the race in the future. He did call Britt's celebration impressive.
"That was a backflip and round-off halfspring thing that you can't do after a touchdown because you can't use the ground as a prop," Fisher said.
Kearse missed Britt's flip and wanted to see a replay on TV. He said they might need Britt to do it again after touchdowns and wins. Told that would incur a 15-yard penalty and fine, Kearse said Britt could do it on the sideline.
"We'll even get a couple cheerleaders over there to clap him on and everything," he said.
NOTES: Fisher ruled out Jones and Mouton for the Cleveland game. ... Right tackle David Stewart missed another practice, but Fisher said Stewart still has a chance to play against the Browns.