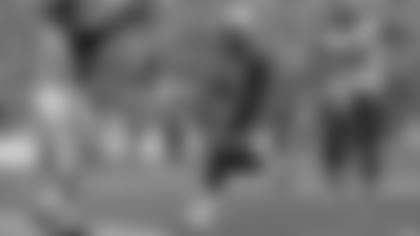 Wide receiver Kenny Britt scores his first of a career-high three touchdowns vs. Philadelphia.
NASHVILLE, Tenn. - Start ticking off the NFL's biggest and best wide receivers, and names include Andre Johnson, Larry Fitzgerald, Chad Ochocinco and Terrell Owens.
Kenny Britt's name doesn't come to mind.
The Titans receiver has the size, weight and speed to be one of the NFL's top pass catchers. He put together the NFL's best performance by a receiver this season with seven catches for 225 yards and three touchdowns - all after spending the first quarter on the bench as punishment for his role in a bar fight.
Tennessee plays San Diego Sunday, and Britt certainly has Chargers coach Norv Turner's attention.
"There are just a few guys that have that rare, explosive speed and quickness,'' Turner said Wednesday. "When he gets going, he gets his head of steam up. In the Philadelphia game, he gets matched up with those safeties that is tough duty for everybody. He was extremely impressive in the way he played last week.''
That's why the Titans made Britt the first player ever drafted out of Rutgers in the first round in 2009, looking for the kind of receiver they haven't had in years.
The 6-foot-3, 215-pound Britt provided glimpses of his talent as a rookie.
He led the team with 701 receiving yards - fifth in the NFL among all rookies - and played in all 16 games. He averaged 16.7 yards per catch, eighth in the NFL. His best game was against Arizona; Britt had 128 yards and the game-winning catch as time expired.
Titans cornerback Jason McCourty, who defended Britt in practice when both played at Rutgers, said Britt boasted back in college about the type of receiver he would be.
"The moment he stepped on the field, he kind of backed that up. Just the way he plays, the physical nature. He's not afraid to take a hit. The type of athleticism he posses, I always knew he'd be able to get to this level and be able to excel,'' McCourty said.
But Britt, who left college after his junior year, coasted into his second NFL season - so much that Titans coaches didn't immediately clear him to practice once the team resumed its on-field training last spring.
He also has had other issues.
Britt was arrested in January for three outstanding traffic warrants (he paid the $865 due and was released). Nashville police stopped him in August during training camp, ticketing him for driving without a license because he obtained a photo I.D. after misplacing his license.
Titans coach Jeff Fisher even benched the receiver after repeated mistakes during a preseason game. Britt, who didn't turn 22 until five weeks ago, insisted he understood he had to focus at work.
And he did. When Justin Gage hurt his left hamstring Oct. 3 against Denver, Britt moved into the starting lineup and caught a TD pass in four straight games.
Then Britt took another step back early last Friday.
Harold Pointer, 29, told police that Britt joined in a fight and struck him several times during an altercation at the Karma Lounge, a Nashville nightclub. A police investigation into misdemeanor assault remains open.
Fisher sent Britt home before practice Friday and benched him for the first quarter against Philadelphia. All of which made his performance against the Eagles even more impressive.
He had a 26-yard TD on his first series fighting off safety Ellis Hobbs for the ball before getting going in the fourth quarter. Then he had an 80-yard catch and run for a TD and a 16-yarder.
The Eagles couldn't stop him.
Britt now ranks second in the NFL with seven TD catches with a game that was the Titans' best since 2004 when Drew Bennett had 233 yards against Kansas City.
"The easy thing to do is point to the guys covering them and so on ...,'' Eagles coach Andy Reid said. "And so, that's my responsibility for reeling that thing in and making sure that we, when you're given opportunities, man, that you put your foot down and you're not denied there.''
Titans defensive back Vincent Fuller said Britt's play after the bar fight was a tremendous lift for the receiver.
"It's a confidence thing,'' Fuller said. "Right now, he's playing lights out football and had been weeks prior. It's good he's able to do that and let whatever goes off the field happen and come to work.''
Britt's status for Sunday remains unknown. Fisher has said he might punish Britt further, and the coach said Wednesday he expects the legal case to be resolved by the weekend.
The receiver didn't talk to reporters on Wednesday, but Britt insisted after the Eagles' win that he has learned his lesson. Whether this game is his launching pad to more success remains to be seen.
"My focus is to stay level headed,'' Britt said then. "And God has a path for all of us and I believe that God has put me on a path, and I'm just following it.'' Start ticking off the NFL's biggest and best wide receivers, and names include Andre Johnson, Larry Fitzgerald, Chad Ochocinco and Terrell Owens.