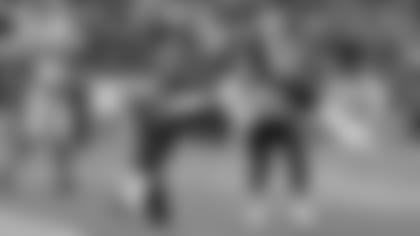 Kenny Britt celebrates after hauling in the game-winning touchdown pass from Vince Young.
NASHVILLE, Tenn. --** Kenny Britt caught the pass and jumped to his feet -- only to be stripped of the ball with time ticking away.

No worries. On the next drive, Vince Young gave the rookie a chance for redemption, and he came through by leaping up to grab Young's 10-yard pass at the back of the end zone as time expired to cap the Tennessee Titans' stunning rally to a 20-17 victory over the Arizona Cardinals on Sunday.

"Emotions -- there's really no words for it," Britt said. "Everybody is just so happy. You see people with the expressions that you didn't see around here for a long time. It just feels so special to be in the locker room with those fellas."

The catch capped an 18-play, 99-yard drive that used up the final 2 minutes, 37 seconds on the clock and kept the Titans on their historic rebound from an 0-6 start with their fifth straight win.

They did it with Young beating Matt Leinart in the first professional game between the first two quarterbacks taken in the 2006 draft. And it felt eerily reminiscent of the BCS national championship in January 2006 when Young beat Leinart with another late drive.

Young threw for a career-high 387 yards. He converted three fourth downs on the drive, two to Britt -- including the TD catch.

"It was hard, but it really took a lot of patience and confidence," Young said.

Young has won nine straight starts, including the past five since he replaced Kerry Collins, and now is 23-11 as a starter. But this easily was his most impressive game since 2006 when he was the NFL's Offensive Rookie of the Year.

"He kept his poise, and he was confident," Titans coach Jeff Fisher said. "He just had that thing about him."

Leinart was making his first start since Oct. 7, 2007, because Kurt Warner had problems with his eyes. The Cardinals (7-4) sat Warner in case the problem is concussion-related, and Leinart threw for 220 yards. He drove the Cardinals to Tim Hightower's 6-yard TD run for a 17-13 lead in the fourth quarter.

Britt's touchdown catch helped make up for his turnover with 4:38 left. Young had just hit the rookie for a 51-yard completion to the Arizona 30 when Dominique Rodgers-Cromartie poked the ball free and Bryant McFadden recovered.

The Titans forced a punt, but LaRod Stephens-Howling, who also returned a kickoff 99 yards for a touchdown, downed the ball at the 1.

A couple plays into that game-winning drive, Cardinals receiver Steve Breaston came over to Leinart and told his quarterback he had a case of deja vu. Breaston had seen Young lead a late-game drive against his Michigan team in a similar fashion.

"And he did that to myself in the national title game," Leinart said. "I thought Vince played great. He made plays in that last series, so hat's off to him. I thought our defense played phenomenally. He just made some plays."

This loss snapped Arizona's three-game winning streak and left the Cardinals stunned as Young high-fived fans on the sideline, with the other Titans and their fans jumping for joy. Arizona coach Ken Whisenhunt compared the disappointment to losing the Super Bowl in February.

"It's as close to that as possible because we knew today that it would be difficult against this team, and our team rallied and pulled together. When you're six seconds away from winning it, it makes it even tougher," Whisenhunt said.

Young did it time and again on that final drive. He moved around on fourth-and-4 from the Titans 7 before finding Britt for a 10-yard completion. He scrambled for 6 yards later in the drive and bought more time as he ran toward the line of scrimmage before finding Britt in the end zone.

"There's not a lot you can do when he extends the play like that," Whisenhunt said.

The Titans outgained Arizona 532-292 on offense, a season-high for Tennessee. Darnell Dockett had three of Arizona's four sacks of Young, but the Cardinals only took him down once on the final drive.

Nearly lost in the amazing finish was Chris Johnson's record-setting performance. The Titans running back matched the NFL mark held by Earl Campbell (1980) and Eric Dickerson (1984) by running for at least 125 yards in his sixth straight game.

Johnson topped 125 yards Sunday with an 85-yard touchdown gallop late in the third quarter, and he also turned in the most yards rushing in November, a mark previously held by Barry Sanders (1997). Johnson finished with 18 carries for 154 yards, though he didn't touch the ball on the final drive. He didn't mind.

"Finally, the ball's bouncing our way," Johnson said.