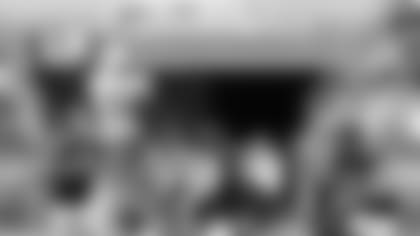 Wide receiver Kenny Britt is off to a great start, leading the AFC in yards receiving with 271.
NASHVILLE, Tenn. -Tennessee safety Michael Griffin thinks only person in the NFL can stop receiver Kenny Britt right now.
That would be Britt himself.
The 6-foot-3 receiver has been as busy on the field during the first two games as he was during the lockout back in New Jersey, which landed him a visit with NFL commissioner Roger Goodell. Britt leads the AFC in yards receiving (271), and only Carolina's Steve Smith has more (334) in the NFL. Matt Hasselbeck has told Britt they'll be really good once he knows what Britt is doing all the time.
"That's funny saying it, but you just ask yourself, I think he had what nine catches last game," Griffin said Wednesday. "And he just seems like nothing right now can stop him."
Britt not only has the size, he also is 215 pounds. Baltimore safety Ed Reed found himself with a hand on Britt's face mask in the Titans' 26-13 win last week as he brought down the receiver. Griffin said he has thought Britt could be among the very best in the NFL since the receiver's rookie season, and the safety compares Britt's strength to Houston receiver Andre Johnson, with speed similar to Philadelphia's DeSean Jackson.
"The sky's the limit for him right now," Griffin said. "The way he's going right now, I see him going in that direction."
Britt has had no off-field issues since the lockout ended. Staying healthy is his biggest challenge, with tightness in his hamstring limiting him Wednesday. A hamstring injury suffered in mid-July back in New Jersey kept Britt out most of the preseason, and the Titans cautiously worked him back onto the field hoping to have the receiver healthy.
"We're thrilled where he's at," coach Mike Munchak said. "Obviously, we've got a lot of football to play. He's got to show he can stay healthy for 14 more weeks and hopefully playoffs. So a long season to go but a great start for him."
This is what the Titans (1-1) have expected from Britt since drafting him with the 30th pick overall in 2009. He already has led the Titans in yards receiving each of his first two seasons, but he caught only 42 passes in each of those years, with 775 yards enough to lead the team in 2010.
Britt gave a preview Oct. 24 when he caught seven passes for 225 yards, the best game by a receiver in the NFL for 2010. A week later, Britt pulled his right hamstring running downfield early at San Diego and missed the next four games even with the benefit of the bye week.
His fast start ranks him second in franchise history behind only Charley Hennigan, who had 347 yards receiving for the then-Houston Oilers in the AFL in 1962. Britt has six straight 100-yard receiving games, and the receiver who turned 23 on Monday has caught at least one TD pass in four straight games. He is averaging 17.8 yards per catch since being drafted, sixth in the NFL since 2009.
Against Baltimore, Hasselbeck threw to Britt 13 times, and the receiver caught a career-high nine passes.
Denver coach John Fox gets the next chance to look at Britt when the Broncos (1-1) visit Tennessee on Sunday.
"He's a big, tall, fast guy that's extremely competitive for the ball, and I think Matt Hasselbeck has definitely learned to trust him and target him," Fox said. "Played against Matt quite a few times. He's a quality guy who makes good decisions, and he's off to a good start."
Hasselbeck said Britt is a little more raw than Nate Washington.
"He's just kind of out there having fun, just working on kind of God-given ability," Hasselbeck said.
Britt has only had about three weeks working with Hasselbeck, and the receiver said he and Hasselbeck talk constantly. They need to make sure each knows what the other is thinking so that they can soon communicate by just looking at each other.
"That's where we want to get to where we get to the line of scrimmage, he gives a nod to my side and I know what he's talking about," Britt said.
Goodell didn't punish Britt, only warning that he better not see the receiver in his office again. They discussed an offseason that saw Britt arrested twice in New Jersey, with two arrest warrants issued for falsifying information on driver's license applications in Tennessee.
A municipal court date in New Jersey for three disorderly person charges from a June arrest was postponed Tuesday. He previously pleaded guilty to a speeding arrest in his hometown of Bayonne.
Britt likes to play pranks in the locker room, such as surprising teammates with an air horn. When it comes to football, Britt said he wants to stay focused and improve every day. If he's got personal goals, he's not sharing.
"But 43 catches would be nice this year," Britt said with a smile.
NOTES: DE Derrick Morgan said the NFL has fined him $7,500 for a late hit on Ravens quarterback Joe Flacco. Morgan came in when Flacco had just covered up a fumble. Morgan said he will appeal what he called a split-second thing. ... RB Chris Johnson (sore ribs) did not practice but is expected back Thursday. S Chris Hope (shoulder) and WR Damian Williams (hamstring) were limited.