NASHVILLE, Tenn. – The opportunity to play – and win – the Titans 7-on-7 Passing Tournament was meaningful to members of the Brentwood Academy football team for a number of reasons.
For starters, it was a chance to avenge last year's loss to Oakland High.
But it went much deeper than that for many of the Eagles.
Senior linebacker Jackson Sirmon was back on the same field his father, Peter, practiced on during his playing days with the Titans. Senior receiver Michael Archie has history with the franchise as well – his father, Mike, played running back for the Oilers and Titans.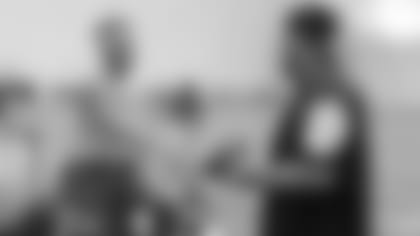 And for quarterback Gavin Schoenwald and receiver/safety Camron Johnson, a pair of Vanderbilt commitments, it was a chance to make a statement and build chemistry heading into their senior seasons.
It turned out to be a heck of a day for BA. The Eagles beat Oakland 41-0 in the championship game, and they outscored their three opponents by a combined score of 98-30. Johnson was named the tourney's Most Valuable Player for the second year in a row after putting on an impressive display on both sides of the football.
"We met this morning at 6:30 at the school, and talked on the bus ride over here that we wanted to win this thing," Schoenwald said. "I know everyone that was out there on the field today wanted to win this thing. And when everyone is like that – and I think winning back-to-back state championships put winning into everyone's minds even more – you want to come out here and compete and get the job done."
Schoenwald made it look easy slinging the ball around Saint Thomas Sports Park, on the outside practice fields and inside the bubble. Time and again he connected with Johnson and Archie during the tournament, as Brentwood Academy beat Fairview (31-14) and Independence (26-16) to advance to the final to face Oakland.
Oakland beat Brentwood Academy 22-14 in last year's final of the Titans 7-on-7 tournament, but it was a different story this year.
Johnson got behind the defense for a 40-yard touchdown not long after he went up high to reel in an interception earlier. Johnson had two touchdown catches against Fairview, and another against Independence, when he had another interception. Archie had a pair of touchdown catches in the final, and Daniel Taylor also had a touchdown and an interception in the final against Oakland. Schoenwald connected with Tahir Annoor for a late score.
"Any time we are entering in something we want to win a championship and that is what we were striving for today," said Johnson, named No.2 on The Tennessean's Dandy Dozen earlier in the day. "This is good momentum and good chemistry. To be able to have our receivers and quarterbacks out here throwing the ball around against a defense, somebody that is not us. And then the defense, to be able to see what we are weak against and be able to play some good coverages against it, it helps."
Sirmon, a Washington commitment, said Wednesday was special. Peter Sirmon, defensive coordinator at Louisville, played from 2000-06 with the Titans.
"It's cool to be back," Jackson Sirmon said. "My dad knew I was coming out. He told me to just have fun. I was excited to come out."
In addition to Brentwood Academy, Oakland, Fairview and Independence, Wayne County, Clarksville Northwest, Fort Campbell High (Ky.), Stratford, Lipscomb, Hillwood, Page and Clarksville Northeast also took part in the 7-on-7 tournament.
The top four teams received free cleats, and all the teams received items from Gatorade.
Former Titans safety Chris Hope talked to all the teams in the auditorium about character and leadership development.
Members of the Brentwood Academy team got another special treat – they crossed paths with receiver Corey Davis, the team's first-round pick.
"Any time you get to come into an NFL team's facility and play it is cool," Johnson said.
Josh Corey, Football Outreach Coordinator for the Titans, hopes the tournament provides more than just competition.
"It is an experience," said Corey, a former high school coach at Fletcher High (Fla.) and a former offensive lineman at the University of Florida. "For us, it is part of our community outreach effort. We want to keep growing and developing the game at the youth and high school level. We want to keep building on relationships that we form with coaches. We want to try and turn all these kids into Titans fans.
"But it is really about giving these kids a first-class experience and something they are not able to get any place else. Maybe someday some of these guys will be lucky enough to get in the two-tone blue and suit up for us and that would be great. But we want to provide an experience for these kids that they'll remember for a long, long time."
Brentwood Academy knocks off two-time defending champion Oakland 41-0 in the Titans' 3rd Annual 7-on-7 Passing Tournament at Saint Thomas Sports Park. (Photos: Kayla Schoen, Gary Glenn)