FLORENCE, Ala. – Even before the Titans Caravan crossed over the Alabama state line, Derrick Henry was hearing it from his Titans teammates.
Henry, who won a Heisman Trophy at the University of Alabama before being selected by the Titans in the 2016 NFL Draft, is a big deal in these parts.
"I've been joking with him, saying "Roll Tide" a lot," linebacker Wesley Woodyard said with a smile. "And he has been like, "Wood, Chill out." But everybody came to see the last king."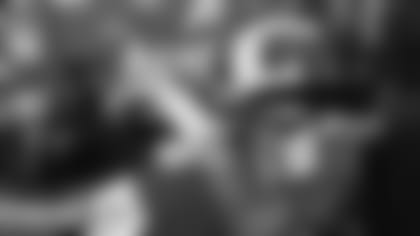 Henry was a big hit at the Academy Sports and Outdoors here on Tuesday night. Fans lined up in Alabama jerseys, and they brought everything imaginable for him to sign, from helmets to posters to pylons to an enormous wooden "A."
Henry even signed the back of a baby's outfit. And he had a grown woman jump in his lap for a picture. The overzealous fan then snuck in a kiss.
"It's exciting to get back and see some fans in my college state," Henry said with a smile. "It's great to see everybody."
Henry, headed into his third season, was joined by teammates Dion Lewis, DaQuan Jones, Josh Kline and Woodyard on the Caravan. At one point the players lined up and played guitars, gifts from local radio station WQLT.
But in these parts, it was clear Henry was the main attraction.
Henry was all smiles on Tuesday.
He admitted he's still fired up about the addition of linebacker Rashaan Evans, a first-round pick by the Titans in the NFL Draft. Henry and Evans were teammates at Alabama.
"I am very excited," Henry said of Evans. "He is one of my good friends, and he is a great player as well. I know what kind of player we are getting, somebody who is going to work hard and give his all. He's a guy who is going to make plays for us.
"I kept seeing mocks of us getting him, and knew it was a possibility. I was saying something to Jon (Robinson) about it, and it happened, so I was happy for him. … I feel like I spoke it into existence."
On the Caravan, Henry has gotten to know fellow running back Dion Lewis, the former Patriots star who was signed earlier this offseason.
Henry and Lewis will provide a one-two punch for the Titans in the run game this fall.
"It's been great – I feel like I have known him," Henry said of Lewis. "We have a great relationship, and we talk about everything. It is easy. He is a great player, and I am glad to have him.
"I am glad he is on our side now."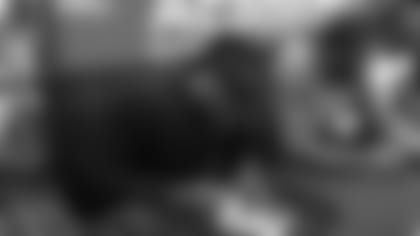 Henry led the Titans with 744 rushing yards and five touchdowns in 2017. In his first two NFL seasons, Henry has 1,234 yards and 10 touchdowns, on 286 carries. He was drafted in the second round of the 2016 NFL Draft after racking up a school-record 3,591 yards and 42 rushing touchdowns at Alabama.
Henry said he's looking forward to this fall, and doing his part in the team's new offense.
"I feel like I can grow in everything," Henry said. "I am just trying to get better every day I am out there, with a new scheme. I just want to learn and get better and compete with my new teammates."
Henry said he's been impressed with new offensive coordinator Matt LaFleur, and head coach Mike Vrabel.
The Titans held a minicamp last week. The team has organized team activities scheduled for May and June, in addition to another minicamp.
"He's great," Henry said of LaFluer. "He is young, and he's a guy who has a lot of ideas to get the playmakers the ball, and he utilizes Marcus (Mariota) as much as he can, because Marcus is a great quarterback. It is a different scheme, but we like it and are adjusting to it well.
"I really like coach Vrabel. He is a very high energy coach, aggressive in everything he does. He hired a great coaching staff to help us, put us in the best place possible to succeed and get better. But it has been fun. I like him and am excited about the season."
And on Tuesday, fans here were excited to see Henry, and offer a "Roll Tide."
Derrick Henry headlines Day 4 of the 2018 Academy Sports + Outdoors Titans Caravan in Thompson Station and Florence. (Photos: Susanna Nickell)