**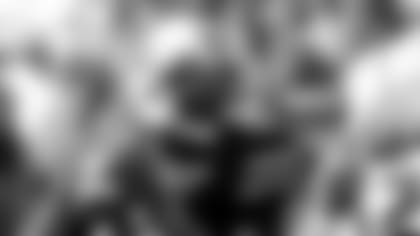 Auburn QB Cam Newton won the Heisman Trophy and the BCS national title in his junior season. Next up? Applying for the NFL Draft.
MONTGOMERY, Ala. --** Heisman Trophy winner Cam Newton will skip his senior season and apply for the NFL draft after leading Auburn to a BCS national championship and drawing nearly as much attention for a pay-for-play scandal as for his dynamic performances.
Auburn released a statement Thursday night announcing the quarterback's decision following his lone year as a major college starter. Newton led the Tigers to their first national title since 1957 and a 14-0 season with a 22-19 victory over Oregon on Monday night.
"This decision was difficult for me and my family," Newton said, adding that he made it after talking to coach Gene Chizik and offensive coordinator Gus Malzahn.
"It's been a blessing for me to be a part of something so great," Newton added. "Any time you win games it's a big deal, but for this school to win a BCS national championship, what a way to make people happy. Auburn is a special place that I can call home."
Newton, a former backup to Tim Tebow at the University of Florida, arrived at Auburn after leading Blinn College in Texas to a junior college national championship. He won on a much bigger stage with the Tigers.
The national champions are waiting on Lombardi Award-winning defensive tackle Nick Fairley to announce his NFL decision Friday in his hometown of Mobile.
"We appreciate Cameron's many contributions to Auburn and the outstanding leader that he was for our football team," Chizik said. "He had one of the greatest individual seasons ever by an Auburn player and was a key part of our championship run. Cam will always be a member of the Auburn family, and we wish him the best in his future endeavors."
Newton, a College Park, Ga., native, was chosen the Walter Camp and Associated Press National Player of the Year. Newton also won the Maxwell Award as the nation's top player and the Davey O'Brien Award as the best quarterback.
The dual-threat quarterback brought joy to Auburn, but some troubles also came along with him. He played under a cloud the last two months of the season after reports surfaced that his father, Cecil, shopped his services during Mississippi State's recruitment of his son.
All that came of it so far is that Auburn declared Newton ineligible the week of the Southeastern Conference Championship Game against South Carolina, and the NCAA reinstated him one day later. The NCAA said it hasn't closed the case, but it had no evidence at the time that Cam Newton knew about his father's solicitation.
The case might prompt a new addition -- call it "Newton's Law" -- in the NCAA rule book.
It was prominent and polarizing enough that NCAA president Mark Emmert, speaking at the governing body's annual convention Thursday, called for new rules ensuring that parents can't "sell the athletic services" of their children.
"If you look at the Newton case, a lot of people came away from that, because it's a complicated case, saying, 'Gosh, it's OK for a father to solicit money for the services for his son or daughter?'" Emmert told reporters afterward. "The answer to that is no, it isn't. But we don't have a rule that makes that clear."
On the field, Newton rushed for 1,473 yards and 20 touchdowns and passed for 2,854 yards and 30 TDs. He set Auburn season records for both rushing and passing TDs and total offense and an SEC mark for yards on the ground by a quarterback.
Newton injured his back during the BCS national championship game, but he still passed for 265 yards and two touchdowns and ran for another 64.
Newton was good enough to prompt South Carolina coach and 1966 Heisman winner Steve Spurrier to marvel: "You can't tackle him. He's almost a one-man show."