ATLANTA – Derrick Morgan strolled into Super Bowl LIII Radio Row on Friday, and in a matter of minutes he was surrounded by some of his teammates from Tennessee.
Fellow Titans linebackers Wesley Woodyard and Jayon Brown joined Morgan in conversation, and later in a group photo.
Time will tell if they're teammates once again in 2019.
Morgan is scheduled to become a free agent in March, and he faces an uncertain future with the franchise he's played with since entering the NFL in 2010.
"I just kind of roll with it," he said. "I just have faith in God and know what happens is His plan, and you go from there."
A nine-year veteran, Morgan knows there's a chance his days with the team could be coming to an end.
"I plan on seeing what all the options are," he said. "I want to see what the market looks like for me, and what my options are outside of Tennessee and we'll go from there."
If Morgan's days with the Titans do in fact end, he's enjoyed it.
Morgan played in 12 games for the Titans in 2018, and finished with 37 tackles, and 11 quarterback pressures.
A first-round pick by the Titans in the 2010 NFL Draft, Morgan has played in 118 career games with the team, and he's racked up 44.5 sacks.
"The teammates that I have come in contact with, guys like Karl Klug, Jurrell Casey, Wesley Woodyard," Morgan said. "Being able to develop friendships and a bond with guys like that has been the best part of the whole journey.
"I think the Titans have a great group of guys in that locker room, so I'll always wish them success."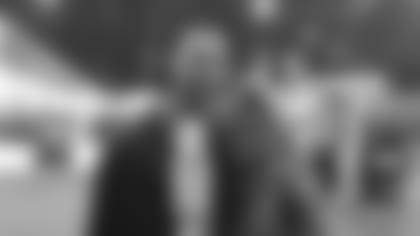 Morgan was a busy man on Friday.
His wife, Charity, was even busier.
Charity Morgan is a successful chef, known for her plant-based cooking. She's conducted interviews all over the world, and she was making the rounds here on Radio Row as well.
"She has more followers than me," Morgan said with a smile. "We are trying to get her exposure and increase her reach and tell people what she is doing.
"It is a great thing to see, her success. And a great thing to watch, and support her. I am happy for her and trying to be as supportive as I can for her."
As for Morgan, he's focusing on getting healthy. Injuries slowed him down in 2018.
He's also catching his breath following another long season.
"The first thing is healing the body, and getting back to optimal condition," Morgan said, "and just processing the season and catch up on life outside football. A lot of things get neglected in season, family.
"I've got to clean out my garage."
The Tennessee Titans take on the St. Louis Rams in Super Bowl XXXIV on Sunday, Jan. 30, 2000 at the Georgia Dome in Atlanta, Ga. (AP Photos)