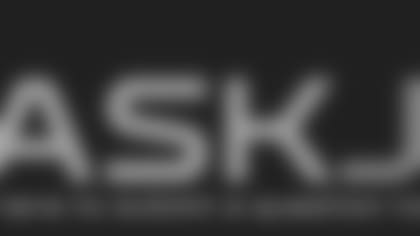 ](http://www.titansonline.com/news/ask-jim.html)
Thanks for all the questions. I plan on answering mail throughout the season and into the offseason.  So keep the mail coming. Here we go…
Question: With the unusual depth at WR, do you envision tall and short packages? Also, do you envision more subs than traditionally used four or five active WRs on game day rather than 2 or 3 guys getting the lion's share of the work?
— Brian Moore from Soper, OK
Jim: Hey Brian. I can't see "tall and short packages," although the Titans definitely have receivers in all shapes and sizes. I think you'll see a lot of variety on the field this fall. Justin Hunter (6-4) and Dorial Green-Beckham (6-5) give the Titans size on the outside, and will be tough guys to contend with, especially when matched up against one defender. Kendall Wright (5-10) and Harry Douglas (6-0) are shiftier, and will be used all over the field. Veteran Hakeem Nicks (6-1) is the in between guy I guess you could say. The reality is the best and more reliable players will play. In the past, Titans offensive coordinators have shrunk the rotation simply because there wasn't as much quality depth. I wouldn't take Wright off the field unless he's gassed, but everyone will have to fight for playing time and there's potential for a lot of guys to contribute.
---
Question:* Which WR/TE do you believe will be Marcus Mariota's clutch guy? *
—William Young from Las Vegas, NV.
Jim:  That depends on what you mean by "clutch." My bet is Wright will lead the team in receptions. The Titans have big plans for him in 2015 after his numbers dipped last year. But tight end Delanie Walker is going to be a big factor once again after leading the squad in catches (63) and receiving yards (890) last season. Tight end Anthony Fasano has looked good so far in camp. A rookie quarterback's best friend is oftentimes his tight end. He's sometimes a safer – and closer -- option in a pinch. On a critical third-and-three in the fourth quarter, I'm thinking Walker is going to be that guy a good part of the time.
---
Question: Congrats on your new job. Even though it won't be like a regular season game, how much do you think it will help Marcus in going up against a Dick LeBeau defense during training camp? Do you think Dick will show more sophisticated looks to help prepare Marcus since he's a rookie?
— Tim Brookie from Springfield, MO
Jim: I appreciate it. LeBeau is known for giving offenses a ton of different looks. Already during camp the defense is testing Mariota and the offense while getting prepared for the season. But let's be honest here: The plan of the defense in practices isn't to get Mariota ready for his rookie season. The defense is looking to improve while finding the right players to be on the field on Sundays. Nonetheless, there's no doubt Mariota is going to benefit from being tested, and the looks he'll see in practice will only assist in his development.
---
Question: Hey Jim, I'm a huge fan in the state of Oregon, and the Titans don't get a lot of TV time being on the west coast. Are you still going to be doing your live game updates on Twitter? I used your updates a lot to get an idea on how the Titans are doing.
— Soren Bush from Stayton, Oregon
Jim: Hey Soren. If you were a Titans fan before the team drafted Mariota, boy, did you hit the jackpot. I'm betting that draft pick turned your fandom up a few notches. No doubt I'll be providing updates on Twitter. Keep following me @jwyattsports.
---
Question: Hi Jim. What do you think Dexter McCluster's role will predominately be this year? Will he be used more as a receiver/running back or just on special teams? I hope we can utilize his talents a bit more than last season.
— John Munachen from Victoria, Australia
Jim: It's going to be interesting to see how this one plays out. After signing McCluster last offseason, I expected him to have a big role in the offense. Kind of like Danny Woodhead was in Ken Whisenhunt's offense in San Diego. But that never really materialized. McCluster had just 131 yards on 40 carries, and he caught 26 passes for 197 yards. He ranked third among running backs in rushing yards, but he did lead the backs in receptions. The Titans have running backs Bishop Sankey, David Cobb and Antonio Andrews, along with fullback Jalston Fowler. I expect McCluster to get some carries as well, and I do think the Titans will use him more this fall. Because of his shiftiness, I believe he's the best option as a punt returner as well, but some other players will be in the mix.
---
Question: Hey Jim, Has David Cobb changed his number?
— Rex Greene from Athens, Alabama
Jim: Yes. He wore No.44 in the offseason. Now he's wearing No.23.
---
Question: Hi Jim, I'm just not terribly convinced that the OL is where it needs to be. Since the departure of "Big Country" David Stewart, the RT spot is still in flux, and has a total lack of nastiness. Is Jeremiah Poutasi up to the task, and will Andy Levitre come back to life this year? I understand he had a lot of nagging injuries last year.
— Vince Stringfellow from Waynesville, NC
Jim: The battle for right tackle is between Byron Bell and Poutasi. Bell has the experience, but Poutasi is a big guy with a lot of potential. He'll get more comfortable throughout the preseason. No matter who wins that job, I think he'll be an upgrade over Michael Oher from a year ago. Levitre has had an injury free – and surgery free offseason – so he'll be better prepared for the season. As for the lack of nastiness, that's something the Titans plan on changing up front. Taylor Lewan made that clear on the day the team reported for training camp, and it's a point of emphasis.
---
Question: Who do you think will be the Titans starting wide outs? I know Kendall Wright has his spot on lock. This has really bothered me. I'm kind of hoping that Dorial Green-Beckham could be the guy lined up across from him. Justin Hunter hasn't really produced much in his 3 years, but Justin could have a good year. They got Hakeem Nicks who in his glory days with the Giants was a top 10 receiver. Harry Douglas is pretty good as well. I just want to know who your top 3 receivers are for this team.
— Julian from Nashville, Tennessee
Jim: The good thing is the Titans have options. Kendall Wright and Harry Douglas are proven commodities, and Hakeem Nicks has had a good camp so far. He has an impressive resume, and it looks like he'll be a factor this fall. The Titans have liked what they've seen from Hunter in camp. I think he's in the top three. Green-Beckham is a work in progress. We'll all know a lot more about his chances to contribute early after the preseason, but some patience might be needed with him. There's no doubt he's very talented.
---
Question: Hi Jim. How does Andy Levtire look? If he struggles, is it possible that Chance Warmack would slide over, or is he locked in on the right side? Thanks!
— Alex E from Toronto, Canada
Jim: I addressed Levitre earlier, and I really think he's benefiting from being able to practice rather than spending the whole offseason rehabbing an injury. Warmack is locked in on the right side, and I can't see him bouncing to the left.
---
Question: Por lo que se soy el unico fan de los Titans de Argentina. Puede ser este un buen año de los Titans? Obvio que mejor que el año anterior estamos armando un equipo competitivo?
PS: Tal vez vos pueda lograrlo ¿Sera posible que la pagina de los Titans este disponible en español? Gracias
— Leandro Betbeze from Buenos Aires Argentina
RECOMMENDED: