**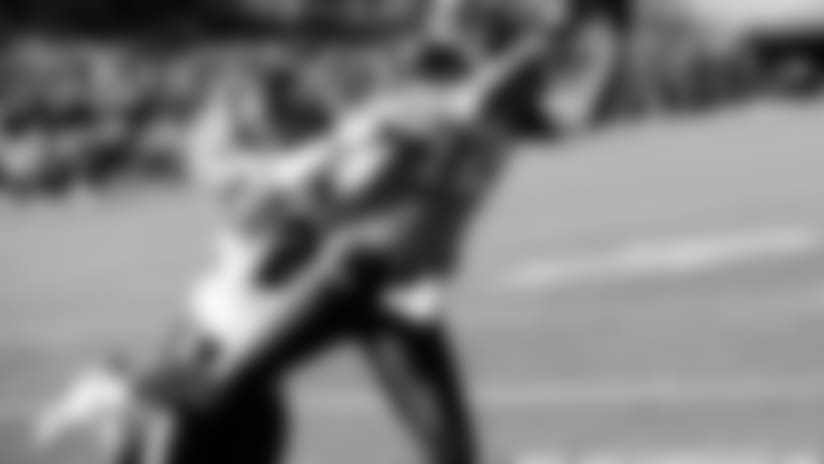 Wide receiver Justin Gage hauls in a 1-yard TD pass from Kerry Collins, giving the Titans a 14-0 lead midway through the first quarter.
NASHVILLE, Tenn. --** The Titans went for it and got it – *twice -- *in the first quarter.
Tennessee's offense converted a pair of fourth-down attempts that led to touchdowns on each of its first two possessions, then capitalized on good field position for a third touchdown in the first quarter.
The aggressiveness helped Tennessee build a 21-point lead, dictate tempo and alter Houston's game plan in a 31-17 victory Sunday at LP Field.
"It gives the offense a chance to say, 'We're going to put our foot to the pedal, and we're going to go, go, go,' " wide receiver Justin Gage said.
Gage caught a touchdown pass — his 200th career reception — from Kerry Collins on a fourth-and-goal from the Houston one-yard-line for the Titans' second score.
The Titans snapped a six-game losing streak that included three straight defeats at home and kept alive their slim shot at the playoffs. Tennessee (6-8) received help in that regard when Indianapolis (8-6) defeated Jacksonville (8-8) Sunday. The Titans need to win their final two games, and Indianapolis and Jacksonville need to lose their final two games for Tennessee to win the AFC South via tie-breaker.
Titans players said they liked coach Jeff Fisher's decision to go for it on fourth-and-eight from the Houston 42 on Tennessee's first possession and near the goal line on the Titans' second possession.
"I definitely liked it," said Kenny Britt, who led the Titans with six catches for 128 yards. "It surprised me because I was about to run to the sideline. We converted and had confidence in our offense."
Collins hit rookie Damian Williams, who was wide open, for the 39-yarder on fourth-and-eight.
"We practiced (that play) all week, watching coverages and stuff," Williams said. "We had a good idea that that would happen. I was surprised that it was a fourth-down call, but we were pretty confident in the play."
It was a career long for the rookie receiver who had been targeted just once in the past five games and hadn't recorded a catch since Oct. 31. Williams streaked to the Houston 3-yard-line, setting up a 3-yard pass from Collins to Nate Washington for the 7-0 lead.
Collins' next pass attempt was a deep ball to Britt that gained 59 yards. Britt said he was expecting the ball to go toward the sideline, but saw it going to the middle of the field and reacted for a critical adjustment. Britt made it near the ball just in time for it to bounce off a Texans defender's hand, catch it in stride and streak to the Houston two-yard line.
"I told Kerry to throw it to the corner," Britt said. "It was actually crazy because I was going toward the sideline and didn't know Kerry was throwing it to the middle of the field like that. I said, 'I've got to make my quarterback look good,' and I ran over there. I'm saying to myself, 'Don't catch it, don't catch it' and it deflects into my hands."
Collins said it was a lucky break for a team that hadn't had one in a long time.
"Obviously, the ball should have been batted down at best for us, should have been picked," Collins said. "Sometimes you've got to get lucky, and we've been kind of unlucky here the last few weeks."
Collins hit Gage on a perfectly thrown fade route four plays later but credited Gage for making a "critical play."
"Kerry did a great job of seeing press coverage," Gage said. "He threw it up and let me go to the pylon. He put the ball exactly where it needed to be."
Fisher said multiple factors eased the decisions to go for the early fourth downs. 
"It was field position, and I really liked the plan," Fisher said. "Kerry (Collins) felt good about what we were doing. (Offensive coordinator) Mike Heimerdinger felt good about it. I gave warning in advance on third down. I said, 'You got two shots.' "
Linebacker Gerald McRath said the defense loved seeing the offense go for it.
"It keeps them on the field," McRath said. "You see guys step up that practice hard all week and execute the game plan. They make plays. You're watching your brother do some good stuff."
Quick start helps defense
The offensive output in the first quarter was the second-highest point total by the Titans in a quarter this season (second only to 27 against Philadelphia on Oct. 24).
The 21-unanswered points to start the game were a departure from a trend that had troubled the Titans. Opponents had scored first in six of seven games at LP Field this season, and Tennessee had trailed 17-0 (at Houston on Nov. 28), 17-0 (against Jacksonville on Dec. 5) and 21-7 (against Indianapolis on Dec. 9) at halftime in its past three games.
"(Offense) put points on the board, and the defense managed to get off the field on third down," safety Michael Griffin said. "It felt great, but at the same time, we just saw the (Baltimore Ravens-Houston Texans) game Monday night. We saw that they're an explosive offense that can easily come back. They made some strides."
The large deficit forced Houston (5-9) into more throwing situations than it wanted. Texans QB Matt Schaub went 35-for-54 for 325 yards, but was sacked four times and threw an interception.
Tennessee held Houston to 30 rushing yards on 17 carries three weeks after allowing the Texans 188 rushing yards on 39 carries. The Titans held Arian Foster, who entered the game with the NFL lead in rushing yards, to a season-low of 15 yards on 11 carries.
"It was huge," said rookie cornerback Alterraun Verner, who picked off Schaub before halftime to set up a field goal by Rob Bironas. "I think we disrupted their game plan. When they got down 21-0, they couldn't run the ball because it takes too much time."   
Collins, a 16-year NFL veteran, went 14-for-24 for 237 yards with the two touchdowns and threw one interception. He finished the game with a passer rating of 102.3. Collins started 7-for-11 for 141 yards in the first quarter for a rating of 146.8, helping loosen Houston's defense of the run.
Chris Johnson, who was held to a career-low 5 yards on seven carries in the first meeting, rushed for 130 yards on 24 attempts and scored on an 11-yard run. Reserve RB Javon Ringer added 19 yards on four carries and scored the Titans' fourth and final touchdown from 7 yards.
"Anytime we stay on the field and are able to consistently run the ball, and every time the receivers step up like they did … that's more times we get to run the ball," Johnson said.
It was the 24th game in Johnson's three-year career to rush for more than 100 yards, and eighth time this season. The Titans are 5-3 this season when Johnson rushes past that mark. His touchdown was his 11th this season.
Bironas continues streak, hits 100 again
Bironas fired accurately from 30 yards on his lone field-goal attempt Sunday as the first half expired. It was his 18th consecutive three-point kick.
His current streak is tied for the fourth longest in Oilers/Titans franchise history. It equals a mark set by Al Del Greco in 1995-96 and is two behind the all-time best of 20 in a row that was set by Del Greco and matched by Bironas.
The field goal and four successful point-after-touchdown kicks gives Bironas 100 points this season. He is the second player in franchise history to score 100 or more in four straight seasons, joining Del Greco (1995-2000).
Fisher coached his 271th game with the Oilers/Titans franchise. He became head coach in 1994 when the team was the Houston Oilers and is the longest-tenured coach in the NFL. Fisher (147-124) moved past former New York Giants coach Steve Owen for eighth on the NFL's list of most games coached with one team.