**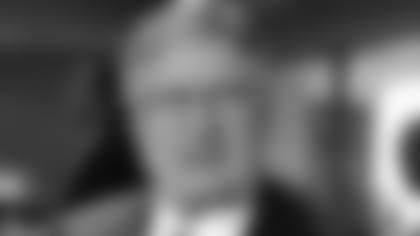 Titans owner K.S. "Bud" Adams, Jr. has been voted into the Texas Sports Hall of Fame.
NASHVILLE, Tenn. --** Titans owner K.S. "Bud" Adams, Jr., who brought pro football to Texas and co-founded the American Football League with Lamar Hunt in 1959, has been voted into the Texas Sports Hall of Fame.
"That's fantastic," Adams told the Houston Chronicle. "This is a great honor. I went to the Texas Sports Hall of Fame for (former defensive end) Elvin Bethea's induction, and it's a very impressive deal. I want to thank those who voted for me."
The Class of 2009, which will be inducted in February at the Ferrell Center on the campus of Baylor in Waco, includes:
• Astros first baseman Lance Berkman
• Rice and Minnesota Vikings quarterback Tommy Kramer
• Cowboys running back and assistant coach Dan Reeves
• Cowboys defensive end Harvey Martin
• Cowboys outside linebacker Chuck Howley
• Baylor women's basketball coach Kim Mulkey
• Former University of Texas and major league pitcher Burt Hooton
• Baylor and Oilers receiver Lawrence Elkins
• Max Williams (brought pro basketball to Texas)
"That's quite a group, and I'm honored to be part of it," Adams said. "I've been a Texan since I moved here (after World War II). I never would have thought when Lamar and I announced the AFL in my office that I'd have a sports career like this. My only regret is I just wish Nancy were still here to share this with me."
In 1959, after failing to acquire NFL franchises through expansion or purchase, Adams and Hunt resolved to form a new, competing professional football league. The AFL co-founders recruited other owners, who like themselves were looking to enter the world of football ownership but had been rebuffed.
The eight original teams, whose owners would later be dubbed the "Foolish Club" for taking on the NFL, were: the Houston Oilers (later to be known as the Tennessee Titans), Dallas Texans (Kansas City Chiefs), Denver Broncos, New York Titans (New York Jets), Los Angeles Chargers (San Diego Chargers), Buffalo Bills, Boston Patriots (New England Patriots) and Oakland Raiders. Oakland received a franchise after Minnesota, initially in the AFL group, and was awarded an NFL expansion team.
The AFL played its first games in 1960, and Adams' Oilers went on to win the first two AFL Championships. The Cincinnati Bengals and Miami Dolphins were added to the league later in the decade, and in 1970, the AFL and NFL merged, becoming the American Football Conference and the National Football Conference of the NFL.
In his fifth decade as founder, owner, chairman, president and CEO of the Tennessee Titans (formerly Houston Oilers and Tennessee Oilers), the hardworking and aggressive Adams has made professional football history numerous times. In 1968, Adams' Oilers became the first AFL/NFL team to play its home games indoors by moving into Houston's Astrodome. A team rich in tradition and pride, the Oilers were the dominant team in the American Football League during the 10-year era (1960-69), playing in the championship game four times (1960, 1961, 1962, 1967) - and winning twice consecutively (1960, 1961); earning four AFL Eastern Division Championships (1960, 1961, 1962, 1967); and making the playoffs five years out of 10 (1960, 1961, 1962, 1967, 1969). In 1970, the AFL merged into the expanded NFL, and Adams' teams made the playoffs 16 times (1978, 1979, 1980, 1987, 1988, 1989, 1990, 1991, 1992, 1993, 1999, 2000, 2002, 2003, 2007, 2008).
The Oilers' streak of seven consecutive playoff appearances (1987-93) was the longest streak in the NFL during that time span. In 2008, the franchise recorded the best record in the NFL (13-3), while capturing its fifth division title and second AFC South crown (2002) after winning the AFC Central division in 1991, 1993 and 2000.
During Adams' illustrious career, 65 of his players have been Pro Bowl selections, including one AFL, two NFL Most Valuable Players and five offensive or defensive Rookies of the Year. Also, eight of Adams' players, including Bruce Matthews in 2007, have been inducted into the Pro Football Hall of Fame in Canton, Ohio.
In each of the past three seasons, Adams was nominated for the Pro Football Hall of Fame as a special contributor.