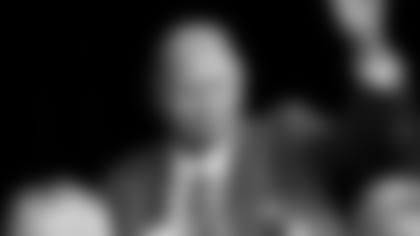 Adams ackowledges a standing ovation after his acceptance speech for the Texas Sports Hall of Fame Monday night in Waco, Texas.
WACO, Texas --** Calling it one of his life's highest honors, Titans owner K.S. "Bud" Adams, Jr. was inducted into the Texas Sports Hall of Fame Monday night in Waco, Texas.
Adams, who brought pro football to the state of Texas, joined a class that included Houston Astros first baseman Lance Berkman, Rice and Minnesota Vikings quarterback Tommy Kramer, Cowboys running back and assistant coach Dan Reeves, Cowboys defensive end Harvey Martin, Cowboys outside linebacker Chuck Howley, Baylor women's basketball coach Kim Mulkey, University of Texas and major league pitcher Burt Hooton, Baylor and Oilers receiver Lawrence Elkin and Max Williams, who brought pro basketball to Texas.
In 1959, after failing to acquire NFL franchises through expansion or purchase, Adams and Lamar Hunt resolved to form a new, competing professional football league. The AFL co-founders recruited other owners, who like themselves were looking to enter the world of football ownership but had been rebuffed.
The eight original teams, whose owners would later be dubbed the "Foolish Club" for taking on the NFL, were: the Houston Oilers (later to be known as the Tennessee Titans), Dallas Texans (Kansas City Chiefs), Denver Broncos, New York Titans (New York Jets), Los Angeles Chargers (San Diego Chargers), Buffalo Bills, Boston Patriots (New England Patriots) and Oakland Raiders. Oakland received a franchise after Minnesota, initially in the AFL group, and was awarded an NFL expansion team.
The AFL played its first games in 1960, and Adams' Oilers went on to win the first two AFL Championships. The Cincinnati Bengals and Miami Dolphins were added to the league later in the decade, and in 1970, the AFL and NFL merged, becoming the American Football Conference and the National Football Conference of the NFL.
"I remember so well those early discussions with my great friend, Lamar Hunt, as we talked about starting up a new league when we both were unable to buy the Chicago Cardinals," Adams said during his speech at the Ferrell Center on the campus of Baylor University. "People called us the 'Foolish Club' but we were determined to make it work."
The Oilers played in the championship game four times (1960, 1961, 1962, 1967), winning back-to-back titles in 1960 and 1961. They earned four AFL Eastern Division Championships (1960, 1961, 1962, 1967) and made the playoffs five out of 10 years (1960, 1961, 1962, 1967, 1969). The Oilers' streak of seven consecutive playoff appearances (1987-93) represented the longest streak in the NFL during that time span.
"We had some lean years but we also can proudly state that we made the playoffs during each of our five decades, including one stretch where we made them seven consecutive years beginning in 1987 with Warren Moon leading the way," Adams said.
While Adams' franchise enjoyed additional success after he moved his team to Tennessee in 1997, Monday night was all about the inductees' vast accomplishments in the state of Texas.
"This is a special event, and I want to thank everyone for having me here," said Adams, who has been nominated for the Pro Football Hall of Fame as a special contributor in each of the last three years. "The Hall of Fame is very impressive. It's an honor to be included with so many who have made this great state what it is when it comes to sports. A lot of my players and coaches, like Bum Phillips, Earl Campbell, Elvin Bethea, Mike Munchak and Bruce Matthews have already been inducted. To be included with them is a privilege for me."
TEXAS SPORTS HALL OF FAME INDUCTEES
BUD ADAMS: Co-founded the American Football League with Lamar Hunt. The AFL celebrated its 50th anniversary in 2009. One of two surviving original owners along with Buffalo's Ralph Wilson, Adams and Clint Murchison brought professional football to Texas in 1960. The Oilers won the first two AFL titles and lost the championship game the third season. During the Luv Ya Blue era under Bum Phillips and Earl Campbell, the Oilers came within one victory of the Super Bowl two times. In the Run-and-Shoot era with Warren Moon, the Oilers made the playoffs a league-best seven consecutive years. Since moving his franchise to Nashville, the renamed Titans played in their first Super Bowl. After the Oilers moved, Houston built Reliant Stadium, Minute Maid Park and the Toyota Center. Adams was also part owner of the Astros in 1962 and the owner of the Houston Mavericks basketball team in the American Basketball Association from 1967 to 1969.
LANCE BERKMAN:Waco TX native. Graduated from New Braunfels Canyon HS. All-America outfielder at Rice (1995-97). Career at Rice had a .385 average, 67 HRs and 272 RBIs. 1997 Nat'l College Player of the Year by the National Collegiate Baseball Writers Assn. Currently plays 1B for Houston Astros (in 9th season with Astros) Career ML stats (through Aug. 30, 2009) - 1,548 hits, 306 HRs, 1,026 RBIs and a .300 average.
LAWRENCE ELKINS: Led Brownwood HS to 1960 state championship. Baylor WR 1963 and 1964 Consensus All SWC and All-American. 144 career receptions at Baylor for 2,094 yards and 19 TDs. In 1963 led the nation and set a SWC record with 70 receptions for 873 yards and 8 TDs. Played in the 1965 East West Shrine Game, Coaches All-America Game and was MVP of the Hula Bowl. Played in the AFL with the Houston Oilers from 1965-1968 before injuries ended his career. Selected to the College Football HOF in 1994.
BURT HOOTON: University of Texas pitcher 1969-71. Had a 35-3 record, 2 no-hitters, a 1.14 career ERA and 386 strikeouts. Hooton led Texas to three SWC titles and two trips to the College World Series. 2nd pick of the 1971 draft. Threw a no-hitter for the Chicago Cubs during his rookie season. Had a 151-136 career ML record and 3.38 ERA, 1,491 K's with Chicago Cubs, Los Angeles Dodgers and Texas Rangers. Made the All-Star team in 1981. Inducted into the National College Baseball HOF in 2008. Texas retired his number in 2009.
CHUCK HOWLEY:Dallas Cowboys LB 1961-73. Made the NFL All-Pro team six times. Only player in history to be named MVP of the Super Bowl (V) from a losing team. Six time Pro Bowl selection. Inducted into the Dallas Cowboys Ring of Honor on October 30, 1977. Tom Landry - "I don't know that I've seen anybody better at linebacker than Howley."
TOMMY KRAMER: San Antonio, TX native. Threw three TDs and 257 yards in the 1971 4A title game victory over Wichita Falls. Senior season at Rice he led the nation in passing, consensus All-America and SWC selection, finished 5th in Heisman voting. Set school records at Rice for yards in a season (3,317 in 1976) & career passing yards with 6,197. Minesota Vikings QB from 1977-89, New Orleans 1990. 1986 Pro Bowl selection. Career 24,777 yards with 159 TD passes.
HARVEY MARTIN: South Oak Cliff HS. NAIA All-American as a senior at East Texas State in 1972. Led East Texas State to a National Championship in 1972. Lone Star Conference Player of the Decade for the 1970s. DE for Dallas Cowboys 1973-1983. Four time Pro Bowl selection (1976, 1977, 1978, 1979). Four time All-Pro (1976, 1977, 1979, 1982). NFL All-Decade Team 1970s. 1977 NFL Defensive Player of the Year. Co-MVP of Super Bowl XII with Randy White. Cowboys team leader in sacks for seven seasons. 114 career sacks.
KIM MULKEY: Baylor women's basketball coach since 2000-01 season. In eight seasons at Baylor (216-59 record) she has eight straight 20 win seasons and seven NCAA tournament appearances. Advanced to the WNIT final in 2003. 2005 NCAA championship over Michigan State - 3rd ever in Texas history and the first basketball title in Big 12 history. Joins Dean Smith and Bob Knight as the only people to have won NCAA basketball title as a player and as a coach. Coached four All-Americans at Baylor. Mulkey's record is Top 10 nationally in winning percentage.
DAN REEVES: Native of Rome, Georgia. The former South Carolina football star was a Dallas Cowboys RB/QB from 1965-1972. Reeves had 1,990 rushing yards & 1,693 receiving yards. His best year came in 1966 when he rushed for seven touchdowns, good for a tie for second in the league and was voted to The Sporting News All Pro Team. The Cowboys made the playoffs every year of Reeves's playing days - reaching the Super Bowl twice and culminating in a 24-3 victory over the Miami Dolphins in Super Bowl VI following the 1971 season. Protégé of Tom Landry who served as an assistant coach with the Dallas Cowboys from 1970-1980.
MAX WILLIAMS: Avoca, TX native. Considered the founder of pro basketball in Texas. Three-time all-state basketball selection. Led Avoca basketball to a 44-1 record in 1955 & the Class B state title over Big Sandy. Williams scored 1,264 points in 1955. Credited as the first prep player in Texas to use the behind-the-back dribble. Scored 30 points for Texas squad in the Oil Bowl All-Star game. All-SWC basketball player at SMU in 1960. Graduated as the third all-time scorer in SMU history. Helped organize the ABA's Dallas Chaparrals & served as the team's GM and Coach for two seasons starting in 1969-70.