NASHVILLE – The NFL Draft's main stage is going up in downtown Nashville, and we're now barely two weeks away from the big event.
NFL Network Vice President Charlie Yook, who oversees the draft coverage for the network, is ready to roll. And so is his team of roughly 430, which will begin arriving in town over Easter Weekend.
"The anticipation is what's killing us, because we just want to get down there and be a part of this experience in Nashville, and be a part of this crowd that loves football," Yook said. "We know when we get down to the Titans pick, it will be as loud as it's ever been, and we're excited to experience that as well."
Some big things are in store, including a big name at the start of the NFL Network's draft coverage: Dolly Parton.
The country music icon has been tabbed to do the voice-over for the intro, part of the network's "Star is Born" theme that links Nashville, and the NFL Draft. Over the course of the three-day draft (April 25-27), Yook and his team will tell stories about the draft prospects, while also delivering news and nuggets, from draft stages in Nashville (including one outside Tootsies on Broadway), and in the buildings of all 32 NFL teams.
A Nashville/NFL Draft theme presented itself during one of the multiple visits to Music City.
"When we think of Nashville, we think energy. We think music. We think lights. And quite honestly, we think 'A Star is Born'," Yook said. "It was a perfect combination for what we want to do editorially because a lot of us, when we went there, and we were walking down Broadway, whether it was 9 o'clock in the morning or 9 o'clock at night, and you would hear music out of any bar you'd walk by, it just kind of hit us – the similarity between what we were experiencing, and the draft itself, ran parallel to each other.
"Because somewhere there's a kid, no matter what school he went to, whether it's Alabama or Alabama State, working out where no one could see him – or sometimes they do see him – trying to be a star. And they are going to come to Nashville with all the same goals any musician has on Broadway. It was the perfect theme set up for us, and it's the perfect way we're going to open our draft. We have a pretty cool open idea with that concept "A Star is Born," voiced over by none other than Dolly Parton."
Parton's voice-over will be done on April 15.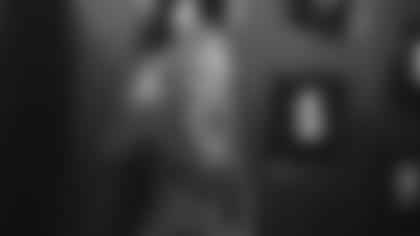 What else we also know about NFL Network's draft coverage plans, and preparation:
-One of sets will be a 30X30 structure up against Tootsies on Broadway.
-Another set will be inside Tootsies, which will film Good Morning Football on the network the three days of the draft (April 25-27).
-The main set will be inside the draft theater itself, near the stage.
-The network plans to incorporate musicians into its coverage.
-700 player bios, and 2,000 pieces of tape have been prepared.
-On Thursday, starting at 7 p.m. CT, Rich Eisen, Daniel Jeremiah, Kurt Warner, and Stanford head coach David Shaw will be on the main set, for Round One. Chris Rose, Charles Davis, and Steve Smith Sr. will be on the outside set with Insider Ian Rapoport and Deion Sanders (stage) providing coverage.
-On Friday, starting at 6 p.m. CT, for Round 2-3s, Eisen, Jeremiah, and Davis will be on the main set, along with Joel Klatt. Chris Rose, Rapoport, and Peter Schrager will be on the outside set, with Melissa Stark on stage.
-On Saturday, starting at 11 a.m. CT, for Rounds 4-7, Eisen, Jeremiah, Davis and Schrager will be on the main set, with Rapoport providing more coverage. Colleen Wolfe and Kyle Brandt will be on the Broadway set.
Yook said his team is prepared, and excited, about coming to Nashville.
"We know the city itself has wrapped its arms around this circus that is coming to town. We think we are ready on an editorial basis for this party that is about to hit in a few weeks," Yook said.
"We're definitely trying to showcase how cool Nashville is, and what it represents. I say, 'Let's go. Let's see who is going to trade up. Let's see who is going to make a bold move. And let's get down to pick No.19 for the Titans, and let's get this party going."