NASHVILLE – D'Andre Walker's rookie season didn't go anything like he'd imagined, but when he looks back, he does so with gratitude.
At the start of a recent interview, the fifth-round pick of the Titans in the 2019 NFL Draft had praise for those around him following a year spent on Injured Reserve.
Whether they knew it or not, they motivated him.
"Honestly, I just want to say thank you to the whole Titans organization, from the head coach to everybody in management, to all the players," Walker said. "I want to say that first, because the way they embraced me and accepted me into the team last year, even though I was hurt, it was amazing.
"Just to see the love and support I was getting from all of the players and coaches, from everybody, I'll never forget."
During a season when the Titans advanced to the AFC Championship Game, the team got a lot of production from their 2019 draft class. In fact, Pro Football Focus ranked the team's rookie class No.1 in its end-of-season rankings.
First-round pick Jeffery Simmons made a big impact in the second half of the season, while second-round pick A.J. Brown and third-round pick Nate Davis turned into starters, and big contributors. Defensive back Amani Hooker, selected in the fourth round, played an important role on special teams while logging snaps on defense, and linebacker David Long, a sixth-round pick, also stepped up big as a rookie.
Then there was Walker, an outside linebacker from Georgia. Walker was injured last offseason, and he spent the entire 2019 season on Injured Reserve.
According to Walker, it wasn't necessarily a lost season, however. He watched, and he learned.
"Every day when I did my rehab, I observed how hard those guys worked," Walker said of his teammates. "I learned from those guys, and they also gave me a boost. They would push me while they took care of their business in the weight room and on the field. I received nothing but love from those guys, and I appreciate it.
"Now that I have a chance to come back and play again, I feel like I owe the organization my all. I really do feel like I owe them in a way. I am just ready to play football again – it has been almost a year. I am ready to play at a high level."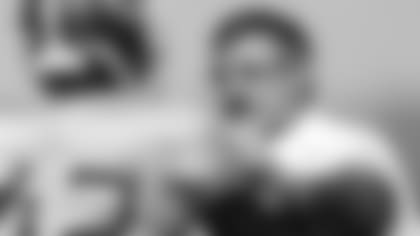 In 2018, Walker started 13 games for the Bulldogs and finished with 45 tackles, 11 tackles for a loss and 7.5 sacks. During his collegiate career, Walker played in 41 games at Georgia, and he tallied 112 tackles, 13.5 sacks, five forced fumbles and one fumble recovery.
Titans coach Mike Vrabel spent one-on-one time with Walker last offseason, and during the early portion of training camp before Walker was sidelined.
More recently, Walker has gone from rehabbing to getting himself physically ready to compete for a roster spot, and playing time, in 2020. He said he's stronger, with improved technique.
Those around him have been impressed.
"He's been working hard," Titans General Manager Jon Robinson said of Walker. "I know he's itching to get back and show what he's capable of doing."
"I loved his attitude (when he came in last year)," Vrabel said. "He was excited to learn."
Titans outside linebacker coach Shane Bowen said Walker made the most of the team's virtual offseason program.
"He's asking good questions, he's engaged," Bowen said of Walker. "I think the big thing for him once we get back is just taking it from what we're doing right now to the field, and he's continuing to develop all the techniques and fundamentals. But, I'm excited about him. I think football is important to him. I think he's very anxious to get going and see where he falls in this thing and compete and try to earn a spot."
Walker said he did a lot of soul-searching during the course of the 2019 season.
And he's spent the offseason trying to get himself ready for training camp.
Walker has a chance to stick. This offseason, the Titans added veteran edge rusher Vic Beasley Jr., and the team re-signed Kamalei Correa, who finished the year strong. Harold Landry, who led the team in sacks last season, returns for Year 3, and coaches are counting on him to take another big step.
But there's room for more. Derick Roberson, an undrafted free agent a year ago who flashed down the stretch in 2019, will be fighting for a roster spot along with others, like Reggie Gilbert, Josh Smith and Jordan Williams.
Walker wants to make his presence known, too.
"It was hard last year, but everything happens for a reason," Walker said. "The players and the coaches made sure I didn't hold my head down last year, and they taught me to have faith in myself, to know that I am still good, and I belong here.
"I know what I am capable of doing, and now I just have to keep my head up, and I have to work. I feel like I am on a great team, a family, and I want to do my part, starting on special teams. I feel healthy, 100 percent, and ready to go. I am ready to play football, and I'll do whatever the team asks me to do."