Darius Reynaud capitalized on his opportunity to return to football after a year out of the game and played an important part in all four special teams return touchdowns by the Titans in 2012.
Reynaud signed with the Titans last January as a free agent after spending 2008-09 with the Minnesota Vikings, 2010 with the New York Giants and 2011 on the sofa because of recurring hamstring problems. Reynaud showed determination and innovation, however, incorporating Pilates into his training regimen, and ran through the door that opened when 2010 Pro Bowl return specialist Marc Mariani suffered a broken leg in the preseason against Arizona on Aug. 23.
Reynaud felt bad that Mariani got hurt, but wanted to make the most of his new chance and wound up in the franchise record books. He capped the 2012 season with two punt returns for touchdowns against Jacksonville to become the first player in franchise history to return two punts for scores in one game. Reynaud gave the Titans a 21-14 halftime lead against the Jaguars with a 69-yard return (click here to see it again) and followed with an even more improbable 81-yard return in the third quarter.
Reynaud set a single-game franchise record with 160 punt return yards on the day. Reynaud's 13.2 average per punt return is the fourth highest mark for a season in franchise history.
Reynaud's 1,240 kickoff return yards are the third most in a season in franchise history behind Mariani (1,530 in 2010) and Bobby Jancik (1,317 in 1963), and he logged the franchise's third-most kickoff return yards in a game (174 against Detroit) in a performance highlighted by his franchise-record 105-yard kickoff return for a touchdown (click here to see it again). Reynaud also made an accurate lateral across the field to Tommie Campbell, who streaked 65 yards for a touchdown against the Lions (click here to see it again).
Brett Kern joined Reynaud in writing his name in franchise record books during the punter's third full season with the Titans. Kern set franchise records for gross punting average (47.6 per punt) and net punting average (40.4).
Kern punted 81 times for a career-high 3,855 yards. Opponents returned 39 punts a total of 405 yards. Five punts resulted in touchbacks, and Kern and the coverage team downed 30 punts inside the 20 yard-line of opponents in 2012.
Kern's year also included 10 punts for 391 yards and four punts inside the 20 against the New York Jets, a 49.0 net average at Jacksonville (third highest in a game in franchise history) and a long of 71 at Miami. He also served as the holder for Rob Bironas on all extra points and field goals in 2012.
Bironas led the Titans in scoring with 110 points (35 extra points and 25 field goals). It was the eighth straight season for Bironas to lead the team in scoring, a streak that ranks second in franchise history behind nine by Al Del Greco (1992-2000), and his sixth straight season with at least 100 points, which tied Del Greco's franchise record.
Bironas did, however, experience a decrease in his success rate on field goals. He went 25-for-31 (80.6 percent). All six misses were from at least 40 yards, and they were more consipicuous because Bironas had been so accurate on deep kicks the previous five seasons.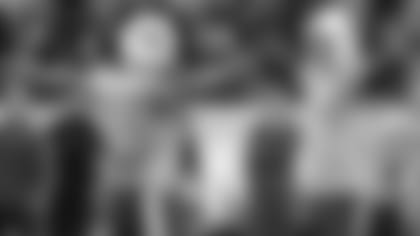 Bironas was 6-for-12 from 40-plus in 2012 after going 69-for-81 (85.2 percent) from 2007-11 and 25-for-28 (89.3 percent) in 2010-11. The highpoint for Bironas in 2012 was his franchise-record 11th game-winning field goal, a 40-yarder to beat Pittsburgh on Thursday Night Football (click here to see it again).
Tim Shaw served his second straight season as special teams captain and led the unit with 13 special teams tackles. Shaw also blocked a punt by Pittsburgh's Drew Butler that was recovered by Jason McCourty at the Steelers' one-yard line to set up Tennessee's first score (click here to see it again).
Beau Brinkley, an undrafted rookie who joined the Titans after playing collegiately at Missouri, handled longsnapping duties for Tennessee on field goals and punts. After the snaps, Brinkley also showed athleticism in helping cover opponents' punt returns.
Here are the stats posted by Tennessee's specialists in 2012:
Darius Reynaud (0/16): 16 rushes for 33 yards; five receptions for 35 yards; 31 punt returns for 410 yards (average 13.2) and two touchdowns; 53 kickoff returns for 1,240 yards (average 23.4) and one touchdown
Rob Bironas (0/16): 35-35 on points after touchdowns; 25-for-31 on field goals (80.6 percent); long 53; 110 points; 74 kickoffs, 58 reached the end zone, 37 (50 percent) resulted in touchbacks
Brett Kern (0/16): 81 punts for 3,855 yards (gross average 47.6; net average 40.4), five touchbacks, 30 punts placed inside opponents' 20-yard line; long 71; two blocked
Beau Brinkley (0/16):six special teams tackles