**
 [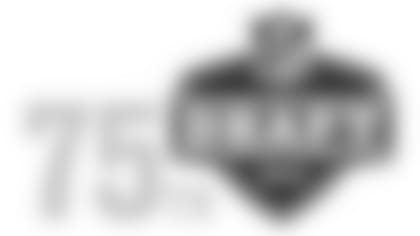 ](http://www.titansonline.com/schedule/draft-2010.html)
WHAT**
75th Annual National Football League Player Selection Meeting.
Radio City Music Hall, 1260 Avenue of the Americas, New York City (Between 50th and 51st Streets).
6:30 PM CT, Thursday, April 22 (Round 1).
5:00 PM CT, Friday, April 23 (Rounds 2-3).
9:00 AM CT, Saturday, April 24 (Rounds 4-7).
The first round will conclude on Thursday by approximately 11:00 PM ET.  In 2009, the first round consumed three hours and 23 minutes.  The second and third rounds will conclude on Friday by approximately 9:30 PM CT.  The second and third rounds took four hours and 30 minutes in 2009.  The draft will conclude at approximately 4:30 PM CT on Saturday with the final four rounds.  Rounds 4 through 7 took seven hours and 22 minutes in 2009.
Representatives of the 32 NFL clubs by telephone communication with their general managers, coaches and scouts.
Seven Rounds – Round 1 on Thursday, April 22; Rounds 2 and 3 on Friday, April 23; and Rounds 4 through 7 on Saturday, April 24.
There will be 255 selections, including 32 compensatory choices that have been awarded to 16 teams that suffered a net loss of certain quality unrestricted free agents last year.
The following 32 compensatory choices will supplement the 223 regular choices in the seven rounds – Round 3:  Cincinnati, 33; Tennessee, 34; Atlanta, 35.  Round 4:  Cincinnati, 33.  Round 5:  Pittsburgh, 33; Atlanta, 34; Pittsburgh, 35; Minnesota, 36; San Diego, 37; Green Bay, 38.  Round 6:  Carolina, 33; Jacksonville, 34; Carolina, 35; New England, 36; San Francisco, 37; Tennessee, 38.  Round 7:  Indianapolis, 33; Tennessee, 34; Pittsburgh, 35; Philadelphia, 36; Philadelphia, 37; Seattle, 38; Indianapolis, 39; New England, 40; New England, 41; Carolina, 42; New England, 43; Oakland, 44; Miami, 45; Tampa Bay, 46; St. Louis, 47; Detroit, 48.
Seattle (Nos. 6 and 14) and San Francisco (Nos. 13 and 17) have two selections each in the first round.  Carolina and Chicago do not have first-round picks.  All other teams have one first-round selection.
Round 1:  10 minutes per selection.  Round 2:  Seven minutes per selection.  Rounds 3 through 7:  Five minutes per selection.
NFL Network and ESPN/ESPN 2 will televise the draft on all three days.
Exclusive coverage and behind-the-scenes features on NFL.com and team websites for draft weekend will include:  "Draft Tracker" with real-time selection information as well as exclusive pick-by-pick analysis from NFL.com's experts; exclusive interactive features, including "Fan War Rooms" where fans can discuss their favorite team's picks, an aggregation of tweets tagged with #nfldraft enabling fans to follow the Draft conversation happening on Twitter, and "NFL Predict The Pick" game; NFL.com's LIVE coverage complementing NFL Network's telecast with live look-ins, exclusive analysis and reports from New York in primetime on Thursday and Friday, plus all day on Saturday; and in-depth coverage from each team website.