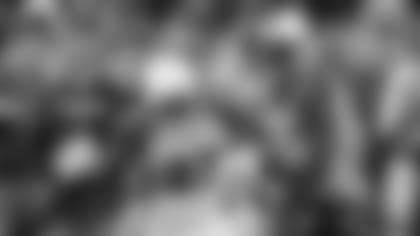 Wide receiver Lavelle Hawkins contributed four catches for 44 yards in Tennessee's 20-17 win.
NASHVILLE, Tenn. --
The Titans won a thriller against the
Arizona Cardinals
Sunday at LP Field, capping a 99-yard drive with a game-winning, 10-yard touchdown pass with no time left on the clock. The result? A 20-17 Titans victory, their fifth consecutive win after an 0-6 start.
Quarterback Vince Young and rookie wide receiver Kenny Britt played the heroes, ruining what would have been an important  and confidence building victory for the Cardinals in Nashville. Instead, it was the Titans who gained further confidence, while keeping their playoff hopes alive.
Young, who capped one of his best NFL games with a career-defining play, finished the game with 387 yards passing and the lone touchdown to Britt. Teammates praised the poise he displayed throughout the game - as evidenced by his many clutch throws down the field and three fourth downs he converted during the final drive.
"I can't say enough about Vince Young," tight end Bo Scaife said. "Over the past year and these past five weeks, he's shown us a lot and I think there's a lot more to come."
YOUTH SERVED: The Titans' young offensive weapons took care of this game - and it wasn't just the dynamic Chris Johnson. Although Johnson contributed another highlight-reel 85-yard touchdown run, it was other players that stepped up, including wide receivers Lavelle Hawkins and Britt, along with tight end Jared Cook.
"The guys did a really fine job of protecting him [Vince Young] and the young guys stepped up," head coach Jeff Fisher said. "Hawk's (Lavelle Hawkins) catches, Jared Cook's catches, and Kenny (Kenny Britt) catching the ball, all of them just stepped up on that drive."
SURGING TITANS: Sunday's win was the fifth straight victory for the Titans, who are now 5-6 and just one game out of the second wild card spot after an unlikely 0-6 start. Although the muddled postseason picture still shows several teams to maneuver past, the Titans believe they have a chance at the playoffs.
"We're picking up momentum, playing better and better every week," defensive end Kyle Vanden Bosch said. "We've played two high-powered offenses the last two weeks and got the job done. It's something we can definitely build upon and like I said, this locker room just feels special right now."
BRITT'S REVENGE: On the series before Britt's clutch 10-yard touchdown reception, he made an unfortunate error that could have been tough to overcome. After an amazing, diving catch to complete a 51-yard reception, Britt pulled himself off the grass only to have the ball immediately stripped by Cardinals cornerback Antonio Rogers-Cromartie. Without missing a beat, however, Britt stepped up and made the game-sealing catch.
"Kenny's got that personality, he just puts things behind him. He just keeps playing," Fisher said. "He's a football player and a playmaker. You can see what he did as a kickoff returner. They decided not to kick to him and kicked it out of bounds because he's very explosive."
Britt finished the game with seven catches for 128 yards and the game-winning touchdown.