**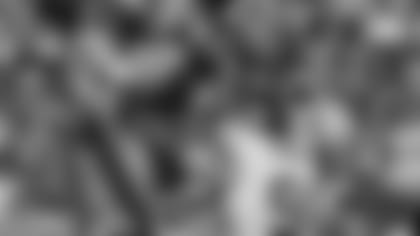 Vince Young injures his right hand as he is hit by Redskins DT Maake Kemoeatu (96) in the third quarter.
NASHVILLE, Tenn. -** An injured Vince Young tossed his shoulder pads and No. 10 jersey into the stands following Tennessee's 19-16 overtime loss to the
Washington Redskins
on Sunday.
Young, who injured his right thumb late in the third quarter and was replaced by rookie Rusty Smith, left for the locker room but returned to the sideline and had the thumb taped and re-taped in an effort to return. He even tried a glove, but coach Jeff Fisher stuck with Smith.
After the game, Young walked toward the tunnel and suddenly tossed his shoulder pads and jersey into the stands.
A few minutes later he walked past reporters already dressed, ignoring both questions and his old college teammate who tried to talk to him. Three hours after the game, Young wrote on Twitter that he was fine and apologized to his teammates. He then tweeted, "Just want to play.''
Fisher said Young has a torn flexor tendon in his right thumb and may need season-ending surgery. Either way, Fisher says Smith now is Tennessee's starter after the fifth-year veteran's latest meltdown that has Young's future with this franchise in question in a season he needed to prove he could be their franchise quarterback.
"He threw half his uniform in the stands. I think clearly that is no way to respond, and so we have some things that we have to sort out with him,'' Fisher said of Young. "He may need surgery. And if that's the case, he's done for the year.''
Fisher and Young spoke in the locker room in what apparently was a heated discussion. Fisher wouldn't discuss what Young said to him.
"That is between me and him and the team,'' Fisher said.
And the Titans aren't talking either.
"We were told to keep our mouths shut, and that's what I'm gonna do,'' receiver Nate Washington said.
Young was the No. 3 overall pick in 2006, that season's Offensive Rookie of the Year. He led the Titans to the playoffs in his second season but he got hurt in the 2008 season opener where he reacted poorly to fans booing him after a second interception. A day later, Fisher contacted police for help because family worried Young might hurt himself.
Kerry Collins finished that season as the starter, leading the Titans to a 13-3 record and a playoff berth.
Young got his job back last season after Tennessee opened 0-6 on orders from owner Bud Adams. Young is 30-17 as a starting quarterback, but Tennessee now is 5-5 with three straight losses.
Fisher said he was very disappointed and thinks Young's teammates are disappointed in Young's behavior after this loss.
"There is going to be frustration in losses,'' Fisher said. "There is going to be times when you have to dig deep and fight and turn to one another. I don't think you run, and so I am disappointed.''
Titans safety Michael Griffin, who ran after Young out into a loading dock while wearing just his shorts and with his ankles still taped, said he hoped people can set aside their egos and personal feelings so they could stick together as a team. Told that Young's injury could end his season, Griffin said he didn't know that
"Whatever happens, that's between them two,'' Griffin said of Fisher and Young. "I'm just trying to be a loyal teammate and a supporter.''