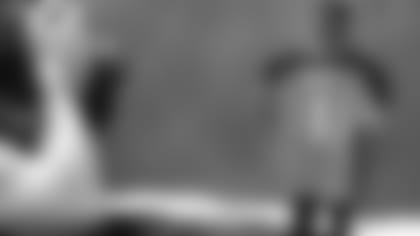 Top draft pick Kendall Wright poses with a #1 Titans jersey during a Friday afternoon photo shoot at Baptist Sports Park.
NASHVILLE, Tenn. -- Kendall Wright has arrived.
Wright, whom Tennessee selected in the first-round Thursday with the 20th overall pick, flew to Nashville Friday afternoon. Upon arrival at Baptist Sports Park, Titans coach Mike Munchak welcomed him.
Wright ate lunch and then conducted one-on-one interviews with Titans All-Access and local television reporters before attending a photo shoot. Wright smiled genuinely with each flash of strobe and click of the camera.
"It's been crazy," Wright said of the experience of the 2012 NFL Draft. "I haven't gotten much sleep or anything like that, but it was all worth it. The hard work paid off. I'm glad to be a Tennessee Titan."
Wright set career records at Baylor, hauling in 302 catches for 4,004 yards and 30 touchdowns. He also tops the Bears' all-time career all-purpose yardage list (4,479 yards).
Titans executives, coaches and scouts have high grades for Wright. They believe he will make an immediate impact for Tennessee in 2012 with quickness, speed and agility when he lines up on the outside or inside. They also have been impressed by his work ethic and competitive fire.
"We're very happy to have Kendall with us," Titans general manager Ruston Webster said. "It's been great getting to spend a little bit of time with him. (We're) looking forward to a great career here. It's our first pick with me as GM, and I couldn't think of a better guy."
Wright and former Baylor teammate Robert Griffin III, who was selected Thursday by Washington with the second overall pick, attended the draft at Radio City Music Hall. Wright was accompanied by his family in New York, which made that moment even better, he said.
"It's very joyous. You get tears of joy," Wright said. "You just get everything you see on TV, everything you've dreamed of."
Wright said he and Griffin, who was projected to go second after Washington traded up with St. Louis and did, have a great relationship.
"He always kept good things happening for me," Wright said. "He kept everybody positive at all times, and that's just the type of guy he is. He's just a good guy. I was glad when he got picked for the Redskins. It's where he wanted to be."
Wright, a native of Pittsburg, Texas, is only the second player ever drafted by the Titans/Oilers franchise from the 20th spot. The Houston Oilers drafted Haywood Jeffires at that position in 1987, and Jeffires went on to become the second-leading receiver in franchise history with 515 catches, including 47 touchdowns.
Titans offensive coordinator Chris Palmer said Wright's attributes remind him more of Ernest Givins or Drew Hill, who were teammates of Jeffires for several seasons during the run-and-shoot days of the Oilers. Givins leads the franchise in catches (542) and yards (7,935) and had 46 career touchdowns. Hill ranks fourth with 480 catches for 7,477 yards (second most in franchise history) and had 47 touchdowns.
Second-year coach Mike Munchak said Wright's versatility will give the Titans more options each week, but the team is likely to create progression levels for the receiver, who played quarterback and cornerback in high school and also starred in prep basketball and track.
"We're excited, obviously," Munchak said. "We think he can be a lot of help this year. That's why he was chosen with the 20th pick. He gives us a lot of options. We can use him in a lot of ways. He'll come back in the middle of May and spend about seven weeks with the whole team and get a good feel for the offense."
Munchak said Wright will also help Tennessee put more points on the scoreboard. The Titans averaged 20.3 points per game, which tied for 21st in 2011, and allowed 19.8 per game, which ranked eighth.
"I think we'll be able to dictate more," Munchak said. "That's one of the things we want to do. There may be some games where we can play some three-wides more, maybe some four-wides more, maybe some tight ends the whole game. So, I think it just gives you more options going into each game and deciding what's the best personnel to have on the field each Sunday."
Friday marked the second time that Wright had been to Nashville. On the first trip, his official visit with team officials, he made a solid impression and he looks forward to doing that with teammates and fans as soon as possible. "I've heard a lot about (Nashville)," Wright said. "I heard it's a great place to be, so I'm glad to be part of this organization and be a Tennessee Titan. I'm ready to start right now."