**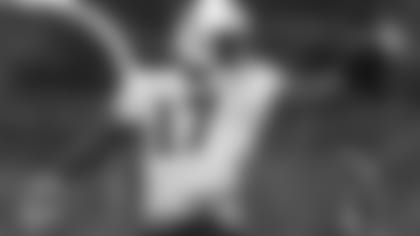 Rookie wide receiver Damian Williams makes an impressive one-handed catch during practice.
Quick Hits from Camp**
• Wide receiver Damian Williams and safety Nick Schommer were taken off the physically unable to perform list and participated in their first practice of camp Wednesday. Defensive end Jacob Ford also returned to action.
• During the seven-on-seven drill, wide receiver Nate Washington made a great catch in the end zone off a throw from Vince Young.
• Wide receiver Lavelle Hawkins wedged between linebacker Will Witherspoon and cornerback Jason McCourty to pull down a well-placed, 20-yard pass from Young in the seven-on-seven drill.
• In the team red zone drill, cornerback Ryan Mouton broke up a Young pass intended for wide receiver Justin Gage in the end zone.
• Damian Williams turned heads with a one-armed grab down the left sideline on a 20-yard pass from Vince Young.
Off the Field Q&A with Myron Rolle
What's your favorite thing to do in Nashville?
"Go to Mount Zion Church. It's really good."
What did you do during the offseason?
"I was in Aspen, Colo., for a retreat with President Clinton, and I worked out in Orlando, Fla., at Disney."
What's your favorite hobby off the field?
"I don't know if this is a hobby, but I guess watching movies – classic movies."
What are your plans after football?
What is your favorite vacation spot?
Out of all your teammates, who can always make you laugh?
Who was a role model for you growing up?
What's something not a lot of people know about you?
If you were on a reality show, which would it be?
"Jersey Shore, of course! I'm from Jersey. My nickname would be kind of like 'The Situation,' but I'd probably want to be 'The Issue' or something like that."
(on how Damian Williams did today)
Yeah, he did (well).  We anticipated that though, he had a couple good days of rehab and we worked him back into some things.  Hopefully we'll continue to allow him to progress and he has a chance to play this weekend.
(on if they're going to keep an eye on Williams tomorrow)
Yeah, (we will) but he took a big step today, feels good and no setbacks—the same thing with Nick (Schommer) too.  So that worked out well, both of them have a chance to play this weekend.
(on if he's disappointed about William Hayes)
Actually, I'm not.  I'm not disappointed because we kind of feared the worst yesterday as far as the mechanism and everything, so we were excited to hear the good news.  It might be a couple weeks, but when you consider that when you have that kind of injury on the practice field and upon immediate examination (the fear) is that you have an ACL involved.  With a mild MCL sprain, they'll keep him off a couple weeks and that's good news.
(on how the offense performed today)
I thought they had a really good day today.  We came out this morning and had a special teams practice and it was hot.  For them to work through this today, I was especially proud of them.  We're going to go ahead and keep them inside tomorrow because we don't need to wear ourselves out when they get ready to play a game and they've done a great job in the heat.  So we'll go inside at normal time tomorrow.
Daily Trivia Question (answer on Thursday, August 12)
How many current Titans have played in a Pro Bowl?
Answer to yesterday's trivia question:
Which two Titans' hometowns are located the furthest from Baptist Sports Park?  Which two hometowns are the closest?
Michael Roos: Vancouver, Wash. (2,357 miles); Eric Bakhtiari: Burlingame, Calif. (2,302 miles); Tony Brown: Chattanooga, Tenn. (136 miles); David Stewart: Moulton, Ala. (136 miles)