**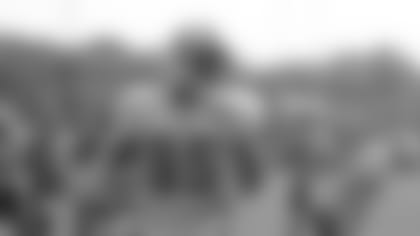 An MRI will determine how significant the injury is to Nate Washington's right hamstring.
NASHVILLE, Tenn. --** Tennessee receiver Nate Washington hurt his right hamstring during practice Monday running a long pass route. He walked off the field with a team doctor and trainer and an MRI exam was planned to determine the extent of the injury.
Coach Jeff Fisher called it a mild hamstring injury once practice ended.
"Anytime a receiver has a hamstring, you're concerned about it. But we don't have the information. We haven't done a test yet," Fisher said.
The receiver was running during an individual pass drill when he went down, grabbing at the back of his right leg and yelling. Trainers tended to him, and Washington walked off the field to the locker room on his own. He was not available in the locker room after practice.
But Washington was the Titans' top free agent pickup this offseason, leaving Pittsburgh to sign a six-year deal in March. He was signed to boost a passing offense that ranked just 27th in the NFL in 2008 for a team that went 13-3.
"You don't want anybody to go down but especially the guy you brought in to be basically the No. 1 receiver," quarterback Kerry Collins said. "But we'll see how bad it is."
Even without the results of an MRI, Fisher said he hadn't ruled out Washington for the season opener Sept. 10 at Pittsburgh. Washington has been targeting that game because he was the No. 3 receiver with the Steelers, biding his time behind Santonio Holmes and Hines Ward for the chance to be a top target. That opportunity is why he signed with Tennessee.
The 6-foot-1 Washington is the speediest receiver the Titans have had in recent years, and they want to use him to stretch the field and provide space for running backs Chris Johnson and LenDale White.
Collins said other receivers such as top draft pick Kenny Britt will get the chance for extra work while Washington is out.
Britt was the 30th pick overall and the first receiver taken in the opening round by this franchise since 1998. Britt declined to call Washington's injury an opportunity, and he has been hampered most of the offseason with his own strained hamstring.
"It depends on how serious the hamstring is and everything. A little tweak might be out a week ... For a hamstring for a receiver is really big because we need our legs to run. He's a big, fast guy, and we need him to stretch the field. I hope he gets back fast," Britt said.
NOTES: The Titans released two players Monday, receiver Chris Davis and offensive lineman Doug Datish. Davis is the player arrested Friday morning for drunk driving in Nashville after being left behind with an injured left hamstring while the team flew to Dallas for an exhibition. Fisher said Davis' injury would have kept him from being available before the final roster cutdown Sept. 5. That, combined with what Fisher called "everything else," the coach said made it the logical move to clear roster space. ... No. 3 QB Patrick Ramsey was given the day off for sore ribs. Collins was wearing a brace on his left knee for a second straight day. Fisher said he may get a day off later this week.