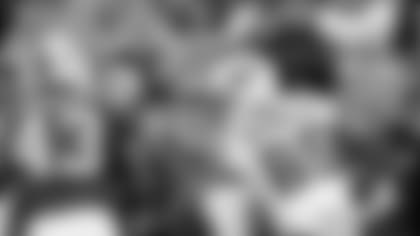 Nate Washington battled back from injury to make a key third-down catch in Sunday's game.
NASHVILLE, Tenn. — Nate Washington has already set a career high for receptions in a season and he's closing in on a career best in receiving yards, but the veteran made one of the grittiest catches of his career Sunday.
Washington had hurt his lower left leg during a reception midway through the third quarter, but returned to the field in the fourth quarter with the Titans facing third down-and-eight and caught a 12-yard pass over the middle for Tennessee's first third-down conversion of the game. The reception, followed by another third-down completion from Matt Hasselbeck to Damian Williams, set up a 44-yard field goal by Rob Bironas to put the Titans up 23-10 with 8:55 left in the game.
"It is just the attitude around here," Washington said. "If I have a little injury or I'm a little banged up, I'm going to go out there and give these guys everything I can because I see that they're working, too."
Tennessee held on, withstanding a late comeback attempt to defeat Buffalo 23-17.  If Washington didn't make the reception on third down, Buffalo would have gotten the ball back with about 14:40 left in the game. Reporters asked Washington after the game if he knew the significance of the reception. Tennessee's leading receiver with 53 catches for 668 yards said that wasn't what he was thinking about at the time.
"I just knew at the time that I could give a bit more," Washington said. "I know that these guys look to me for leadership. I don't want to have that mentality where a little adversity hits the fan and we give up. I had a little bruise and I had to make sure I got back out there and gave all that I had. That is attitude that we have. You have to have the attitude to go out there and give everything."
Titans coach Mike Munchak said the determination was an example of leading by example but he sat down the seven-year pro for the rest of the day to try to keep the injury from becoming worse.
"This game meant a lot to him," Munchak said. "I know he's a competitor; he's having his best year. He's been the guy leading those receivers. He just wanted to stay on the field [after the injury]. He came back on that third down conversion for us. It's a credit to how he's played. He's dedicated himself to having the best year he can, and it's showing in that kind of deal."
Munchak said Washington underwent an MRI Monday and thinks the receiver will be OK for Sunday when the Titans (7-5) host the Saints (9-3).
Titans quarterback Matt Hasselbeck said he's been impressed with the toughness showed by his receivers in his first season of working with them.
"It's hard for me to know what's going on, I see him limp off and I don't get a report. He was in there some, he was out then he went back in," Hasselbeck said. "I'm not really sure what's going on but those guys all year have done a nice job of fighting through stuff, whether it be Hawk (Lavelle Hawkins) or Damian (Williams) or all of them."