**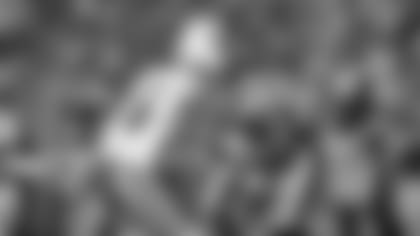 Wide receiver Nate Washington goes against his former team for the second time Sunday at LP Field.
NASHVILLE, Tenn. --** Titans wide receiver Nate Washington remembers his former Steelers teammates, the coaches and Pittsburgh's city-wide celebration of Super Bowls XL and XLIII. He also remembers leaving something on the field last year in his return. 
Washington, who signed with the Titans as an unrestricted free agent in the 2009 offseason after spending his first four seasons in Pittsburgh, was bothered by a strained hamstring. He caught just one pass for eight yards as the Steelers edged the Titans 13-10 in overtime at Heinz Field in Pittsburgh to start the 2009 season. Tennessee followed that loss by dropping its next five consecutive games, including its next two by a combined 10 points.
"To actually have the limited roll I had last year and we still come that close to winning, I feel like I could have given a little more," Washington said Monday. "I'm not focused on the amount of catches or yards I can get (this week). I'm focused on helping the team win."
Despite working through a wrist injury, Washington and the Titans started 2010 much better than a year ago. The sixth-year pro caught three passes for 88 yards, including a 56-yard touchdown heave from Vince Young as Tennessee defeated Oakland 38-13 at LP Field Sunday.
Pittsburgh also started 2010 with a win, defeating Atlanta 15-9 in overtime Sunday with a 50-yard touchdown run by Rashard Mendenhall.
Washington said he feels more comfortable with the Titans' offense and his leadership role in the locker room this season. He said Tennessee offensive coordinator Mike Heimerdinger has been doing an excellent job of using all of the team's weapons.
"This is the type of offense that we wanted. There's so many different weapons. We want to make the defense uncomfortable. When your number is called, you have to answer the call," Washington said. "We have an opportunity to show that we can be a good team this week against a very credible Pittsburgh Steelers team. We had a couple of opportunities that we missed out on. That was the story of last year. This year is going to be different."
With four years of knowledge of the organization, Washington said he would advise Titans players and coaches this week about the schemes and personalities of the Steelers coaches.
Multiple Titans said it's "on to Steeler week" moments after Tennessee finished off Oakland.
The rivalry between the Titans and Steelers — two former AFC Central Division foes — has remained intense since the NFL re-aligned in 2002. When asked if players are shown video from old games, Titans coach Jeff Fisher said, "Maybe."
"We talk about the tradition and the rivalry," Fisher said. "Obviously we didn't play as well as we're capable of playing in the opener, not good enough to win last year."
Tennessee held Pittsburgh to 37 yards rushing last year, but Steelers quarterback Ben Roethlisberger completed 33 of 43 passes for 363 yards. Santonio Holmes caught nine passes for 131 yards, Hines Ward caught eight for 103, and Heath Miller caught eight for 64. Holmes is no longer on the team, and Roethlisberger will be serving the second game of a four-game suspension. Pittsburgh will start third-year pro Dennis Dixon at quarterback. Dixon completed 18 of 26 passes for 236 yards against Atlanta Sunday.
Fisher said the Steelers' defense will be as tough as it's reputed to be. The Steelers held the Falcons to 58 yards rushing and 236 yards passing Sunday.
Pittsburgh held Titans running back Chris Johnson to 57 yards on 15 carries last season. Johnson rushed for 142 yards at two touchdowns on 27 carries Sunday against Oakland.
"Pittsburgh's a very well-coached defensive football team with players all over that side of the ball," Fisher said. "They're not just a 3-4 defense. They represent all the difficulties associated with that type of defense. You look at the people that Atlanta has on offense. Atlanta will be on the top five in total offense this year, and they didn't score a lot of points (Sunday)."
Washington said Pittsburgh is an organization that's respected for its "hard-fought games" and willingness to do anything to win on the field." He said Fisher will emphasize that this week, but he doesn't think his teammates will need that reminder.
"We understand their reputation, but at the same time, we understand that this is our year," Washington said. "No matter who comes in here, it has to be on us."