NASHVILLE, Tenn. – Plenty has changed since the last time Vince Young walked into the doors at Saint Thomas Sports Park.
On Saturday, the former Titans quarterback Vince Young returned to the building for the first time since his playing days with the team. He was surrounded by many of his former teammates as part of the team's Homecoming weekend.
"A lot of memories, man," said Young, decked out in a Houston Astros hat and t–shirt, his wife, his son, and some of his old teammates by his side. "It is like a big family here, and it is good to see everybody, some of the faces that were here when I was here. It is good to be back.
"It's just a great opportunity, being here with my brothers. Sitting back and talking to friends about old memories, it is always good. It makes me think about Titans football. I have a lot of great memories from those days."
Roughly 80 players are expected to be in town for the third annual Titans homecoming. Players gathered for an event on Friday night, and they're scheduled to meet again Saturday night after they attended a practice on Saturday.
Players will be recognized at Sunday's game against the Baltimore Ravens at Nissan Stadium.
"It's just great to be able to reminisce and talk to the guys,'' said former Titans tight end Bo Scaife, who played from 2005-2010. "This was such an important time in our lives, and we didn't know how it was going to shape us or how it was going to change us. But looking back, you have to be able to say, 'Hey, I enjoyed this. I got to live my dream. Playing in the NFL is such a special opportunity.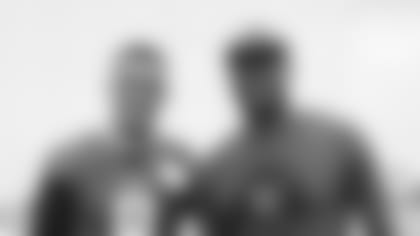 "Being back here, it is good to see everyone growing up, having families, becoming great fathers and even greater men. Knowing where we were all at before -- we were young back then, wet behind the ears, not having the right answer all the time. So it is good to see everyone healthy and living and growing up."
Former Titans linebacker Eddie Robinson, who played from 1998-2001 with the team, brought his wife and two sons with him. Many of the former Titans brought family members with them to share the experience.
"Just driving back up to the facility, and seeing the stadium after so many years away," Robinson said with a smile. "It just kind of brings back all the memories you have. And to see some of the faces I haven't seen in a while, it's special to me."
Former Titans receiver Kevin Dyson, linebacker Keith Bulluck, tackle Brad Hopkins, tight end Frank Wycheck, cornerback Samari Rolle, receiver Nate Washington and safety Lance Schulters are among those scheduled to be at Sunday's game.
On Saturday, players from different teams mingled on the sideline as the current Titans held a walkthrough practice. Not all of them played for the same head coach, and not all of them had the same success.
But for a weekend, they're coming together.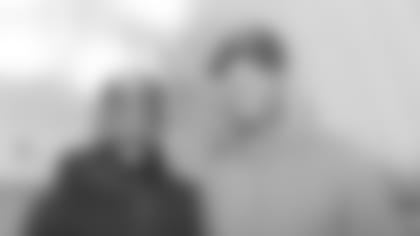 "The beautiful thing about this is we can come here and see each other," said former Titans receiver Justin Gage (2007-2010). "Regardless of how it was when you were here, whether it was good or bad, this is a big part of your life so any time you can have a chance to go back and reflect on something it is great to do that. I feel like not only for Vince, but for everybody. To get a chance to come back and kind of relive some of the days of playing this game, it is great for you."
Young said it was "cool" being back.
Young, the third overall pick of the 2006 NFL Draft who played from 2006-2010 with the team, posed for a picture with fullback Ahmard Hall, Titans linebacker Brian Orakpo, Scaife and Titans owner Amy Adams Strunk – all of them went to the University of Texas.
Young met Titans quarterback Marcus Mariota, and had his picture taken with him as well. Current Titans like defensive lineman Jurrell Casey and linebacker Avery Williamson came up and hugged Young. So did former Titans safety Blaine Bishop, who was informed on Saturday he's going to be inducted into the Tennessee Sports Hall of Fame.
"That's my hero right there," Young said of Bishop. "That's my hero."
Bishop smiled, and posed for a picture with Young.
Strunk said it's one of her favorite weekends of the year.
"I am so excited to see everybody," Strunk said. "It is a family, and that's what it is about. And we want them to know they are always going to be a part of this family.
"And I am so excited to have Vince back. He was a big part of our team. So to have him back, and have him excited to be here and be a part of it, it means a lot to me."
More than 80 former Titans return to Saint Thomas Sports Park as part of the team's 2017 Alumni Weekend festivities. (Photos: Gary Glenn)