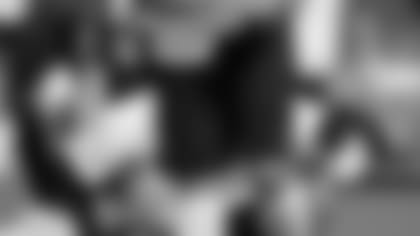 Rob Bironas watches his kick during a training camp practice at Baptist Sports Park.
NASHVILLE, Tenn. - Working with three different snappers and two holders during training camp is tough on a kicker, even if he's one of the most accurate in NFL history.
The carousel has Tennessee's Rob Bironas a little off his game.
Bironas already has missed as many kicks (two) in three preseason games as he did all of last season, and that doesn't count his misses in practice the past month. Going into his seventh season, he is the NFL's fourth-most accurate kicker, having connected on 85.6 percent of his attempts.
But things appear to be returning to normal.
After Monday's roster cuts, Bironas is back working with his regular snapper Ken Amato and usual holder Brett Kern. Amato has been his snapper since Bironas joined the Titans in 2005, and Kern has been the holder since replacing Craig Hentrich during the 2009 season.
"It's always hard when you're the only kicker and you have a couple snappers and holders because it's different cadences, it's different snap speeds, it's different holds,'' Bironas said Tuesday.
Bironas spent training camp with John Stokes and Jake Ingram snapping to him along with Amato, while rookie punter Chad Cunningham rotated with Kern holding on field goals and extra points. The rotation led to enough missed field goals on the practice field to be noticeable. Then Ingram was cut during camp and recently signed with Jacksonville, while Stokes and Cunningham were waived Monday.
"They all did a great job,'' Bironas said.
"Unfortunately in this game, there's one snapper, one kicker and one holder, and it's usually the punter or the quarterback. I wish them luck in their future. But over the next week, we're going to get down to business and try to fine-tune this thing. I'm feeling comfortable where I am, and I'm starting to pick up that confidence in the whole operation.''
Bironas already ranks as Tennessee's second-leading scorer behind only Al Del Greco (1,060) with 685 points, and his 160 field goals between 2005 and 2010 are the most by a kicker in the NFL in that span. He also kicked nine game-winning field goals, second to Del Greco in franchise history, and he has a 60-yarder to his credit that beat Indianapolis back in 2006.
He connected on 24 of 26 field goals in 2010 for a career-best rate of 92.3 percent. So far this preseason, Bironas missed a 38-yarder in a win over Minnesota and a 51-yarder in last week's 14-13 win over Chicago.
Titans coach Mike Munchak said he isn't ready to start worrying about Bironas.
"He's been a good kicker for us for a while. He's a veteran. He's been through it, and I think we'll just wait and see how it works during the season,'' Munchak said.
The NFL lockout didn't help either. Bironas usually works at the team headquarters kicking with two or three weeks with Amato and Kern in July preparing up for training camp. The lockout forced them to work at a Nashville high school, but it wasn't the same.
"Nobody really knew when this lockout was going to end, and I don't think any of the players wanted to ramp up 100 percent if we were going to be locked out into the start of the season. Like many of the players who came in about 80 percent ready to go, I'm using camp to get that final ramp up the rest of the way, get that final comfort zone,'' Bironas said.
Amato points out the entire process of snapping the ball to Kern for the kick takes only 1.3 seconds with Bironas being a bit of a perfectionist.
"We've just got to get the timing back to where we were,'' Amato said. "Not having an offseason, that might have hurt us a little bit because we didn't get to work as much with the whole team. It's coming along. We'll get it done.''
The field goal kick is much like a golf swing with the ball being off target if not aimed right or if the kicker pulls a little bit, hits too early or a bit too late. Being off a fraction of an inch can move the ball off by a couple yards with the target 50 yards down the field. But Bironas said he refuses to let a miss play games with his head.
"I know I'm not going to make every kick. The thing I look at is, `Am I going back out there to make the next one?'' he said.