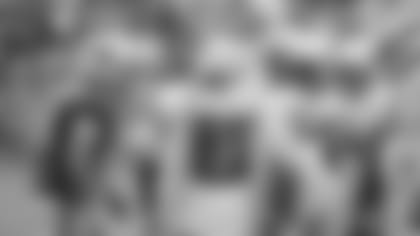 New QB Matt Hasselbeck (8) and the Titans got a valuable dry run at LP Field on Saturday.
NASHVILLE, Tenn. — Titans players established game-day routines, coaches explored multiple scenarios and fans enjoyed supporting the team during a preseason mock scrimmage at LP Field Saturday.
First-year head coach Mike Munchak said he was "thrilled" that rain in the area Saturday morning stopped so his team could get in an important workout one week before Tennessee opens its preseason schedule at home against Minnesota.
"We had a great workout. We thought this was going to get cancelled," Munchak said. "This was a great dress rehearsal for all of us coaches — the coaches in the press box, the coaches on the sideline. We sped things up a little bit. We covered a lot of situations, a lot of substitutions. I think it was great for the young guys and the veterans we brought in."
Quarterbacks Matt Hasselbeck, a 13-year veteran who signed with the Titans in the offseason, and Jake Locker, the No. 8 pick in the 2011 draft, said they enjoyed their first time at LP Field as Titans.
"It was fun to be out there," Hasselbeck said. "It was a lot of stuff for the coaches to look at and to coach on, a lot of things that they can correct and critique. I think, for everybody, it was a good first step."
Hasselbeck said new offensive coordinator Chris Palmer wanted players to find a routine.
"The quarterbacks, we all come from different places, and the wide receivers and tight ends, same thing," Hasselbeck said. "Today was a lot of situations, and some of the situations were really advantageous for the offense and vice versa for the defense."
Locker said he enjoyed his first action on the lush green surface at LP Field. Locker said he and his teammates will be able to play with more confidence in the preseason opener because of the experience gained Saturday.
"It was fun to be out here on the field for the first time, have some support from the fans and get out and run around with the guys," Locker said. "I think it was a good idea to get out here and go through the routine that we're going to go through next week. It was exciting. You can tell it's going to be an electric stadium."
Titans players signed hundreds of autographs for fans in appreciation of the ones who came to support the team on Saturday. Munchak said winning at home is a big key to his plans for the team. The Titans went 3-5 at home and 6-10 overall in 2010.
"This is a home field that we have to start taking advantage of again," Munchak said.
Defensive backs Alterraun Verner and Frank Walker each recorded interceptions in the red zone on Saturday.  In addition, cornerback Pete Ittersagen, who returns for his second year with the Titans, notched an interception and made a nice pass breakup in the end zone.
Verner, a second-year pro, stepped in front of a pass and held onto it as he went to the turf. It was a continuation of the big-play prowess that Verner displayed in his rookie campaign when he defended 15 passes, recorded three interceptions and 103 tackles. Walker reeled in a tipped pass in the end zone and began returning it. The nine-year veteran who recently signed with the Titans had an open field ahead of him and flipped the ball to safety Michael Griffin as officials whistled the play to an end as the crowd cheered.
It was Walker's first trip to LP Field since January 2009 when he was a member of the Ravens' squad that upended the Titans in the AFC Divisional Round. Walker played four seasons with the Giants, one with the Packers, two with the Ravens and last season with the Vikings.
Verner and Walker are listed as No. 2 cornerbacks on the team's unofficial depth chart but both moved up Saturday as veteran cornerback Cortland Finnegan was not at LP Field and Jason McCourty was held out as a precaution from being "dinged" Friday.
Finnegan practiced Friday but did not show up to a position meeting Saturday morning because, sources said, he is unhappy with his contract that is entering its final year and has him scheduled to make more than $3.7 million. McCourty, who is beginning his third season with the Titans, said he missed being on the field but liked what he saw from his teammates. He said he would likely practice Monday.
"Definitely a different perspective — you want to be out there playing," McCourty said. "Whenever you are out, you hate it but you've got to just watch and get the mental reps. They both played well. Frank was able to get one on the tip."
The Titans will have Sunday off before returning to practice at Baptist Sports Park Monday at 3 p.m.
Ten-year NFL veteran Will Witherspoon said Saturday's session was beneficial to the whole team.
"I think there was a lot of great work today," Witherspoon said. "You got to see some young guys get some opportunities out there to put themselves into situations. You really got to see the execution of the game, you really got to see the ebb and flow of how they work together. I think it was a great thing for us."
Witherspoon said players would likely use Sunday's off day to focus on what the team has been talking about in the limited days of practice they have had together.
Hasselbeck said Sunday will be an opportunity to become more familiar with the Titans' new offense.
"It's going to be a day off our feet, but I think most guys are going to be in their playbooks and just trying to recover—active recovery, I think, is what they call it," Hasselbeck said.