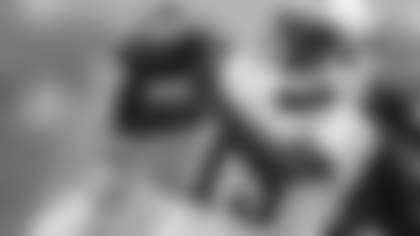 Wide receiver Kendall Wright, the team's top draft pick out of Baylor, hauls in a pass during Friday's rookie practice at Baptist Sports Park.
NASHVILLE, Tenn. -Kendall Wright calls the Tennessee Titans' playbook big with a lot of plays, and it's something very new to the wide receiver. Not because he's a rookie and first-round draft pick.
It's the first playbook Wright has ever had.
Wright played at Baylor, where coach Art Briles uses practices, film study and meetings to teach plays signaled into the offense. Nothing was written down and bundled into a playbook of any form. When Wright played quarterback in high school in Pittsburg, Texas, he had no playbook there, either.
"For me, it's learning everything,'' Wright said Friday afternoon after his second session in the Titans' rookie minicamp. "I was just out there. We had a lot of different stuff we ran at Baylor. But right now I have a playbook that I'm studying every night and going over with coaches in the meetings. It's a different learning process for me.''
Wright has plenty of company right now among 24 rookies for the Titans taking part in two days of orientation and practices before veterans return Monday to resume the offseason program. But of his new rookie teammates, Wright said he thinks Baylor was the only team that didn't have a playbook.
Learning the playbook shouldn't be a problem. Wright said he memorized more than 300 plays at Baylor and already knows several plays from the Titans' playbook despite only arriving in town Thursday. For Wright, it's simply a different format and not something he has to be taught how to read. There are no special tutoring sessions from receivers coach Dave Ragone.
"It's a big book with a lot of plays in it, so I'm just looking at whatever position coach wants me to look at,'' Wright said. "There's a lot of different positions he's got me looking at. I'm just soaking it all in and going through it every day.''
With plenty of needs on defense, the Titans surprisingly took the 5-foot-10, 196-pound Wright with the 20th pick overall last month. He set Baylor records by catching 302 passes for 4,004 yards and 30 touchdown passes working with Robert Griffin III, the No. 2 pick overall by Washington. The Titans like his precise route running and quickness, especially after the ball gets into his hands.
"Kendall looks good,'' coach Mike Munchak said. "He looks like we thought. A lot of learning going on, a lot of teaching going on. ... It's hard to get too excited over a rookie after a day or two, but I think all the guys look like we thought they would.''
Wright now has No. 13, adding the 3 to the No. 1 he wore in college. NFL rules kept him from sticking with that number, and Wright said he isn't big enough to wear a number in the 80s. He also isn't worried about any bad luck or superstitions with the No. 13.
"I'll make it lucky if I can,'' Wright said.
Rookie Taylor Thompson has a different challenge. He played defensive end at Southern Methodist, but the 6-foot-6, 259-pound Thompson reverted to the position of tight end for the NFL draft. He got a little bit of work on SMU's scout team and played in an All-Star game in Arkansas prepping for the draft. But learning offensive plays is posing no problem despite the position switch.
"I'm a fairly intelligent person, so I'm a fast learner,'' Thompson said. "I have coach (John) Z (Zernhelt) working with me, explaining all the concepts, all the pass routes. He's helped me a lot with that transition.''
Munchak said they know Thompson will be a work in progress as they watch him develop and learn all the details of being a tight end.
"He did what we thought he'd do today,'' Munchak said. "He ran well, caught the ball pretty well for someone who hasn't done it much the last few years. It's hard to judge right now.''
Thanks to the new CBA, the rookies are sticking around for the next few weeks instead of having to leave for a couple weeks as they did before. This also marks Munchak's first offseason working with players because the lockout wiped out all of the offseason last year, and he said he feels the whole staff is rookies.
"We feel so far ahead having guys in town for the last four weeks, having these guys in town, we have six weeks with 90 players, and we're excited,'' Munchak said. "We have to find a way to make it an advantage to help us going into training camp. We need a big edge going into camp as far as our development and how this team is doing.''
NOTES: Safety Markelle Martin, a sixth-round pick out of Oklahoma State, is wearing No. 31. That was the number of cornerback Cortland Finnegan, who signed a new deal with St. Louis in March. Cornerback Coty Sensabaugh, the fourth-round pick out of Clemson, is wearing No. 24. Safety Chris Hope had that number the past few years. ... Tight end and long snapper Beau Brinkley was excused for graduation at Missouri.